Hurricane Irma Isn't Planning On Hitting Atlanta, But That Could All Change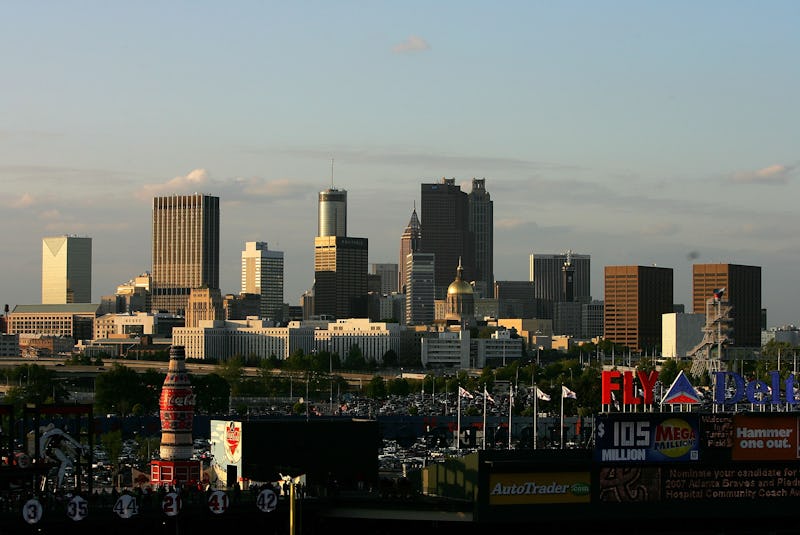 Streeter Lecka/Getty Images Sport/Getty Images
As devastation still remains a fresh wound in Southeastern Texas following Hurricane Harvey, another possible natural disaster is forming over the Atlantic Ocean, according to weather forecasters. Hurricane Irma formed early Thursday morning as a steady tropical storm but after 30 hours, had reportedly evolved into a full-fledged hurricane. Naturally, Americans potentially in the path of the hurricane might be wondering if Hurricane Irma will hit Atlanta or not, among other major cities. Present weather projections reveal an uncertain path for the monstrous hurricane but meteorologists have advised those on the East Coast and Gulf Coast to be prepared.
Hurricane Irma's development began on Thursday morning and rapidly turned into a Category 2 storm. After that, Irma had developed into a Category 3 with its winds up to a powerful 115 mph. Such a stunning increment in wind speed is known as "rapid intensification" — an ominous term used by The National Hurricane Center. In spite of its clearly intensifying evolvement, the path for Irma remains to be seen. In response to whether Irma will hit the United States, NHC's spokesman and meteorologist Dennis Feltgen said, "We don't know yet. It's just too far away."
The potential sites that could be affected by Irma include Florida and North Carolina. Atlanta, however, has not been mentioned by forecasters yet. Given that the hurricane is still a few days away, it is premature to name Atlanta as one of the potential sites.
Meteorologists are unsure whether Irma will hit America. But weather projection models show that one of three scenarios might take place. Some meteorologists predict that Irma will head up north and waltz back into the Atlantic Ocean without affecting the East Coast at all. Another possibility is that Irma could move northward and touch the Northeastern coastline of America. A third possible scenario shows that Irma could head south-westward toward Texas and pummel the Harvey-stricken state with yet another terribly powerful hurricane. But none of these predictions have been confirmed so far.
Meteorologist for University Corporation for Atmospheric Research in Colorado, Jeff Weber, told NOLA.com that he would not invest too much faith in any prediction model at the moment. "I would not be real comfortable with a track until after Labor Day. Our confidence levels will be dramatically up over the weekend. But when I see Irma, it does make me concerned." For now, people on the East Coast and Gulf Coast can do well by keeping an eye on forecasts and staying calm.