The Monstrous Hurricane Irma Is Barreling Directly Toward Cuba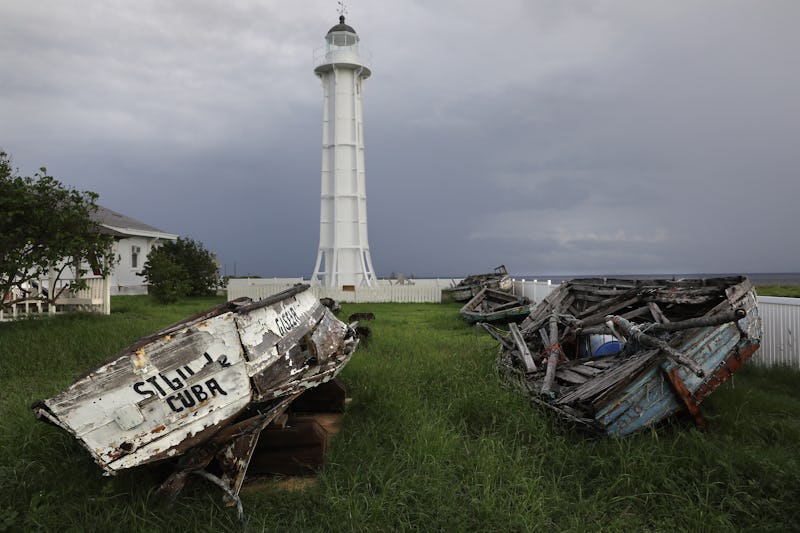 John Moore/Getty Images News/Getty Images
For residents of Barbuda, the worst of Hurricane Irma thankfully appears to have passed them over. As the first island to feel the massive storm's impact, Barbuda residents were spared the kind of catastrophic damage a hurricane of Irma's size can leave in its wake. But that means Irma is moving westward, with several other islands in its projected path before the Category 5 hurricane potentially makes landfall in Florida. Hurricane Irma could even hit Cuba, and there's already a hurricane watch issued there.
The threat to those in Irma's pathway is an imminent one. Mandatory evacuations have been ordered everywhere from the Dominican Republic to Key West. The National Hurricane Center has warned that Irma's impact is "potentially catastrophic," particularly for anywhere hit with its eye wall, the most dangerous part of a hurricane.
Cuba currently sits in the hurricane's path, though it is not known if Irma will still be a Category 5 when it arrives. But either way, dangerous winds and storm surges are a possibility. In contrast to Florida's state of emergency, the Cuban government has yet to issue any formal declarations or evacuation decrees, ostensibly waiting to have more certain information on Irma's exact path.
Hurricane Irma is expected make landfall in Cuba on Saturday, and by that time it may have weakened. It seems impossible that the storm can sustain its record-breaking wind speeds for so many days on end. With winds recorded at 185 mph, Irma is the strongest hurricane ever recorded in the Atlantic Ocean.
Still, a Category 4 storm is incredibly dangerous. Any hurricane or tropical storm has the potential to inflict plenty of damage, as evidenced by the torrential downpour and resulting flooding from Hurricane Harvey. By the time Harvey made most of its mark on Houston, it had been downgraded to a tropical storm.
Cuba has a long history of dealing with hurricanes. And in fact, dealing with oncoming hurricanes and their aftermath is one area where the United States and Cuba have a longstanding partnership. Those living in and visiting Cuba may take some comfort in the government's hesitation to panic. This is a country that has been through hurricane season many times before.
As the weekend approaches, Cuba (and everyone else) will have a much better idea of when and where Hurricane Irma makes landfall. As of now, the only solid bet is that Cuba will feel some kind of impact from the storm.