Here's Why Louisiana Officials Warned Residents To "Pay Close Attention" To Hurricane Irma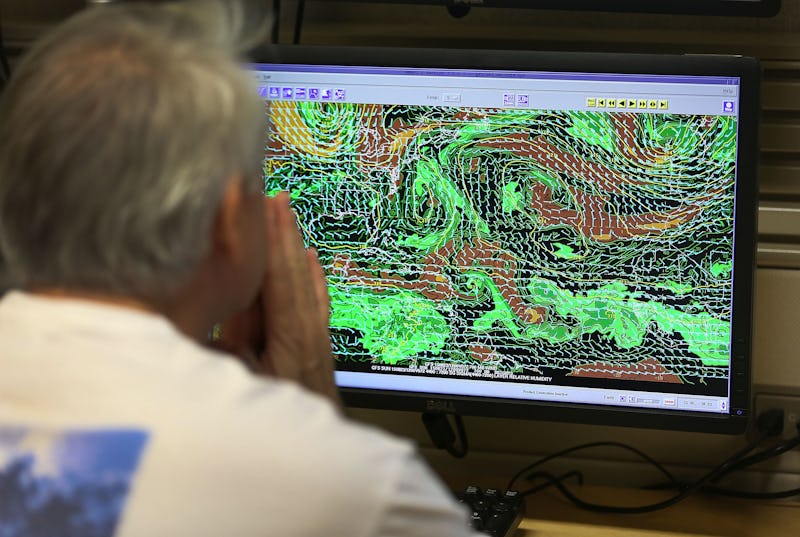 Joe Raedle/Getty Images News/Getty Images
Hurricane Irma is rapidly making its way through the Caribbean and many people want to know what path the storm will take, including whether or not it will make landfall in the U.S. While there is a possibility that the storm might hit Florida and several other states, for now it seems unlikely that Hurricane Irma will hit Louisiana — though residents should still remain vigilant, as Irma's trajectory is not fully known.
Right now, Hurricane Irma is headed toward the Caribbean's Leeward Islands and is expected to arrive at the island chain late Tuesday night or early Wednesday morning. Following its encounter with the islands, the trajectory of the storm is not yet completely clear.
As AccuWeather noted, there are multiple potential tracks for Irma, though Louisiana does not feature prominently in any of these tracks. The outlet reported that, after going through the Caribbean, Irma could potentially make landfall in Georgia, Florida, or the Carolinas, depending on which way the storm turns.
Florida and the East Coast in particular stand to potentially be severely impacted by Irma, with risks of landfall, heavy rain, substantial winds, and flooding. It is also possible that Irma could curve out to the Atlantic Ocean and miss the continental U.S. completely, though AccuWeather notes that, at this point, the sea scenario is the least likely. New Orleans' Times Picayune also reported that the storm making a westward turn and entering the Gulf of Mexico, where it could potentially impact Louisiana, is extremely unlikely.
Nevertheless, some experts in the state warn that it is important to be prudent. For example, Louisiana State Climatologist Barry Keim warned that one hurricane model, the westernmost outlier model ensemble, shows Irma brushing the mouth of the Mississippi River and hitting the Mississippi Gulf Coast (though other models do not). Keim told the Times Picayune, "We're talking five to seven days before it has a chance of getting to the Gulf .... But it is a storm that bears watching."
Moreover, the state's government officials warned that they are maintaining contact with FEMA and other emergency authorities in order to monitor the storm. They advise Louisiana's residents to remain vigilant and be prepared, even if landfall in Louisiana does seem unlikely. Erin Burns, the Press Secretary for New Orleans' mayor, Mitch Landrieu, noted to the Times Picayune:
We're getting updated twice a day ... and maintaining our coordination with the state and FEMA to make sure we have everything we need in case there's something to be concerned about with this particular storm ...[Louisianans should] stay alert, stay informed, pay close attention to the news and make sure you have a plan, whether it's an evacuation plan or a shelter in place plan, and make sure you have your emergency supplies together.
Overall, while it seems unlikely that Hurricane Irma will hit Louisiana, it is nevertheless highly important for those who reside in the state to be prepared for any scenario and watch weather reports closely, as the exact path that Irma will take is still unknown.