The Exact Path Of Hurricane Irma Remains A Mystery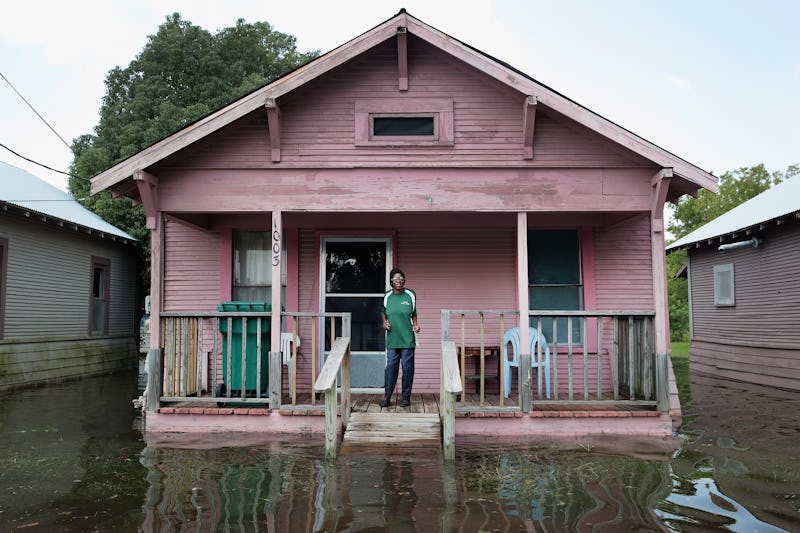 Scott Olson/Getty Images News/Getty Images
While the country continues to monitor Hurricane Harvey's impact on Texas, residents of the East Coast are being advised to monitor another storm on the horizon. Hurricane Irma could hit Miami and other parts of the United States as early as next weekend, but its path was still largely unknown on Sunday, according to The Weather Channel. On Sunday, the storm was situated east of Puerto Rico near many of the Caribbean islands.
Irma strengthened to a Category 3 storm on Sunday. The Weather Channel reported that Irma was likely to grow in size and force over the week, which could lead to a Category 4 classification and a larger radius of tropical-storm effects beyond the arc of the hurricane itself. Like most weather patterns, the path and severity of hurricanes can be unpredictable, so it's not clear where along the East Coast Irma will make landfall, if the storm approaches the U.S. at all. However, the Weather Channel on Sunday reported that if Irma makes landfall in the U.S., the storm would likely arrive next weekend or the following week.
Keep in mind, that's a big "if." Irma's path will ultimately depend on how the storm fares as it passes over Caribbean islands like Puerto Rico, the Bahamas, and the Virgin Islands. It's not clear which islands will bear the brunt of Irma's force, but many islands in the Caribbean could feel the storm's effects over the coming week.
According to The Miami Herald, Irma's hurricane-force effects could be felt 25 miles from the center of the storm. Tropical-storm force winds could be felt up to 80 miles from the center. The storm was expected to slow on Sunday night and continue moving west on Monday.
Although it's still far too early to accurately predict Irma's path, particularly with respect to the U.S. mainland, it's hard not to wonder. Hurricane Harvey battered south Texas last week, causing widespread damage of historic proportions to places like Rockport, Port Aransas, Galveston, and Houston. Experts and officials have predicted that Houston's recovery will take years, as flood waters continue to make many parts of the nation's fourth-largest city impassible.
By city population, Miami is a much smaller city than Houston, but it's no less vulnerable to widespread destruction from a strong strom like Harvey or Irma. Miami's coastal location and near-sea-level altitude make it particularly susceptible to hurricane damage. For that reason, residents of south Florida and the East Coast in general have been advised to monitor the path of Hurricane Irma over the coming week.