Why Alabama's Coastal Cities Should Prepare For Hurricane Irma, Too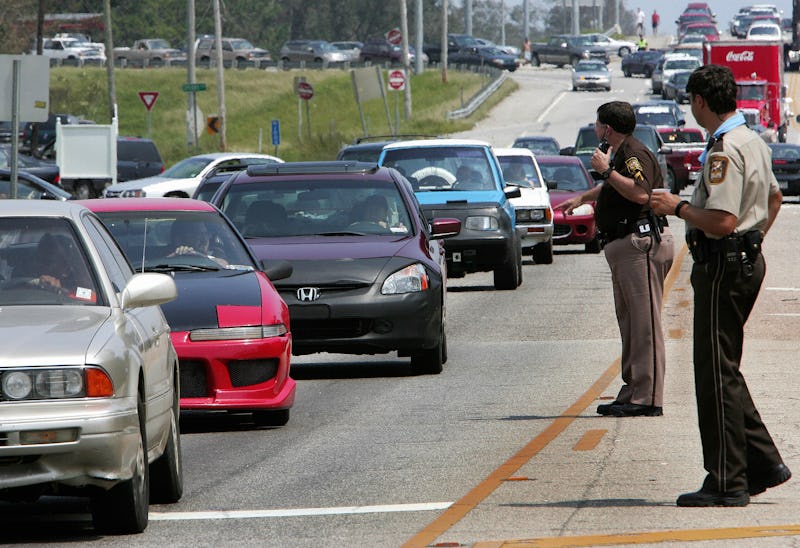 PAUL J.RICHARDS/AFP/Getty Images
Hurricane Irma is set to make landfall on the U.S. late on Saturday, and while the Florida peninsula will bear the brunt of the raging storm's impact, neighboring states are bracing for its effects as well. By Monday, Irma is expected to reach Alabama, and Mobile and other coastal cities will likely be somewhat severely impacted, too. Although there's a chance the storm may weaken after traveling over Florida, Alabama's coastal residents will be vulnerable to flooding due to storm surges.
Computer models from late Friday night and early Saturday morning suggest Irma is tracking west, and will move up Florida's west coast rather than the center, as originally predicted. This is bad news for Alabama, as heavy wind, rainfall and atmospheric pressure in the Coast of Mexico could lead sea levels to rise and put coastal cities like Mobile at risk. As of Saturday, the National Hurricane Center expects all of Alabama to be covered by tropical-storm-force winds by Monday morning, with southern Alabama predicted to get " gusty northerly to northeasterly winds Sunday and Monday," of up to 40 mph, and approximately three inches of rain.
Storm surges are often the most dangerous effects of a hurricane. They are the result of water being pushed towards the shore by a storm's strong, cyclonic winds. The wind literally pushes the water towards the shore, leading to an abnormal rise of water on the coasts, which can result in disastrous flooding. One cubic foot of seawater weighs 1,728 pounds, and even a one foot surge has the power to sweep cars off the road.
Cities on the Alabama coast, like Mobile, are especially vulnerable to the devastating effects of storm surges because of their low elevations (Mobile's elevation is approximately 10 feet, according to the U.S. Geological Survey) which means the water can rise faster and reach farther inland, flooding broader areas.
There is still a small chance the storm could change course. According to The Washington Post, 36 hours before landfall, hurricane forecast shift on average 50 miles. But regardless of whether Irma moved farther east, given its size, coastal Alabama would still feel the effects. In addition to its record-breaking winds, Irma is an extremely wide storm. At nearly 300 miles in diameter, it is twice as wide as Florida's peninsula, meaning that even if Irma tracked east again as originally predicted, it would still drop an enormous amount of rain in the Gulf, and put cities like Mobile at risk for storm surges.
"Residents throughout the southeast states should remain aware of the flood threat and stay tuned to forecasts and warnings," the National Hurricane Center warned.
Fortunately for Alabama, Irma is likely to have weakened slightly be the time it's passed over Florida. "The good news is that it will be gradually weakening," National Weather Service Meteorologist Jason Holmes said on Saturday morning. "The east side is always the worst side of these systems ... so the forecast track keeps most of Alabama on the west side of the storm."
Cities like Mobile may be outside the direct path of Irma, but given that the storm is already the second-strongest storm in recorded history, after it reached a peak intensity of 185 mph winds over the Caribbean earlier this week, it it best to err on the side of caution, and take whatever measures necessary to stay safe. When faced with the threat of storm surges, experts recommend mapping out your evacuation route, minimizing the distance you must travel to get to a safe location, and preparing your home by boarding up doors in windows, and switching off all utilities.