The U.S. Island Territories Were Warned Of A "Catastrophic" Impact From Irma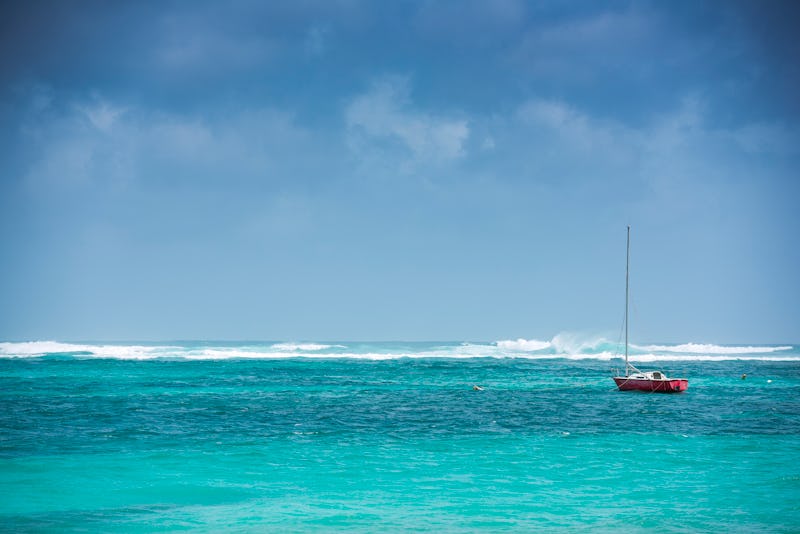 LIONEL CHAMOISEAU/AFP/Getty Images
Only a week after Hurricane Harvey tore through Texas and Louisiana, another disastrous weather event is on the horizon. Hurricane Irma is currently a terrifying Category 5 hurricane barreling towards the Caribbean. But will Hurricane Irma hit the U.S. Virgin Islands? The territory and a number of other Northern Caribbean islands are sitting square in the storm's path.
The government of the U.S. Virgin Islands declared a state of emergency on Tuesday, and activated National Guard services. Roughly 100,000 people inhabit the archipelago, which consists of St. Croix, St. Thomas, and St. John as its main islands, as well as other smaller islands. According to CNN meteorologists, Irma is a classic "Cape Verde hurricane," meaning it formed in the far eastern Atlantic, near the Cape Verde Islands off the coast of Africa. Cape Verde storms are known to become the largest and most intense hurricanes.
"This is not an opportunity to go outside and try to have fun with a hurricane," U.S. Virgin Islands Gov. Kenneth Mapp said on Tuesday. "It's not time to get on a surfboard."
On Tuesday, Irma was reportedly gaining strength, with maximum sustained winds of 185 mph reported by the National Hurricane Center in Miami, and had been assigned a Category 5 designation. The National Hurricane Center said that it tied the second strongest hurricane it has ever recorded in its history, which is why forecasts are being taken seriously by governments from Antigua to Florida.
"Puerto Rico has not seen a hurricane of this magnitude in almost 100 years," Carlos Anselmi, a National Weather Service meteorologist in San Juan, told The Associated Press.
The path forecasted for Irma had it near Antigua, Barbuda, St. Kitts and Nevis, and Anguilla by late Tuesday or early Wednesday, and the British and U.S. Virgin Islands and Puerto Rico on Wednesday afternoon. The small island nations where the storm will initially make landfall were warned to brace for "catastrophic" impact.
"The Leeward Islands are going to get destroyed," Colorado State University meteorology professor and noted hurricane expert Phil Klotzbach said. "I just pray that this thing wobbles and misses them. This is a serious storm."
In Puerto Rico and the U.S. Virgin Islands, where the storm is expected to hit on Wednesday, four to 10 inches of rain is expected, along with winds of 40-50 mph, and gusts up to 75 mph. In the northeastern Caribbean islands, National Hurricane Center forecasters predicted storm surges of seven to 11 feet, which they described as "life-threatening."
After that, it is unclear if the storm will make landfall in Florida closer to the weekend, but evacuation plans are already being prepared.
The message for U.S. Virgin Islands residents is clear. They need to quickly prepare and take safety precautions for Irma's imminent strike.