Expect Hurricane Jose To Cause Flight Disruptions On These Islands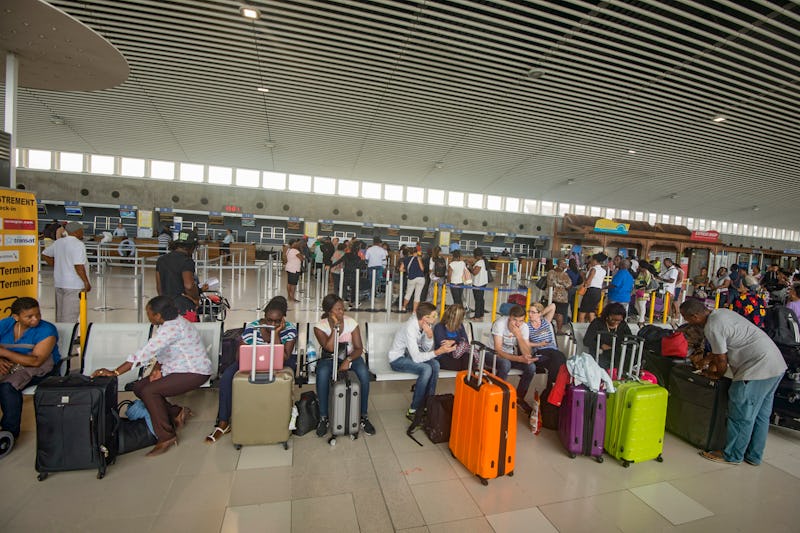 HELENE VALENZUELA/AFP/Getty Images
After a flurry of rescheduled and canceled flights because of Hurricane Irma, passengers looking to fly to or from some parts of the Caribbean will have to wait out the next storm as well. In preparation for this weekend's impact of Hurricane Jose, flights could be affected in the northern Leeward Islands.
A hurricane watch is in effect for Antigua and Barbuda, and a tropical storm watch is in effect for St. Kitts and Nevis. LIAT, the main airline operating on the Leeward Islands network, said in a press release that passengers affected will be allowed to re-book and passengers with travel dates this weekend will have their change fees and fare differences waived.
The closure of flight routes in this area come after travel disruptions caused by Hurricane Irma. Major cruises were forced to re-route their itineraries. Caribbean Airlines has posted a list of all flights affected by Irma up through Sept. 10. Ahead of the hurricane, tourists were urged to evacuate places such as the Bahamas and Antigua, where British Airways sent an empty plane from the United Kingdom so its customers could cut their vacations short and return early. Delta and American Airlines also canceled and rescheduled flights to and from Florida and affected Caribbean countries. Travel agencies advised tourists left on the islands to follow instructions from hotel management.
Hurricane Jose, a Category 3 storm, is not expected to reach the strength of Hurricane Irma, which was a Category 5 at its peak in the Caribbean, and will likely strike the South Florida coast as a Category 4 this weekend. Mass cancelations of flights scheduled out of Miami will run from Friday afternoon through Sunday. Other cancelations this weekend include flights out of Fort Lauderdale, Fort Myers, and West Palm Beach. In Orlando, American Airlines will wind down operations on Saturday afternoon before canceling all flights on Sunday.
Although Jose won't make the same land impact as Irma, heavy rainfall can exacerbate the ongoing flooding on islands already hit by Irma. The National Weather Service predicts Jose will hit Antigua and Barbuda late Friday, and then St. Kitts and Anguilla on Saturday. Irma destroyed nearly every building on Barbuda, which suffered some of the worst devastation from the hurricane. Florida and the mainland United States will likely escape Jose unscathed, allowing travel to resume as planned after Irma. Meteorologists forecast Jose will turn northwest, moving north of the coast of Puerto Rico on Sunday before traveling into the Atlantic.