Hurricane Maria Could Hit Florida Hard If It Follows This Path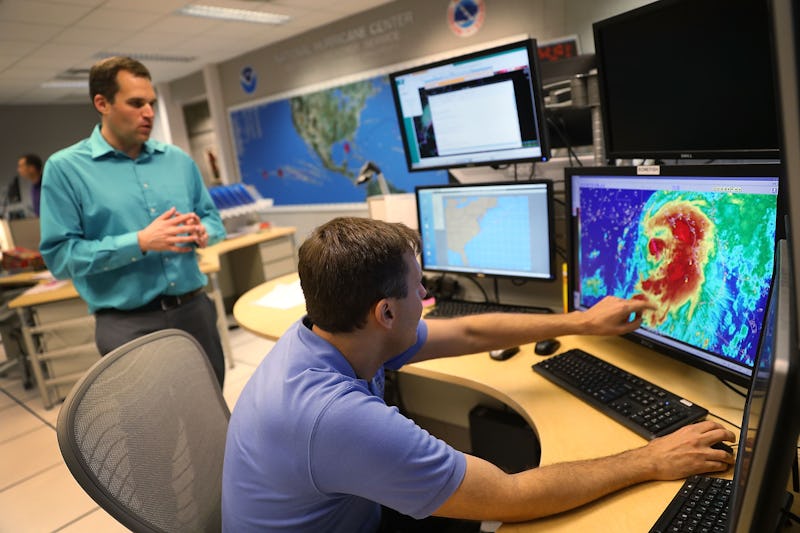 Joe Raedle/Getty Images News/Getty Images
The past few weeks have been tragic and terrifying for the thousands of people who have endured devastation from several hurricanes, particularly the exceedingly powerful Irma and Harvey. Unfortunately, there is now another storm headed toward the Caribbean — Hurricane Maria. Many people are understandably very concerned about this new hurricane's path and are wondering which islands in the Caribbean will be affected, and whether or not Hurricane Maria could hit Florida.
Unfortunately, it is likely that Hurricane Maria will make landfall in parts of the Caribbean. It is too soon to make a determination about whether or not the storm will also hit Florida; however, it could possibly impact the state if it follows Hurricane Irma's path and avoids a northeastern turn toward the Atlantic Ocean. Thus, understandably, weather forecasters in the Sunshine State are keeping a very close eye on the storm as its path evolves.
As USA Today reported, Maria was officially classified as a hurricane on Sunday afternoon, making it the seventh hurricane of 2017. Maria is currently classified as a Category 1 hurricane, though it is expected to eventually become a Category 4 storm — the second strongest storm ranking.
According to CNN, much of the Caribbean is already preparing for Maria's potential impacts. As the outlet noted, hurricane warnings have been issued for Martinique, Guadeloupe, Dominica, St. Kitts, Nevis and Montserrat. Hurricane watches have been issued for the the U.S. Virgin Islands, the British Virgin Islands, St. Maarten/St. Martin, St. Barthelemy, and Anguilla. Tropical storm warnings have been activated for Antigua and Barbuda, Saba, St. Eustatius and St. Lucia.
The state of Florida is not currently under any storm watches or warnings, though those in the state are following the storm very closely. As USA Today reported, there is certainly a chance that Maria could impact the state, with Dave Samuhel, an AccuWeather meteorologist, noting that there are a myriad of possibilities:
We may luck out and it [Hurricane Maria] turns north ... Unfortunately it looks like a blocking high-pressure system could [also] force it into Florida.
An article in South Florida's Sun-Sentinel also noted the uncertainty around Maria's path. The outlet reported that current early forecast models show the storm turning on eastern side of the Bahamas and avoiding directly impacting Florida. However, the outlet pointed out that models frequently change as storms progress and that it is imprudent to rely too much on early forecast indicators.
Moreover, Chris Fisher, a forecaster in the Miami office of the National Hurricane Center, noted that current concerns about Hurricane Maria should lie most primarily with the Caribbean islands, as they are most likely to be directly hit by the storm in the near future: "Our main worry currently is for the Leeward Islands, Puerto Rico and the Dominican Republic."
Nonetheless, those in Florida — and many observing the hurricane from afar — are still understandably concerned about Maria's potential impact on the state, which will become clearer as the storm moves through the region. Indeed, many took to Twitter to voice their concerns, willing Maria to stay away from Florida and expressing fear and concern for the Caribbean islands that currently stand in Maria's path.
Moreover, many are also worried about the regional effects of yet another storm, Tropical Depression Lee, which is following behind Maria. Thankfully, experts are saying that Lee's impact should be minimal and will likely only affect shipping channels. As Fisher, the aforementioned meteorologist, noted, "At this point, it doesn't look like [Lee] should impact anything. ... It's mainly going to be a fish storm at this point."
Overall, it is incredibly tragic that many places that were already devastated by Hurricane Irma could yet again be impacted by Hurricane Maria. You can be sure that many will be watching as Maria makes its way through the Caribbean — and hoping for a starkly different result from Hurricane Irma, with minimal effects on the islands as well as a turn away from Florida.