Hurricane Maria Is Charging Toward The Virgin Islands With Incredible Force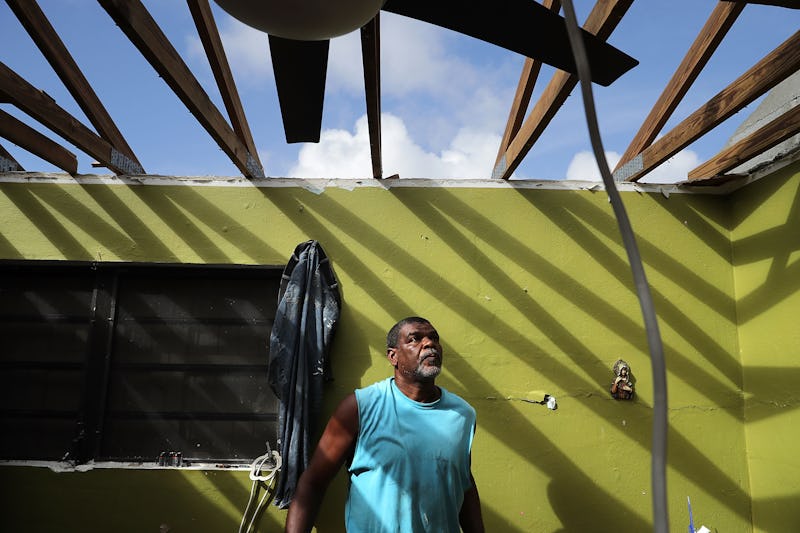 Chip Somodevilla/Getty Images News/Getty Images
Less than two weeks since Hurricane Irma barreled through the Caribbean, including through the British and U.S. Virgin Islands, another storm is gaining speed and heading toward the still-devastated islands. It grew to a Category 4 storm in just one day's time, was upgraded to a Category 5 storm Monday night, and now Hurricane Maria could hit the Virgin Islands as soon as Tuesday night.
Maria could bring up to 12 inches of rain to the Virgin Islands with winds of 135 mph. The National Hurricane Center said the storm will be "extremely dangerous." As of Monday night, Maria was positioned just south of the Leeward Islands, about 45 minutes from the small island of Dominica.
"Maria is expected to produce total rain accumulations of 6 to 12 inches with isolated maximum amounts of 20 inches across the central and southern Leeward Islands, including Puerto Rico and the U.S. and British Virgin Islands, through Wednesday night," according to the National Hurricane Center.
Just 24 hours prior, Maria was categorized as a tropical storm. Now, some predictions estimate it will remain a Category 5 classification by the time it reaches Puerto Rico, and potentially the Virgin Islands as well. The Virgin Islands, along with Puerto Rico, Culebra, Vieques, Guadeloupe, Dominica, Martinique, St. Kitts-Nevis and Montserrat, are currently under hurricane warning.
Thousands homes were damaged in the Virgin Islands as a result of Hurricane Irma and just as many residents lost power after storm surges and dangerously high winds. Government officials are urging those in the Virgin Islands, as well as Puerto Rico, to leave their homes, which may not be structurally sound after Irma, for shelters. Even soldiers who traveled to the Virgin Islands to offer aid to Irma survivors have been evacuated. Nearly 200 people signed up to take emergency ferries out of the Virgin Islands, which the Los Angeles Times reported could be residents' last chance to leave the islands before Maria strikes.
Monday night, President Donald Trump issued an Emergency Declaration, authorizing federal assistance to be sent to the Virgin Islands. On Sunday, Gov. Kenneth Mapp of the U.S. Virgin Islands warned, "Take this event seriously. You cannot stay in those facilities. You will not survive." In a later statement, Mapp added, "It's critical people make the tough decision to walk away from their property and take along what is most important — their loved ones."
High tide in the Virgin Islands is expected to bring a storm surge of 6 to 9 feet above the normal water level. Puerto Rico is also very likely to be hit, according to predictions from the National Hurricane Center. Puerto Rican officials have already declared a state of emergency on Monday, calling in members of the National Guard to help residents prepare for Maria's arrival.
Puerto Rico Governor Ricardo Rosselló said Maria could be stronger than Irma, which did not directly hit Puerto Rico, bringing more rain, wind and water. Three people were killed as a result of Irma in Puerto Rico.
Hurricane watches are in effect for the next two days in Saba and St. Eustatius, St. Martin, St. Barthelemy, Anguilla, and from Isla Saona to Puerto Plata in the Dominican Republic. The Washington Post reported the worst part of Hurricane Maria is likely to miss Barbuda and Antigua, areas that were hit hard by Irma, but some heavy winds and rain are likely. Meteorologists say it is too early to predict whether Hurricane Maria will hit the East Coast of the United States.
Throughout the entire Caribbean, Hurricane Irma killed at least 80 people, Reuters reported. Hurricane Maria is the seventh hurricane this season, and the fourth major hurricane this season.