Here's What You Need To Know About Hurricane Nate If You're In Louisiana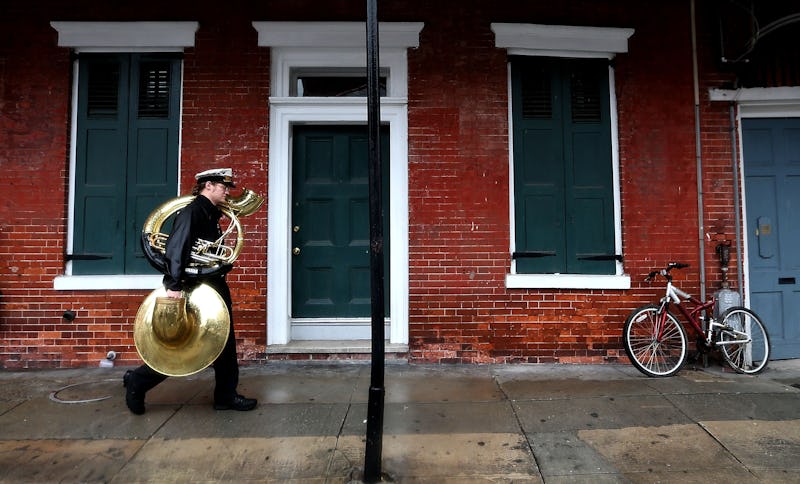 Sean Gardner/Getty Images News/Getty Images
The Gulf Coast is bracing for yet another hurricane to barrel into it. But will Hurricane Nate hit Louisiana? The storm is expected to become a Category 2 hurricane before potentially making landfall somewhere along the extreme southeastern tip of the state, bringing life-threatening storm surge flooding to at least a few cities along the coast.
The outer edges of Hurricane Nate began moving over Louisiana's southeastern coast Saturday afternoon, according to CNN meteorologists tracking the storm. At 1 p.m. local time, the National Hurricane Center announced Hurricane Nate's center was expected to approach the mouth of the Mississippi river "within the next several hours" with landfall forecast along the central U.S. Gulf Coast later tonight. According to CNN, Hurricane Nate could make landfall near Plaquemines Parish in Louisiana, a region hit hard by Hurricane Katrina in 2005.
While Hurricane Nate is not expected to reach the same category of intensity that Hurricanes Harvey, Irma, or Jose did, Louisiana Gov. John Edwards has nevertheless urged residents to prepare for Nate's arrival as if he were going to be stronger than a Category 2 hurricane. "Everyone who has been told to evacuate or [who] would like to do so [should] do it now," CNN reported Gov. Edwards said Saturday. The governor added that residents should shelter indoors by 4 p.m. local time. At a news briefing on Thursday, Gov. Edwards warned some areas of the state could see six inches of rain with storm surge reaching up to six feet, NPR has reported.
As part of preparations, evacuation orders have been issued for residents residing outside levees in New Orleans and Plaquemines Parish. A hurricane warning was in effect in New Orleans and Lake Pontchartrain as well as from Grand Isle, Louisiana to the Alabama-Florida border. Storm surge warnings had been put in place around Lake Pontchartrain and from Morgan City, Louisiana to the Okaloosa-Walton county line in Florida. President Donald Trump also approved the governor's request for a "pre-disaster emergency declaration,"which allows the state to access federal resources, for 17 parishes in South Louisiana.
In New Orleans, where problems with the city's pumping and drainage system have worsened flooding issues before, city officials have appeared confident that they were ready for Nate. According to ABC News, New Orleans Mayor Mitch Landrieu reported the city's pumps were at 92 percent capacity with only 11 pumps not functioning. More than two dozen backup generators were also reportedly in place to handle the incoming storm. "Right now this storm should not bring us anything that we're not prepared to handle," ABC News reported Landrieu said Saturday.
As the city began to feel the first effects of Hurricane Nate Saturday afternoon, Landrieu urged residents to wrap up any activities they had going on and shelter in place as soon as it was possible. A mandatory curfew of 7 p.m. local time was placed on New Orlean residents Saturday. "A Cat. 2 hurricane can produce winds as strong as 100 mph so this should be taken very seriously," Landrieu said in a statement made via Twitter.
As of Saturday, Hurricane Nate was traveling rapidly north-northwest at roughly 25 miles per hour. On Sunday, however, the National Hurricane Center expects Nate to turn first north and then northeast as it continues to move across the United States. As of Saturday afternoon Nate's maximum sustained winds were reported to be nearing 90 miles per hour with strengthening expected before landfall, the National Hurricane Center had reported. Forecasters have also said that Nate's rapid speed could also bring tropical storm-force winds across more inland areas of the southeastern United States.