Ivanka & Jared Reportedly Had A Secret Deal For Her To Run For President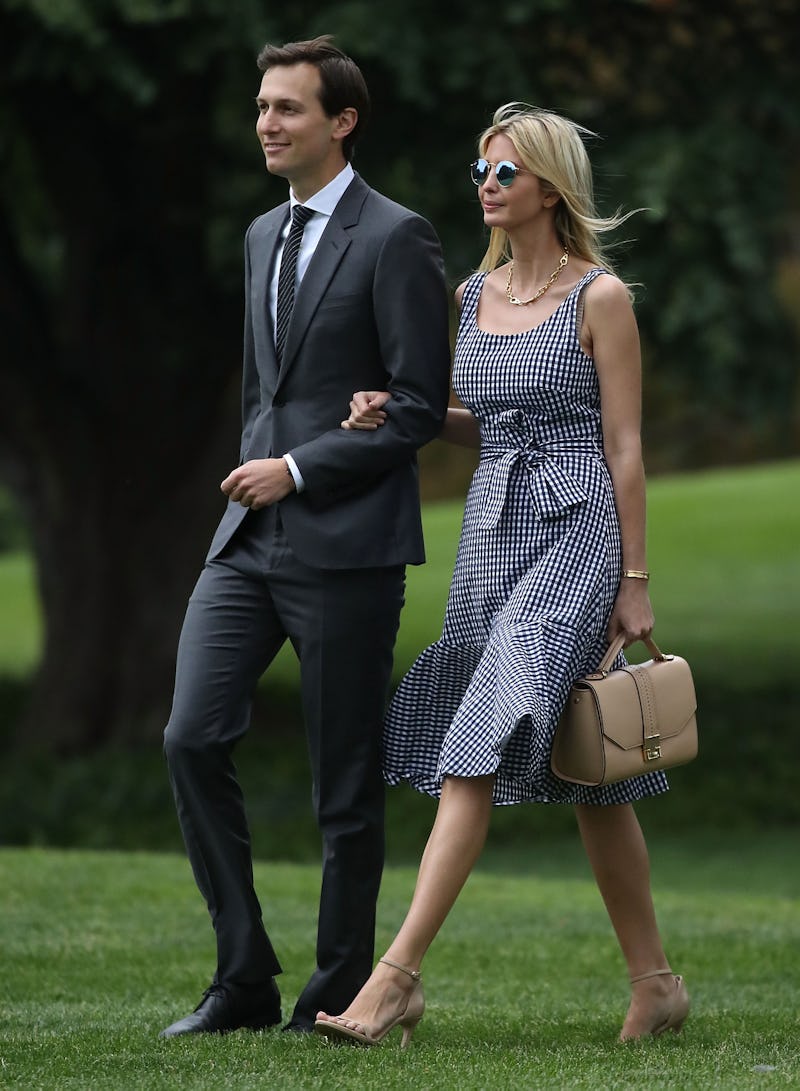 Mark Wilson/Getty Images News/Getty Images
It seems like the First Daughter might have political plans for herself after all. According to a new tell-all book from journalist Michael Wolff, Jared Kushner and Ivanka Trump agreed she'd be the first female president if the right time ever came.
Despite saying that she likes to "stay out of politics," Ivanka has proven time and time again that she seems to fit right in. She has an influential role in the White House, and according to Wolff, planned to use that position to potentially make a run for the country's top spot. Wolff, who has spent the past 18 months interviewing the president and his employees, will soon publish a book based on those interviews, titled Fire and Fury: Inside the Trump White House. And according to an excerpt that was published on New York magazine's website, Ivanka and her husband were going to use the presidency to their advantage.
Balancing risk against reward, both Jared and Ivanka decided to accept roles in the West Wing over the advice of almost everyone they knew. It was a joint decision by the couple, and, in some sense, a joint job. Between themselves, the two had made an earnest deal: If sometime in the future the opportunity arose, she'd be the one to run for president. The first woman president, Ivanka entertained, would not be Hillary Clinton; it would be Ivanka Trump.
It's worth noting that in the book itself, that section reads:
Jared and Ivanka had made an earnest deal between themselves: if sometime in the future the time came, she'd be the one to run for president (or the first one of them to take the shot).
Steve Bannon — then a senior staffer in the Trump administration — was appalled by the idea that Ivanka might run. "They didn't actually say that?" he questioned. Bannon has long railed against Ivanka and Kushner, once saying, "The railhead of all bad decisions is the same railhead: Javanka."
But Wolff asserts, "The truth was, Ivanka and Jared were as much the chief of staff as Priebus or Bannon, all of them reporting directly to the president. The couple had opted for formal jobs in the West Wing, in part because they knew that influencing Trump required you to be all-in."
The Trump family has furiously spoken out against Wolff's book and the assertions made inside of it. White House Press Secretary Sarah Huckabee Sanders said in a statement Wednesday afternoon, "This book is filled with false and misleading accounts from individuals who have no access or influence with the White House. Participating in a book that can only be described as trashy tabloid fiction exposes their sad desperate attempts at relevancy."
Ivanka has not discounted the possibility of running for president. When asked by Cosmopolitan in early 2016 whether she would ever run for office, she said, " I do not think so, but I have learned in life to never say never! It is too limiting!"
As Wolff points out, "For Jared and Ivanka, as really for everybody else in the new administration, quite including the president, this was a random and crazy turn of history such that how could you not seize it?"