Why Maggie & Jackson Might Be Headed To Splitsville On 'Grey's Anatomy'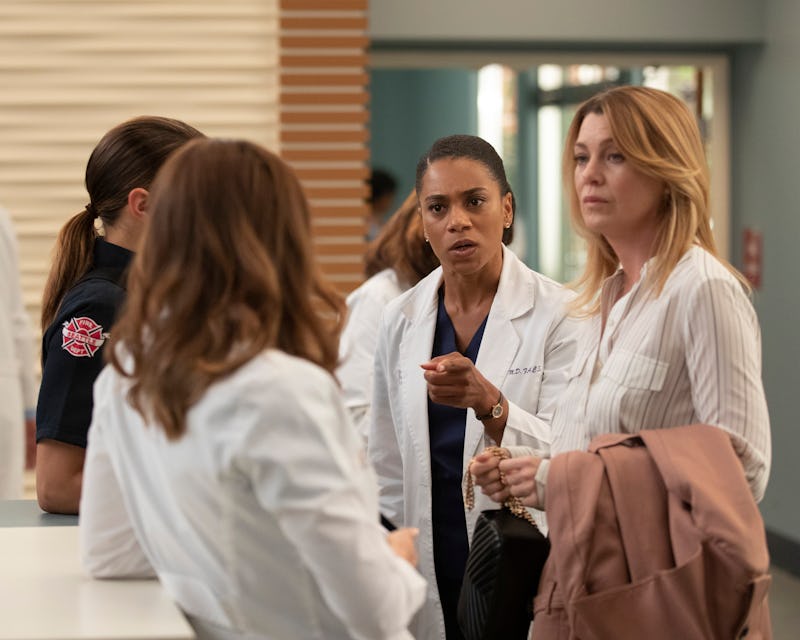 Rick Rowell/ABC
In last week's episode of Grey's Anatomy, it was revealed that Jackson Avery had sort of just peaced out of Seattle, without any real notice given to his girlfriend Maggie, or any in-depth explanation given to anyone. Kind of a jerk move, but hey, Jackson's been going through a lot lately, and I'm inclined to give him the benefit of the doubt. That doesn't mean viewers will be satisfied with a lengthy departure, though, or what it means for his new relationship. Will Jackson and Maggie break up when he comes back? One does not just ghost Maggie. First, it's probably good to know how long he plans on being gone, because that could change everything. Or at least make it easier for her to forgive him.
There's not an official comment from actor Jesse Williams, but according to TVLine, he is credited in this week's upcoming episode, so hopefully the absence isn't too long. Jackson's absence was explained onscreen by his need to clear his head after a near-death experience — DeLuca pulled him out of the path of a car hurtling down the street — but Williams' need for time off might be a little bit easier to explain, at least in theory.
Anyone who follows Williams' career outside of Grey's Anatomy knows he's a busy guy — aside from starring in the medical drama, he's also an outspoken activist and a filmmaker with some big projects on his radar.
According to Deadline, he's making his feature-length directing debut with a film about Emmett Till's mother, and the aftermath of his murder. He's also got a few producing and acting projects in the works for the future, according to his IMDB page. Jackson is an incredibly integral part of the Grey's Anatomy fabric these days, so it makes sense that the show would give him the necessary time to focus on his other projects without needing to completely remove him from the show.
That being said, his absence is actually serving as a major plot point in the show, as well. It's stirring the pot with Maggie, and putting stress on their newly serious relationship. She's confused, heartbroken, and angry about his sudden departure, and she's not going to let him come waltzing back without giving him a piece of her mind. It's also showing a new side of Jackson that viewers have never really seen. He's usually practical and scientific, not convinced in the slightest that everything happens for a reason. Depending on where he's gone during this hiatus, he could come back with an entirely transformed outlook on life and his relationships.
Wherever he is, fans are eager for him to come back and face the music.
Shortly after the season premiere, showrunner Krista Vernoff did tease struggles for Jackson and Maggie's relationship, but she didn't make it sound like it was going to bring about the end of their romance. "They're still in early stages," she told TV Guide. They just started dating in the final quarter of last season. It's Grey's Anatomy, so relationships in the early [stages] tend to struggle a little. That doesn't mean that there isn't love there."
Jackson's break from the show doesn't do much to soothe the nerves of fans of the character. Many are probably still reeling from the sudden and unexpected departure of actor Sarah Drew from the show. She played April Kepner, Jackson's ex-wife, who many people assumed he was going to eventually end up with somewhere down the line. At first it like he was going to have renewed stability with Maggie, but now that's on the rocks. Fans should totally support Williams' intriguing side projects, but any absences might stir up trouble in paradise for his onscreen partnership. Hopefully he'll be back to smooth things over soon.