Democrats Call For Suspending Kushner's Security Clearance Amid Reports Of FBI Scrutiny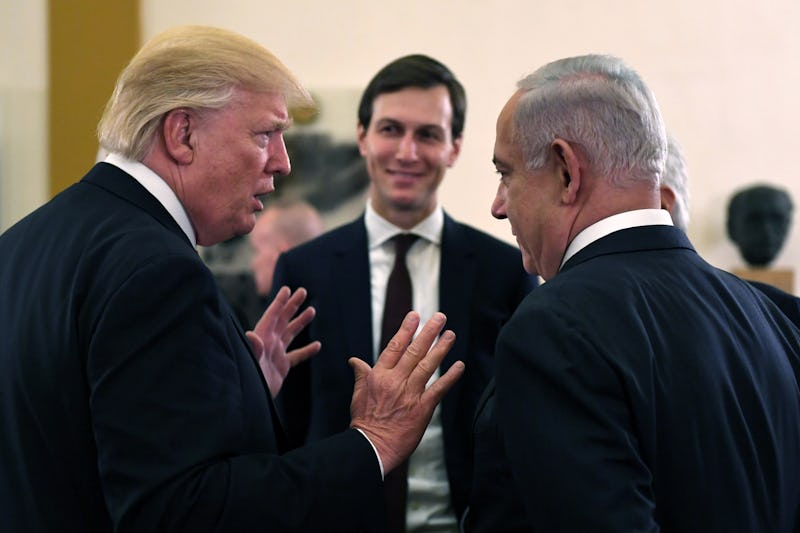 GPO/Getty Images News/Getty Images
Recent reports naming Jared Kushner, President Donald Trump's son-in-law and senior adviser, as someone now allegedly under scrutiny in the FBI's investigation into allegations of collusion between the Trump campaign and the Russian government have renewed debate over Kushner's security clearance. While the FBI's interest in Kushner does not mean he has become a target of the investigation or is suspected of any wrongdoing, it has spurred some Democrats to call for Kushner's security clearance to be revoked.
According to NBC News, investigators may be interested in meetings Kushner held with Russian Ambassador Sergey Kislyak and Russian banker Sergey Gorkov during the presidential transition just before Trump took office. Officials reportedly told NBC News that although Kushner had come under FBI scrutiny, he was not being formally considered a subject of the Russian investigation like former Trump campaign manager Paul Manafort and former National Security Adviser Michael Flynn are.
With Kushner reportedly under FBI scrutiny, the federal investigation into Russia's meddling in the 2016 presidential election appears to have moved right into Trump's inner circle. And the investigation's increasing proximity to President Trump has not been lost on Democrats, who renewed their calls for Kushner's security clearance to be suspended shortly after news of investigators' interest in him broke Thursday.
"The FBI's Russia investigation reached Trump's backyard, and now it's in his house," Democratic National Committee Deputy Communications Director Adrienne Watson said in a statement released Thursday. "Kushner's security clearance should be suspended until the FBI's findings are complete." Multiple Democratic lawmakers have echoed his sentiment in statements of their own.
Kushner's security clearance has long been a controversial subject. In November, multiple Democratic lawmakers raised objections to the idea of Kushner being given access to classified information after it was reported Trump wanted his son-in-law to sit in on security briefings. Then in April, it was reported that Kushner had failed to disclose dozens of encounters he'd had with foreign government officials when applying for top-secret security clearance in January. At the time, the New York Times reported Kushner's lawyer said the questionnaire had been submitted prematurely and Kushner had agreed to provide the FBI with supplemental information. Once again, Congressional Democrats urged federal authorities to pull the interim security clearance Kushner had been granted until his "compliance with the laws and regulation governing security clearances" could be thoroughly investigated.
While it's virtually impossible to know if Kushner's security clearance will be suspended now that he's reportedly come under scrutiny by the FBI, it may take more than being a person of interest to cause authorities to suspend Kushner's security clearance.