Jodie Whittaker Just Confirmed Some MAJOR News About 'Doctor Who' Series 12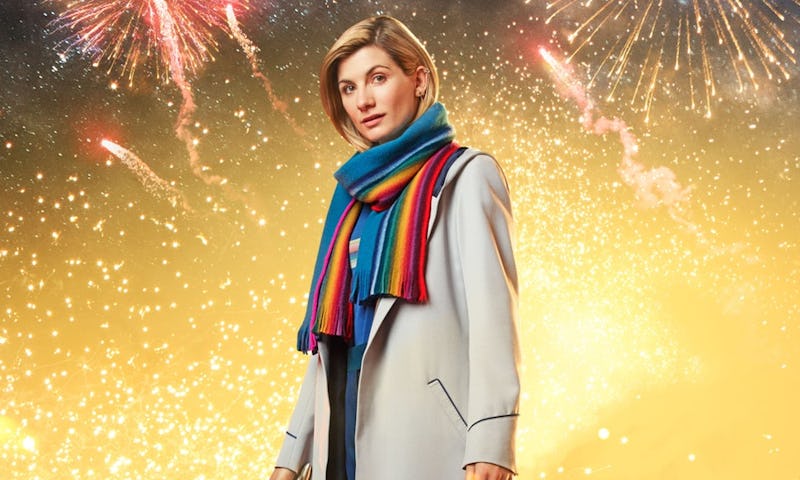 Henrik Knudson/BBC/BBC Studios
As a dedicated Whovian, no recent series has delighted me quite as much as season 11, Jodie Whittaker's first outing as the Doctor. So naturally, I and many other fans have anxiously awaited the answer to one major question: will Jodie Whittaker return for Doctor Who series 12? Well, you'll sleep well tonight, Thirteenth Doctor devotees: Whittaker has officially stated she'll have another round at the helm of the Tardis, according to the Hollywood Reporter.
"I really can't wait to step back in and get to work again," Whittaker told the site. "It's such an incredible role. It's been an extraordinary journey so far and I'm not quite ready to hand it over yet."
One thing: while Whittaker's announcement is an enormous relief, I'm going to need confirmation that Mandip Gill, Tosin Cole, and Bradley Walsh will also be returning as Yaz, Ryan, and Graham. Earlier this year, Gill dropped some alarming hints about the Tardis team's future on This Morning, as Digital Spy reports. "Who knows where we end up at the end of this one, to be honest," she said. "There are three companions, but who knows where it goes?" BBC, if anything happens to any of them, expect the sternest letter of complaint.
It shouldn't come as a surprise, of course, that Whittaker was asked to stick around for series 12. In the UK, her debut episode drew a staggering 8.2 million viewers, as the Guardian reports, becoming the most-watched episode of Doctor Who in over a decade. Fans were pretty delighted with Whittaker's performance, according to the BBC, while the critical response was largely very enthusiastic too.
All of which came as an enormous relief to Whittaker, who spoke to BBC Radio 2's Chris Evans after the premiere. "When you spend nine months grafting on something with the most extraordinary ensemble of cast and crew, and you put all this hard work in, you do really want it to be seen," she said, according to the Radio Times. "The good thing about being on a show like Doctor Who is you know it will be seen – but obviously to this extent is quite emotional."
The success of the 11th series isn't limited to this side of the Atlantic, either. According to Vulture, Doctor Who is attracting an average of 1.6 million viewers per episode on BBC America — a 20 per cent increase from Peter Capaldi's final series. The viewing figures for Whittaker's debut season have overtaken the first season figures for Matt Smith, David Tennant, and Christopher Eccleston's iterations of the Doctor. And here's a fun tidbit: the ratings amongst U.S. millennial women have doubled since the previous series.
There's only one episode to go of series 13, airing tomorrow night (though there isn't too long to wait before the inaugural New Year's Day special). And it sounds like a pretty intense one. The BBC teases, "On the planet of Ranskoor Av Kolos lies the remains of a brutal battlefield. But as the Doctor, Graham, Yaz, and Ryan answer nine separate distress calls, they discover the planet holds far more secrets. Who is the mysterious commander with no memory? What lies beyond the mists? Who or what are the Ux?" Is it odd to be a little nervous already?