Here's Why You May Not See Another Season Of 'Just Another Immigrant'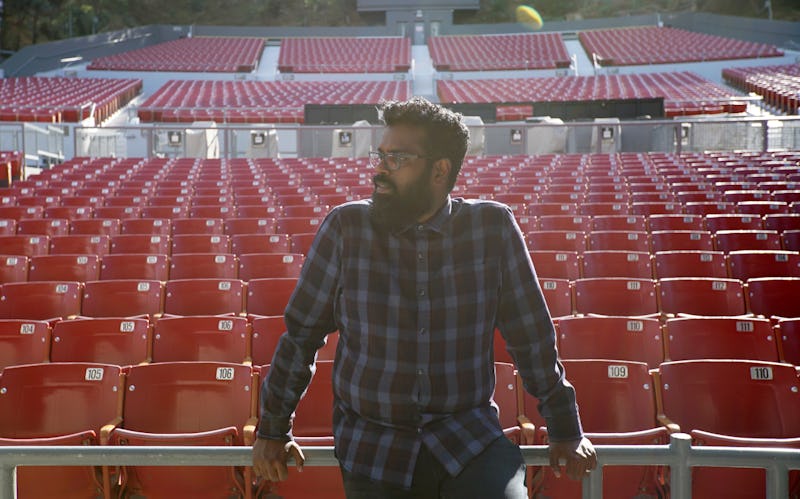 Mus Mustafa/Showtime
Showtime's comedy documentary about one man with a lofty goal, Just Another Immigrant, follows real-life comedian Romesh Ranganathan's quest for happiness and success in the United States. The UK comedian with Sri Lankan heritage moves his mother Shanthi, Uncle Rags, wife Leesa, and three kids to Los Angeles to make his next career move. Season 1, which will end on July 6, chronicled his self-imposed challenge — selling out the 6,000 seat Greek Theater in three months — and gave insight into the challenges faced by multigenerational immigrant families. Just Another Immigrant likely won't return for Season 2 based on a Deadline report, but viewers will get to see the conclusion of Romesh's Greek Theater challenge.
In the report, the premise of the show centers around Romesh's goal to sell out the infamous theater. It also says the series is only 10-episodes, all of which will be in Season 1. There hasn't been any concrete confirmation from Romesh nor Showtime that it is a limited docuseries, but all signs point to it chronicling just this particular period of his career.
The comedian's road toward filming Just Another Immigrant and the Greek Theater started from his love of American stand-up comedy. In Romesh Ranganathan's interview with Forbes, he credits comedian great Richard Pryor as his motivation to become a comedian. Romesh says he has always wanted to test his comedic chops in the United States and felt like this was the right time to give it a shot.
"It felt like the right time to do comedy in the states," said Romesh. "So, that's how Just Another Immigrant came about, really. It's the idea of trying to make it in the states. It took me like eight years to get my profile up here in the U.K. I thought, 'How do I give myself a tangible goal? How do I do this? How do I tackle it in the states?' It all started from those questions."
Just Another Immigrant is about his comedic journey, but it also documented the racism toward people of color in America. The funny man has had some not-so-hilarious encounters with bigots on the show and isn't afraid to address those moments as a part of his journey.
While on The Late Show with Stephen Colbert, Romesh talked about his brushes with racism. He joked about having "the right look" as a bearded, brown man in America and said L.A. was too friendly. But, he noted one incident since his arrival in the United States that left him feeling uncomfortable. He said one man approached him at a bar and asked if he was Muslim. Romesh replied "no" and said the man kept trying to aggressively buy him a drink as though he were celebrating that he was not Muslim. He went along with the conversation in hopes that it would end but said a part of him wanted to stand up against the man's hatred toward Muslims.
Unpleasant conversations aside, Just Another Immigrant is primarily packed with comedic moments. His mom, wife, and uncle often chip in with unintentionally funny quips of their own and have been his biggest supporters. In a Season 1 finale preview clip, Romesh sits down with his mother and uncle before his season finale show. He thanks both of them for all of their hard work and surprises his uncle with an offer to introduce him on stage.
His uncle excitedly accepts and offers to do a few jokes, to which Romesh hilariously declines and tells him to stay in his lane. Romesh's mother says she has a major surprise for him that will happen sometime soon. She asserts (in a noticeably louder voice) that there is a big reveal on the way, suggesting that someone will pop out and surprise the comedian before he takes the stage. The clip ends with Romesh and his uncle curiously looking around as they eagerly anticipate his mother's news.
The Greek Theater performance was the primary objective for Romesh, so it's likely that Just Another Immigrant will end after Season 1. But, his growing profile in America could make for more interesting seasons as he starts to book late-night gigs, TV appearances, and whatever he does next as a comedian. Only time will tell if Showtime lets him continue his journey onscreen, but comedy fans will likely see more of Romesh in some capacity in the future.