These Kaitlyn & Shawn Wedding Updates Will Thrill 'Bachelorette' Fans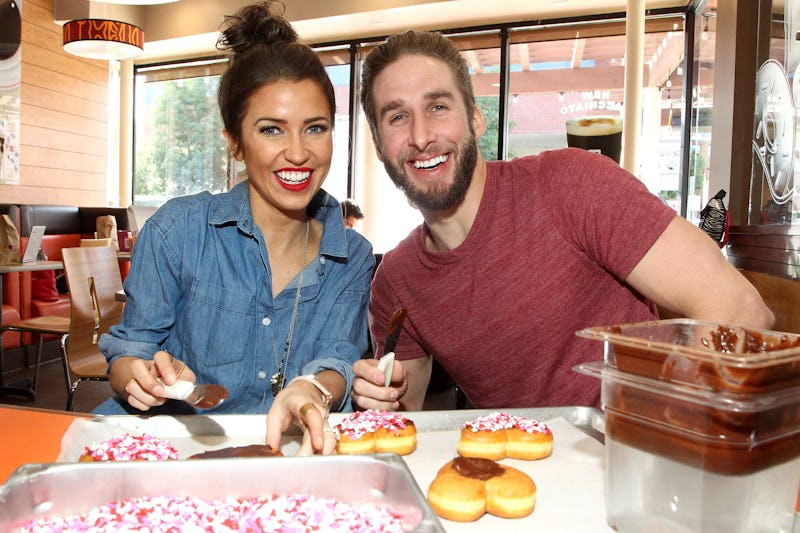 Tommaso Boddi/Getty Images Entertainment/Getty Images
It's been over two years now since Kaitlyn Bristowe and Shawn Booth got engaged at the end of The Bachelorette and proved that love still exists. While many Bachelor Nation couples wind up going their separate ways fairly quickly, these two are still going strong. But will Bachelor Nation stars Kaitlyn and Shawn get married in 2018? Make no mistake, this couple is still planning to walk down the aisle, and they've dropped a few hints about what kind of wedding they're planning, but they just don't seem like the type to make a huge deal out of their nuptials. Over the past two and a half years, Kaitlyn and Shawn have been bombarded with questions about wedding planning, and they've always responded with good humor.
The couple have repeatedly joked about eloping in Las Vegas, going back to just after they got engaged on The Bachelorette. In a 2015 interview with People magazine, Shawn joked that he was imagining their wedding "in Las Vegas, at a little chapel," but assured his fiancée he was joking, saying, "I'm messing with you." Back then, Kaitlyn said she was "imagining a destination wedding" because the idea of planning a big ceremony sounded way too difficult. "I am so low-maintenance," Kaitlyn said. "I don't want to pick out flowers or colors; I don't care."
A few years later, after a lengthy engagement, both members of the couple seem a lot more open to the idea of eloping, both joking that they'd love to be able to run away together and get it all over with. In a September interview with People, when asked when they're getting married, Kaitlyn said, "We actually have a trip planned in a little while for [Las] Vegas. So it might be in the near future." If there's anything that's clear about this couple, it's that they try to keep things light on drama, as you can tell by how quickly the two fell in love on screen and how quiet their relationship has been ever since.
Kaitlyn may be a totally non-bridezilla, but she is excited for the big day, and in a late-November interview with Morning Breath, Kaitlyn said she does have one thing ready for their wedding. After "trying on wedding dresses all day," she has already picked out two dresses for the occasion with the help of a friend who's a wedding expert, designer Hayley Paige. "She obviously gets super excited over wedding dresses, and we've talked about it," Kaitlyn said. She also said after picking a dress, she's more excited to get married, so she says, "I want [Shawn] to go try on a tuxedo or something to get him in the mood... because it did get me in the mood."
If Kaitlyn and Shawn do get married in 2018, they don't seem like the type to choose a televised wedding on ABC. They may decide to run away to Vegas, plan a destination wedding, or figure out another low key solution that works for them. And you never know — these two might actually surprise their fans with an announcement that they're already officially hitched. In their fall 2017 interview with People, Shawn joked, "Maybe we already got married and nobody knows yet," so they might start the new year with an announcement that they've already been married for a few months now. But whatever they choose, it's clear that this couple is still as compatible as the first time Shawn walked out of that limo — and they're proof that while The Bachelorette is an unconventional place to find love, sometimes it's meant to be.