'Le Mans' Season 2 Is Far From A Sure Thing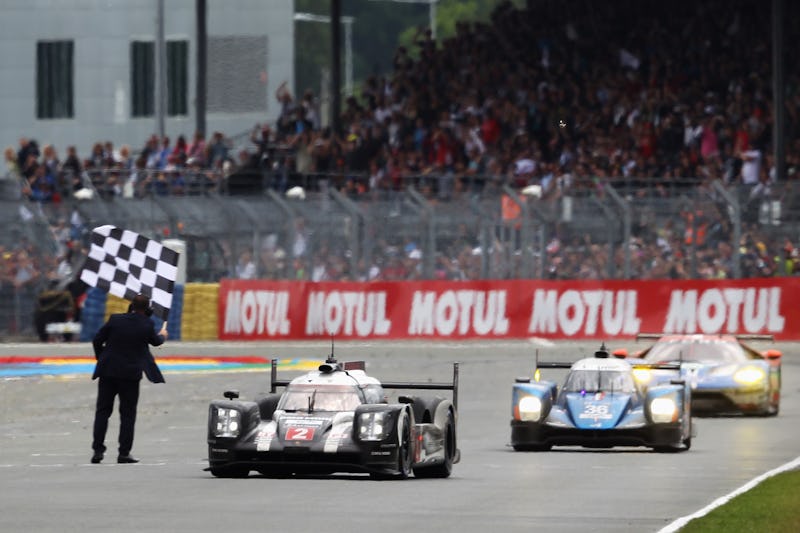 Ker Robertson/Getty Images Sport/Getty Images
Amazon is adding a docuseries to its slate of original programming that's aimed right gearheads. Le Mans: Racing Is Everything premieres on June 9, and goes behind the scenes of the legendary 24 Hours Of Le Mans race, which, as the name explains, lasts for 24 full hours. The race is the third leg in the auto-racing "Triple Crown," along with the Indy 500 and Monaco's Grand Prix, and it may be the hardest. When the race was conceived in 1923, it was to test the endurance of the sports cars being driven, but it also serves as an endurance test of the racer driving it. Will Le Mans return for Season 2? It's a little early to expect a renewal; then again, Deadline reported in March that it's intended to be a "limited series." So this might be it.
The race only happens once a year and the first season will cover it's nearly hundred-year history, so in the event Le Mans: Racing Is Everything is renewed by Amazon, it likely won't premiere for at least two years — unless the series' creative team is secretly working on the followup right now. (The 2017 race will be held June 17.) Or series could switch tracks to go behind the scenes of a different race for Season 2.
But TV has had a fascination with the world of cars, the world of racing, and the far-flung places where these races happen for a long time — perhaps since the original Top Gear premiered in 1977. And for every person who gets nervous at the idea of exceeding the speed limit, there's two who are thrilled about the idea of careening around a track at hundreds of miles per hour and are curious about what's happening under the hood. Here are some high-octane shows to catch up on a few other shows to catch up on while you wait to find out whether Amazon will return to the famed race for another season:
Top Gear
After some hosting changes, the show has a new lineup, a new attitude, and the same devotion to all things automobile. As the standard bearer for car-focused TV, it deserves respect, and surely car obsessors make sure to tune in for this one.
The Grand Tour
Original Top Gear host Jeremy Clarkson was fired from the show for allegedly assaulting a producer. (According to the BBC, Clarkson apologized to the producer and a settlement was reached.) That controversy didn't keep him from finding a place on Amazon, with a new series that leaves every penny of its reportedly high budget on the screen, with sweeping 4K shots of cars alternately cruising, coasting, and crushing the terrain in front of them.
All Girls Garage
I will admit, I just so happened to see this series on while I was in a doctor's waiting room, but seeing a group of all women remodeling cars made this take on the familiar reality structure (everything from Pimp My Ride to Pawn Stars spinoff American Restoration falls into the category) stand out in my mind. The women on the show do some impressive work.
Mythbusters
This show isn't about cars or speed, but it is about where popular culture intersects with science and math. Given that the whole concept of Le Mans was to scientifically test the endurance of the vehicles while also being an entertaining spectacle, fans of the Amazon series should give this show a try too.
Comedians In Cars Getting Coffee
Look, most of these series fall into a very specific genre of vehicle-centric reality. Why not change things up by making a variety of classic (and, sometimes, not so classic) cars the setting, and let Hollywood's most talented comedians entertain you? The interviews frequently go to weird and interesting places (literally), and host Jerry Seinfeld clearly appreciates a well-crafted car.
The Cars That Made America
The Cars That Made America has been announced as part of History's 2017 original programming. According to Deadline, the docuseries will profile innovators like Henry Ford, Walter Chrysler, and John DeLorean. A premiere date hasn't been announced yet, but that's something to look forward too, should Le Mans not return.
Cars are more than just a method of getting from here to there. Le Mans is one of many series that explores their history and cultural impact.