'Madiba' Gives A Complete Look At Mandela's Life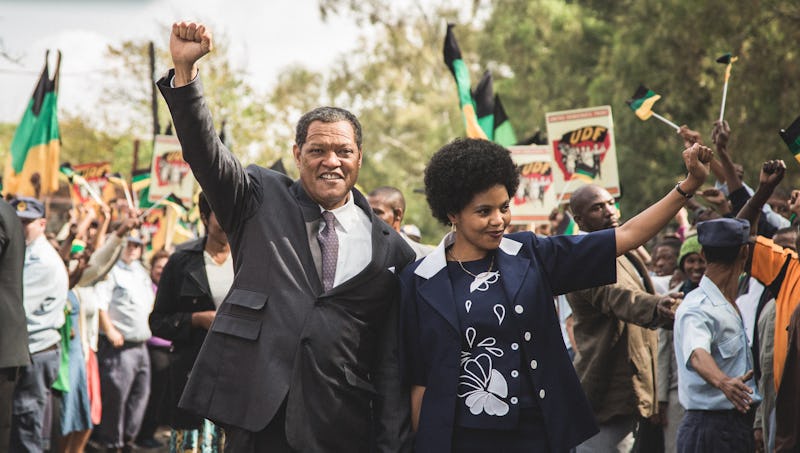 BET has been killing it with its biopic miniseries lately. First, the network kicked off the year with The New Edition Story, which chronicled the rise and legacy of the titular boy band. Now in February, BET has captivated audiences again with its three-part miniseries about the life and times of Nelson Mandela, Madiba. As this miniseries comes to a close on Wednesday, Feb. 15 at 8 p.m. ET, it makes me wonder if there will be more episodes of Madiba in the future.
There hasn't been any official word on whether or not there will be new installments of Madiba once this miniseries wraps on Wednesday night. BET originally announced Madiba as "a three-part saga telling the definitive story of Nelson Mandela," so it doesn't appear that there are any subsequent episodes planned.
Until the third and final part of this miniseries airs, it's difficult to tell if it would even be possible to have any more Madiba in the future. The third episode will show Mandela's (Laurence Fishburne) release from prison on Feb. 11, 1990, his own marital issues with wife Winnie Mandela (Terry Pheto), and his work in unifying South Africa, presumably when he became president of the country in 1994, according to the log lines found on TV Guide's website.
Of course, even after his presidential term ended in 1999, Mandela continued to be an activist, philanthropist, and statesman until his death in 2013. So if Madiba doesn't cover the latter part of the political icon's life, there's always the possibility that it could return with new episodes that explore that, as well as his legacy.
The TV ratings for Madiba don't appear to be readily available, but the miniseries received overall positive reviews. It sounds like no one would be upset if there were to be more Madiba in the future.
But in the case that there isn't, plenty more historical figures with fascinating stories have had their lives depicted on screen in miniseries in recent years. Many of them are even easily available to stream online. So let the history lesson continue — through the lens of Hollywood, of course.