This 'Walking Dead' Hero May Have Gone Bad In The Season Finale & Twitter Is Stressed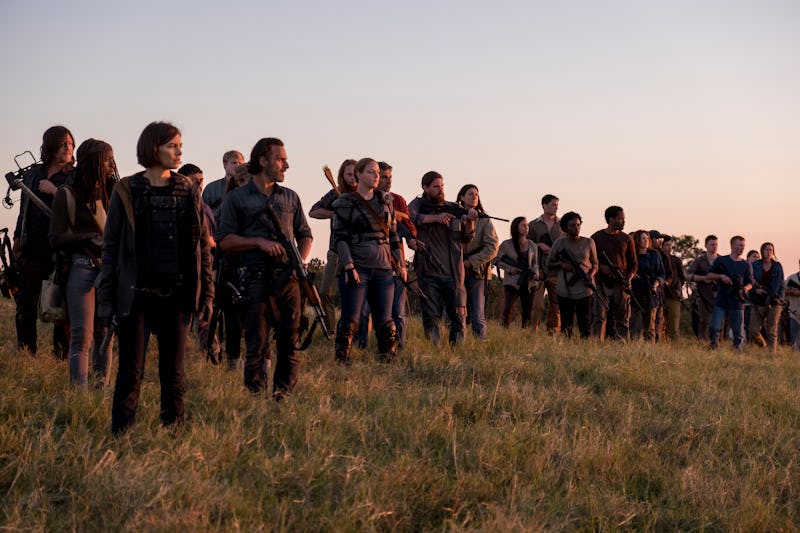 Gene Page/AMC
Spoilers ahead for The Walking Dead's Season 8 finale. A big decision was made on Sunday night's episode of The Walking Dead, but not everyone was on board. Rick allows Negan to live, despite Maggie's protests, and by the end of the episode, she is definitely not happy. So, will Maggie go bad in The Walking Dead Season 9?
It's unclear if she'll become an all-out antagonist, but she's definitely pissed at Rick and Michonne for letting Negan live, and that conflict isn't going to go away anytime soon. Rick and Michonne tell Negan at the end of the Season 8 finale that they plan to keep him alive in a cell as a sort of example to the rest of the society they're building.
"Carl pictured something better," Rick tells Negan as he lays in a bed, stitched up from the grisly neck wound he sustained at the hands of Rick. "All of us working together for something bigger than all of us. And you'll have a job too. You'll be an example of what this will be. We're not gonna kill you, we're not gonna hurt you. You're gonna rot in a cell. You're gonna be evidence that we're making a civilization, something like what we had, something we're gonna get back." Sure, it sounds like a great plan in theory, but a nagging suspicion remains surrounding Maggie. Toward the end of the episode, she chats with Daryl and Jesus about what the future plans for their group need to be.
"We have a lot to do. We have to build this place up, make it work better than before, make it thrive for the people who live here," she tells Jesus while Daryl listens in the shadows. "We need our strength — the ability to defend ourselves better — we have to have that. But ... Rick was wrong to do what he did. Michonne, too. So we're gonna bide our time, wait for our moment, and then we're gonna show him."
This is definitely an interesting twist for the show to take — Maggie and Daryl have never truly been in actual opposition on a serious, moral level to Rick, and Jesus has made a name for himself for being more peaceful and not exactly full of vengeance. To have these longtime fan favorites at odds with one another would certainly give fans something to grapple with, and some of them are already skeptical of the conflict.
Of course, just because Maggie, Daryl and Jesus want to get rid of Negan once and for all doesn't really mean that they'll need to bring physical harm to Rick or Michonne in order to do that. Violence between all of them would seem pretty out of character after all they've been through together, but also, Maggie was left hurt beyond belief after Glenn was killed, so it seems like she'll stop at nothing to give Negan what she thinks he deserves. It's also worth noting that some fans were questioning why Rick was the sole decision-maker when it came to sparing Negan, especially when so many other people, including the Saviors, have been hurt by him.
Showrunner Scott Gimple told Entertainment Weekly that no matter what happens after the Season 8 finale, The Walking Dead will be completely different in the season that follows. "This show will be very much a new show next year and with a bigger, new narrative," he told the outlet ahead of the finale. "It was something I was really excited about getting into even before Season 8." Whether that hints at new storylines or conflicts between characters like we've never seen, it's clear that things are going to be shaken up. For now, there's no telling what Maggie and her supporters will go through to get rid of Negan, but as long as Rick and Michonne keep Negan alive, she is not going to be happy.