Here's When To Expect Another Season Of 'Magic For Humans'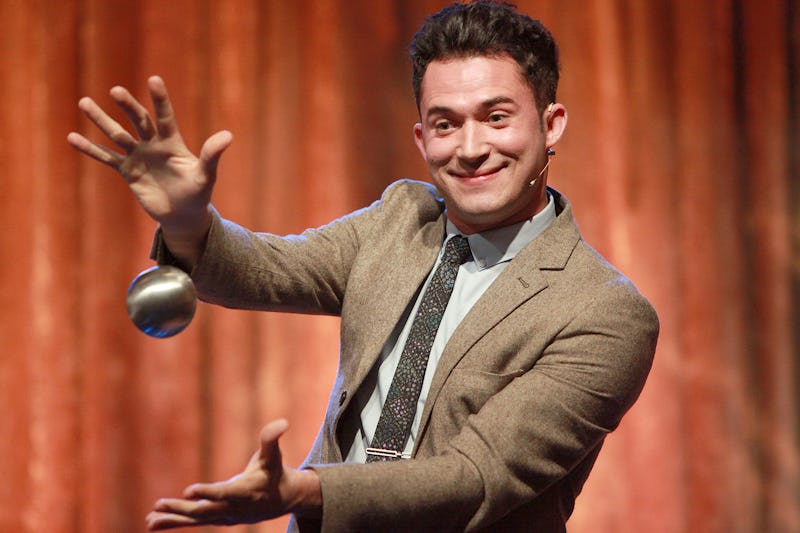 Rachel Murray/Getty Images Entertainment/Getty Images
Netflix's ongoing collection of original series is adding their first original magic series to their roster with Justin Willman's Magic For Humans. While the show adds some much needed magic to Netflix's line-up, fans of magic may be disappointed to hear that there has been no confirmation that Magic For Humans will return for Season 2.
The show features Willman performing whimsical street magic for strangers and is more interested in garnering laughs from its audience than shocking them — although his tricks are truly shocking to anyone who thought that spiders couldn't be pulled out of phones. The well-natured intention of Willman's magic is a strong contrast to serious and dramatic television magicians like David Blaine, known for his grotesque and shocking physical stunts, and the Mindfreak himself, Criss Angel.
While Willman takes the craft of magic seriously, Magic For Humans suggests that the act of intimate, street-based magic is best enjoyed when the performer is not taking one's self too seriously. Fans interested in more light-hearted magic-based television will surely enjoy Magic For Humans, and viewers whose enjoyment of the show inspire an interest in other shows with a similar tone will be happy to know that there are other shows on television that scratch the same magic itch that Magic For Humans does. If you need more relaxed magic programs in your life, here are a few good places to start.
The Carbonaro Effect
The show closest to Magic For Humans in terms of both content and tone is TruTV's The Carbonaro Effect. The hidden-camera show features magician Michael Carbonaro assuming the role of various professionals — ranging from cashiers to doctors — to prank strangers through magic. From rolling up removable moonroofs to turning bubbles into solid glass, Carbonara uses people's inherit trust of salespeople to stretch what people are willing to believe is possible with technology.
Penn & Teller: Fool Us
This magic competition show that airs on The CW has a simple premise — can you do a trick in front of legendary magic duo Penn & Teller without them knowing how you accomplished it? While not everyone manages to fool the pair, all of the performances featured are impressive feats of magic and illusion.
Derren Brown's Miracle and The Push
Derren Brown is one of England's most famous mentalists and illusionists, and 2018 saw the premiere of two of his specials on Netflix. Derren Brown's Miracle is a recording of a live show in which Brown uses tricks to explore the concepts of faith healing, and The Push is a show about orchestrating a series of events to try and push someone to commit a heinous act. Brown's magic may not be as light-hearted as Magic For Humans, but it is no less engaging.
Magic For Humans is a perfect gateway for viewers who are interested in the whimsy of magic but aren't interested in magic that is grotesque or too self-serious. While Magic For Humans has not yet been given a second season by Netflix, it's clear that the streaming service knows that audiences could use a little more magic in their lives.