Melania Could Have The Stage All To Herself When Trump Meets Putin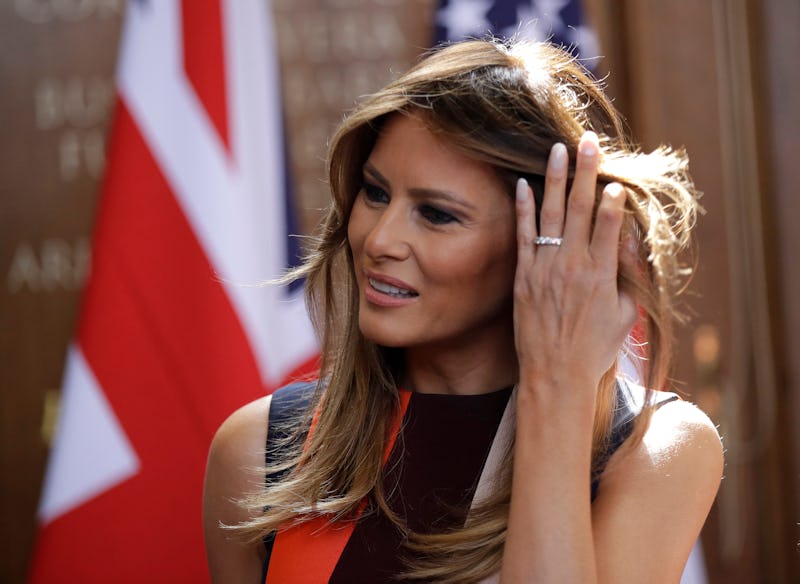 WPA Pool/Getty Images News/Getty Images
After getting in a few rounds of golf — something he recently admitted was his "primary form of exercise" — in Scotland, President Donald Trump is expected to head to Finland on Sunday for a summit in Helsinki with Russian President Vladimir Putin. But will Melania be heading to Helsinki as well? While the first lady is expected to stay with her husband for the final leg of his three-country European tour, it's unclear if she'll also be meeting with Putin.
Although the reason for their summit remains shrouded in mystery, Trump is expected to meet with Putin on Monday in Helsinki. And according to CNN, Melania is expected to accompany her husband on the trip. But although her presence is expected, it's unclear what the first lady will do in Finland's capital or if she'll even make any public appearances.
If Trump does opt to include Melania in his summit with Putin, it wouldn't be the first time the first lady has met the Russian president. Melania was seated next to Putin during a dinner at last year's G20 summit. According to Putin's own account, the two discussed Russia, Serbia, and fishing. The first lady was also apparently recruited at that same G20 summit to attempt to end a meeting between Trump and Putin that had run long.
"It didn't work," then-Secretary of State Rex Tillerson told reporters at the time.
Although the first lady's plans for the final leg of Trump's three-country European tour have yet to be announced, there's a good chance they'll look a bit different from the activities she did in Belgium and the United Kingdom. While Melania mingled with the spouses of foreign leaders during the NATO summit in Brussels and later spent time with Philip May, the husband of British Prime Minister Theresa May, during the U.K. leg of her trip with Trump, it's unclear if she'll step out with Putin's rumored romantic partner.
While the Russian president is no longer married — he divorced in 2014 — he's been repeatedly linked to Russian Olympic gymnast Alina Kabaeva since then. According to CNN, Kabaeva rarely makes public appearances, meaning that if Melania does step out while in Helsinki there's a good chance she'll do so solo.
Whatever she does, a spokesperson for the first lady said Melania's overall aim on the trip was to be a positive and respectful representation of America. "She's looking forward to building relationships and representing the United States," Stephanie Grisham, the first lady's communications director, told CNN. "But it's also very important to her that as she represents our country in a positive way abroad, she also pays respect to the host countries she is visiting."
Grisham said the first lady "learns all she can about the customs and traditions of the host country before every foreign trip."
Although she did not go into detail, Grisham told CNN that Melania's schedule for the three-country European tour would include spousal programs as well as "events focused on both public service and children."
Melania used her time in the United Kingdom to promote her "Be Best" campaign alongside May and visiting schoolchildren and veterans at the Royal Hospital Chelsea. Indeed, the first lady has often made visits to hospitals or with children a part of her schedule when traveling abroad. According to the Daily Mail, Melania has incorporated visits to children's hospitals into five of her recent trips overseas.
Grisham told CNN the first lady "wants to speak with and exchange ideas around the importance of children's well-being all over the world."
Bustle has reached out to Grisham, the first lady's communications director, for further comment.