Michele Bachmann Is Asking God If She Should Replace Al Franken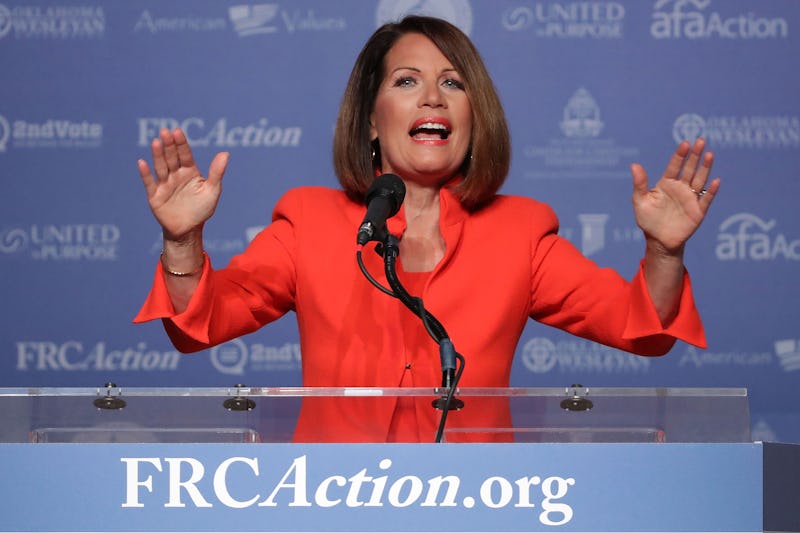 Chip Somodevilla/Getty Images News/Getty Images
When Al Franken resigned from the Senate, following accusations of sexual harassment, he left a crucial seat vacant. In December, Minnesota Governor Mark Dayton announced that Democrat Tina Smith would replace Franken, but now she might have some competition in the special election in 2018. Former Minnesota congresswoman Michele Bachmann has asked God if she, too, should run for the chance to replace Franken.
"I've had people contact me and urge me to run for that Senate seat, and the only reason I would run is for the ability to take these principles into the United States Senate," Bachmann told televangelist Jim Bakker on The Jim Bakker Show over the holidays. "The question is, should it be me? Should it be now?" She said that there's "a price you pay" when running for office, and now "the price is bigger than ever because the swamp is so toxic."
Bachmann, who was a member of Congress representing Minnesota until 2015, said she's counting on God to lead her in the right direction. "So the question is, am I being called to do this now?" she said. "I don't know." She went on to explain that God also influenced her decision to run for president in 2012. "I didn't even run because I thought I was gonna win," she said. "I ran to put the issue of Obamacare front and center in front of the American people."
Despite not winning the presidential race, Bachmann said the campaign was "wildly successful" because she was able to put pressure on the GOP to advocate for the repeal of Obamacare. "I didn't shed a tear when I left the contest," Bachmann said, "because I fulfilled the calling that God gave me."
Now, Bachmann is wondering if she's being called to run for Senate. She said she and her husband, Marcus, are "trying to be wise" about the decision. "I trust in a big God," she said. "He got us over all those finish lines." But, she did express how much of a challenge it would be to win the Senate seat, especially considering Minnesota currently has two Democratic senators.
Bakker and Bachmann went on to lament over what a "dirty fight" politics have become. "This country, everything about what is going on, the fight for everything, the political and the press, it's dirty," Bakker said. "It's a fight to the death." Bachmann agreed, adding, "It's like nothing we've ever seen before."
That's when Bakker veered into conspiracy theory territory, saying "they want to kill the president of the United States." However, he didn't specify who "they" are. The entire time Bakker interviewed Bachmann, an ad for his survivalist food buckets appeared at the bottom of the screen. They're meant to feed people through apocalyptic-type situations, during which there are supposedly mass food shortages.
Bachmann running for Senate would be concerning, considering her history of extreme right-wing views. The Evangelical Christian was previously accused of using gay conversion therapy at her Counseling Care clinics to "turn" queer people straight. Bachmann told Bakker that "false allegations" like this left her clinics nearly bankrupt twice.
"It is really tough, if you're going against the tide in D.C.," she told Bakker. "If you're trying to stand for Biblical principles and you stick your head up out of the hole, the blades come whirring and they try to chop you off. This is not an easy place to be."
Bachmann was also appointed as the "Pastor to the United Nations" by Jim Garlow's Skyline Church in August 2017. Garlow is an evangelical leader who launched The Jefferson Gathering, a prayer service at the Capitol which stemmed from the "Washington: A Man of Prayer" event, where members of Congress met with Religious Right activists to pray that God wouldn't punish America for things like legalizing same-sex marriage.
Garlow announced that his Skyline Church would expand its mission to the United Nations, and that Bachmann would lead the efforts. "What if you wanted to disciple all nations and you wanted to reach the whole world?" Garlow asked his Sunday service. "So God did you a favor, he simply arranged so all the world came to one place at one time so you could reach them all at once. What would you call it? You'd call it the United Nations and that would be the most economical way that you could possible reach the leaders."Bachmann was excited to take on her new role as the group's pastor to the United Nations.
I don't know a darker, more deceived place on earth than the U.N. Because as we saw at the Tower of Babel, that's probably the last time when we saw all the nations of the earth come together in a moment of deception … Their goal has been from the very beginning, the creation of a one-world order; but not a one-world order under the umbrella of the Holy Spirit, a man's attempt at a one-world order that only brings about chaos, confusion, deception, delusion, pain. And that's where, rather than cursing the darkness, Skyline Church is about to light a candle.
Considering Minnesota went for Hillary Clinton in the 2016 presidential election, it's unlikely that Bachmann would win the Senate seat if she did run. But for secular progressives, the thought is certainly concerning.