Robert Mueller Has Been Asked To Testify Before Congress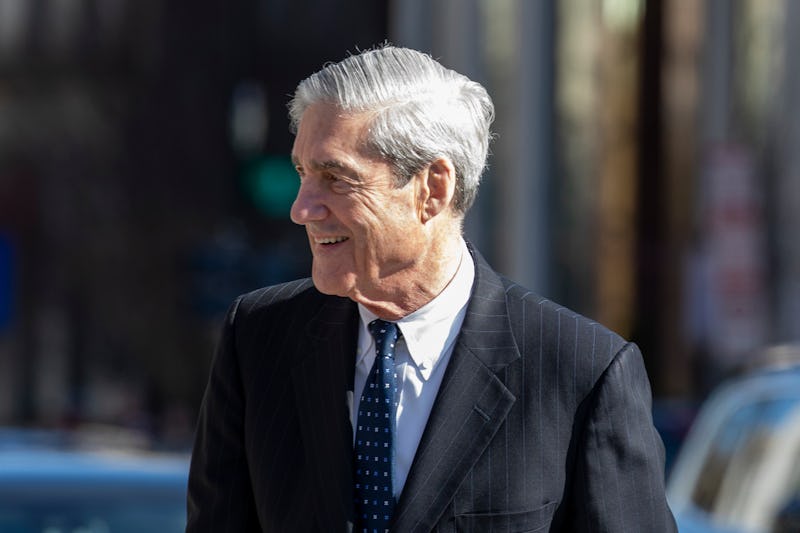 Tasos Katopodis/Getty Images News/Getty Images
Shortly after Attorney General William Barr held a press conference on Thursday to discuss the public release of Special Counsel Robert Mueller's report, House Judiciary Committee chairman Jerry Nadler called on Mueller to testify before Congress by May 23, ABC News reported. In a brief letter posted to Twitter just minutes after Barr concluded his remarks, Nadler requested Mueller's presence before his committee, noting that both Congress and the American people needed to "better understand his findings."
"As I have already communicated to the Department of Justice, I request your testimony before the Judiciary Committee as soon as possible — but, in any event, no later than May 23, 2019," Nadler wrote. "I look forward to working with you on a mutually agreeable date."
Nadler further requested Mueller's "prompt attention" to his request. Earlier this week, Nadler accused Barr of "waging a media campaign on behalf of President Trump" ahead of the report's release, per The Hill. The Judiciary Committee chairman also criticized Barr after The New York Times reported that Justice Department and White House officials had discussed the content of Mueller's report prior to its public release.
"Rather than letting the facts of the report speak for themselves, the attorney general has taken unprecedented steps to spin Mueller's nearly two-year investigation," Nadler argued Wednesday.
Nadler is not the only Democrat who has called on Mueller to testify before Congress. Earlier on Thursday, House Speaker Nancy Pelosi and Senate Minority Leader Chuck Schumer issued a joint statement urging Mueller to publicly testify, per Politico.
Barr's "regrettably partisan handling of the Mueller report ... and his indefensible plan to spin the report in a press conference" created "a crisis of confidence in his independence and impartiality," Pelosi and Schumer said. The Democratic leaders then went on to argue that "the only way to begin restoring public trust" would be for Mueller to offer a public testimony before Congress, CNN reported.
"The American people deserve to hear the truth," Pelosi and Schumer said.
Like Nadler, Pelosi and Schumer were critical of Barr's decision to host a press conference in apparent defense of the president prior to releasing the report to lawmakers and the public. According to CNN, Barr told reporters that he would not object to Mueller testifying before Congress.
Nadler, Pelosi, and Schumer were not alone in calling on Mueller to testify. House Intelligence Committee Chairman Adam Schiff also formally invited the special counsel to testify on his investigation.
"After a two year investigation, the public deserves the facts, not Attorney General Barr's political spin," Schiff tweeted following Barr's press conference. In a statement, Schiff noted that the House Intelligence Committee should be kept "fully and completely informed" regarding Mueller's investigation, particularly of its intelligence and counterintelligence findings.
Although Barr released the complete, redacted version of Mueller's report to Congress and to the public, Democratic lawmakers have demanded to see the full report without any redactions, NPR reported, arguing that the Justice Department has provided Congress with sensitive information and detailed investigation records in the past.