Don't Hold Your Breath For 'My Mother And Other Strangers' Season 2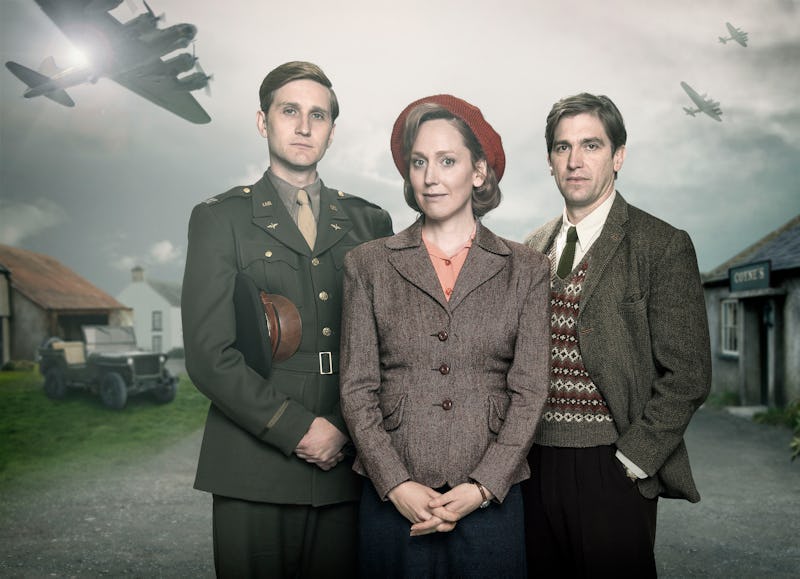 Steffan Hill/BBC 2016 for MASTERPIECE
The BBC originally aired the series in the summer of 2016, but My Mother And Other Strangers, a WWII-era drama set in Northern Ireland and focused on the relationship that forms between a married local woman and an American soldiers stationed there, didn't air in the US until this year. The five-episode first season is coming to an end on Masterpiece, and it's not clear yet if My Mother And Other Strangers Season 2 will ever happen.
It wouldn't be so concerning that the BBC hasn't made a decision yet if, the first season hadn't been announced in 2015, almost two full years ago. That's a long time for a show's future to be up in the air. Aaron Staton, who plays the American soldier, certainly seems open to potentially returning. Staton told The Huffington Post, "if there's any way Captain Dreyfuss has more story to tell in Series 2, I'll be there." But if My Mother And Other Strangers does come back, the wait to see that central love triangle resolved may be a long one.
My Mother And Other Strangers may not want to stretch out that romantic entanglement for longer than a season, but its version of WWII-era Northern Ireland is specific and rich enough to warrant its continuation. As writer Barry Devlin told The Independent, "Northern Ireland pre-1969 was a very different world. This is a drama about Northern Ireland, but it is set in a period away from The Troubles [...] and that's all the better for me." (The Troubles is what the 30-year civil conflict that went on in the area from the '60s to the '90s is often called.)
There is plenty of material to explore, so the lack of news about a Season 2 probably has another explanation. Star Hattie Morahan told The Telegraph that she is taking some time off from acting after being pregnant during Season 1. It's possible that the delay was undertaken to accommodate Morahan, because, according to the same article, the part was created for her.
Even if My Mother And Other Strangers is renewed it won't return for some time. In the meantime, check out some other historical dramas that are also set during WWII.
The Bletchley Circle
This series takes place in the immediate aftermath of the war, as a group of female former codebreakers forced to keep their experiences secret reunite in order to hunt down and stop a local murderer. In the second season, they must prove the innocence of one of their members. The show has been over for a few years, but it's worth catching up.
The Man In The High Castle
The Man In The High Castle presents an alternate history of the post-WWII era in which the Axis Powers were able to defeat the Allies, and the United States is divided between German and Japanese rule. It's not exactly historically plausible, but it's an frightening thought experiment.
Home Fires
Just before the war, in a small English town, everyday friendships and disagreements give way to the dramatic changes when most of the men in town leave for military service. Like Bletchley, the series is female-focused.
Five Came Back
This documentary explores how the American military service of five famous directors (John Ford, William Wyler, George Stevens, John Huston, and Frank Capra) changed the course of Hollywood film forever. Without the time they spent serving in the military, the doc argues, they would have never developed their visual sensibilities or their cinematic moral codes. Those experiences led directly to one of Hollywood's brightest golden ages.
Outlander
Claire's postwar life may only be featured in a few episodes per season, but her wartime nursing experience informs the character's behavior when she travels back several hundred years and falls in love with a Scottish leader. Both her confidence that she deserves to be treated fairly and her era-inappropriate medical knowledge have come into play in both timelines, even when the show's sweeping love story takes the spotlight.
The Mighty Eighth
This series hasn't premiered yet — in fact, it doesn't even have a premiere date. But it's the third miniseries collaboration between Steven Spielberg and Tom Hanks (after Band of Brothers and The Pacific), and while there are some unconfirmed reports suggesting half a billion dollars has been spent to save a reportedly troubled production, I still hope The Mighty Eighth will be released soon.
It seems very possible that My Mother And Other Strangers will stay a one-season miniseries, and fans will just have to be satisfied with the way the first season comes to an end. Fortunately, World War II continues to provide the backdrop for dramas and documentaries, so you can delve into that history elsewhere.