A Familiar Face Could Take Over Paul Ryan's Job Now That Democrats Control The House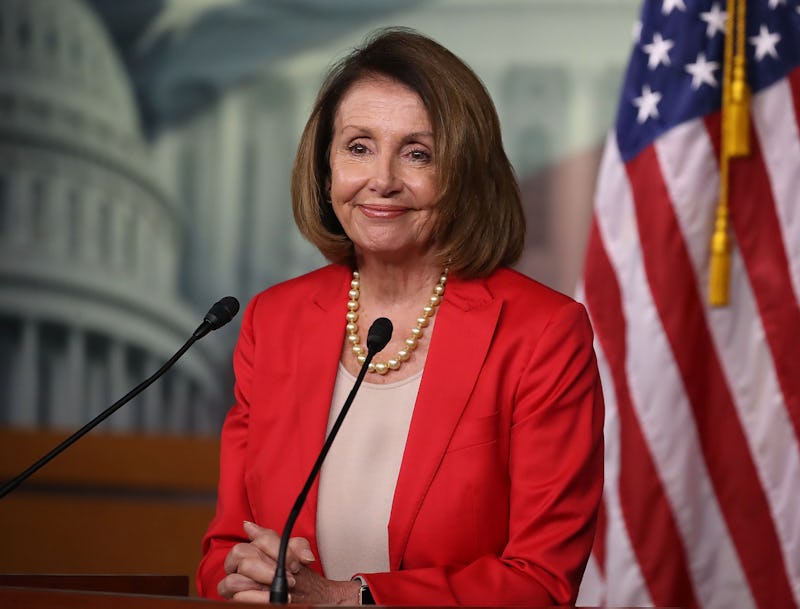 Mark Wilson/Getty Images News/Getty Images
The 2018 midterm elections are over, and attention is shifting to whether Nancy Pelosi will be elected Speaker of the House now that Democrats have won control of the chamber. The representative from California herself thinks that she will; in an interview with The San Francisco Chronicle last month, she said, "I believe I will be speaker if we win." Most analysts agree — but it's not a foregone conclusion.
To win the leadership position, Pelosi needs the support of a majority of the chamber, or 218 people. Some Democrats have indicated that they don't plan to support her — but it's not clear exactly how many will do so, and there's the rub.
A Vox analysis in August found that 42 Democratic House candidates had announced that they wouldn't vote for Pelosi. The Washington Post found 10 candidates in May who "conspicuously declined to express support for her." It seems quite likely that some current representatives would also decline to give her their votes, especially since Ohio's Tim Ryan won 63 votes in his campaign to replace her in 2016.
But it's far from clear how many people in the newly-elected body will opt for new leadership. Even the ones who've previously expressed their opposition to Pelosi could be convinced to change their minds. When Slate asked a top Democratic aide whether she would have a chance if, for example, the party won the majority by 10 seats and 11 Democrats had announced that they wouldn't vote for her, the aide replied, "10 is plenty to work with."
According to Slate, the main reason Pelosi seems likely to become speaker is because she doesn't have a clear successor. Names that have been floated include California's Linda Sánchez, Maryland's Steny Hoyer, Massachusetts' Seth Moulton, and many more. There isn't an obvious top choice to mount a challenge.
However, it's notable that the odds of Pelosi securing another term as speaker likely decline the narrower the margin of a Democratic majority would be, because that means each individual vote against her holds more potential weight.
And although the Democrats are indeed projected to win the House ― although the final tally is not yet known, with many races still outstanding along the west coast ― it by all appearances does not seem to be a massive landslide in which the party will lead by dozens and dozens of seats.
To the contrary, the eventual margin looks like it may end up being somewhat narrower than Democratic proponents likely hoped, which also means Pelosi's chances of being elected speaker again are all the more fragile.
If Pelosi is indeed elected to another term as speaker, it'll be her first time in the job since her four-year stint from 2007 through 2011, the last time the Democratic Party held a House majority. She's been the leader of the House Democrats for the last 11 years, although whether this longevity ultimately leads the Democrats to turn to her once again remains to be seen.
Chris Tognotti contributed to this report.