This Star-Studded Cop Comedy Might Be The Funniest Show You're Not Watching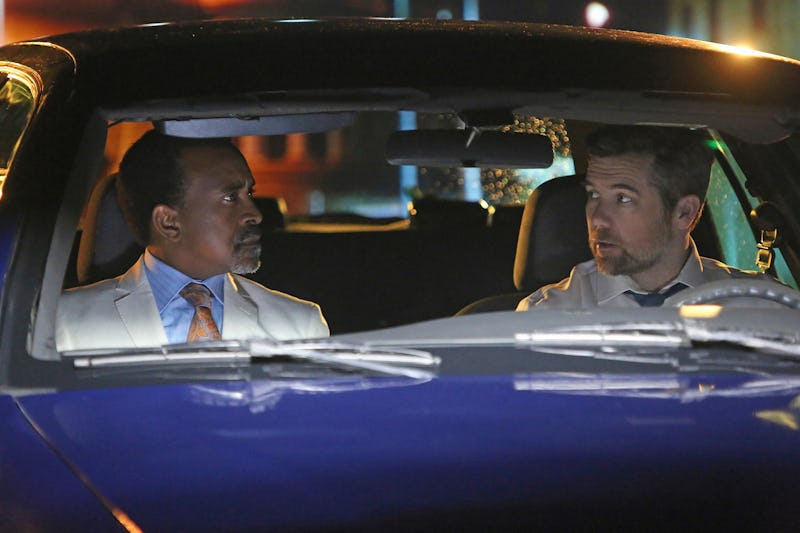 Patrick McElhenney/CBS
Just in time for a Thanksgiving marathon, the second season of star-studded cop comedy No Activity hits CBS All Access in full on Thursday, Nov. 22. Following in the footsteps of favorites like Brooklyn Nine-Nine, the series features two bumbling police detectives — Judd Tolbeck (Tim Meadows) and Nick Cullen (Patrick Brammall) — as they sit in their car doing stakeouts. Considering the pair rarely ending up doing any actual work, it's the perfect show to make you feel better about lying on the couch fighting off a turkey-induced food coma, but there's one thing fans can't yet be grateful for this year: There's no word yet on whether No Activity will return for Season 3.
The show is a veritable who's who of comedy, featuring heavy-hitters like Amy Sedaris, Will Ferrell, Jake Johnson, Jason Mantzoukas, Bob Odenkirk, and J.K. Simmons, among others. Furthermore, new-but-recognizable faces this season will include Jessica Alba, Max Greenfield, Joe Manganiello, Cristin Milioti, Chris Gethard, and Nasim Pedrad. However, despite its impressive star power, Season 1 only received middling to positive reviews.
No Activity is a Funny or Die production and boasts both Ferrell and Adam McKay as executive producers, per CBS. It's also based on an Australian show by the same name. The original series premiered on the Aussie streaming platform Stan in October 2015 and aired for two seasons (both of which are streaming on Hulu, for those interested). According to the Sydney Morning Herald, No Activity was Stan's first local production. Written and directed by Trent O'Donnell, it starred co-creator Patrick Brammall and Darren Gilshenan as the central cop duo.
Fortunately, the show was well-received down under, with many critics pointing out that the hilarious show wasn't really about anything, similar to Seinfeld. Furthermore, in an interview with the Sydney Morning Herald, Brammall jokingly compared the series to Waiting for Godot.
"In fact, it is the world's greatest cop show," Gilshenan said in the same piece. "There's a great story there, but the camera is just pointing at the wrong thing. We miss most of the action all the way through it, due to the fact that we waste too much time getting side-tracked in our conversations." It sounds like an Australian version of The Office, or those Sonic commercials with two men at the drive-thru if it were turned into a full-fledged series.
As a result of No Activity's success in Australia, Deadline revealed in August 2017 that the show had received an American spinoff, which premiered in November of the same year. As for No Activity Season 2, it looks like it will feature... a whole lot more of nothing. The SDPD cops are still bored in Car 27 as they investigate a cockfighting ring, as are the the two dispatchers (Amy Sedaris and Sunita Mani). Meanwhile, there's another cockfighting ring that Marco (Jason Mantzoukas) is trying to infiltrate. "Are you aware that we are in the midst of the biggest police corruption scandal this department has had?" Leo (J.K. Simmons) asks Nick in the trailer.
That said, there's been no Season 3 news so far. Per Deadline, No Activity was renewed for Season 2 back in February, so fans may have to wait a few more months to find out for sure. But whether or not the show comes back, fans can always revisit the original Australian series and watch all of the nothing that's gone on in Car 27.