Trump Ending DACA Could Be The Final Straw For Obama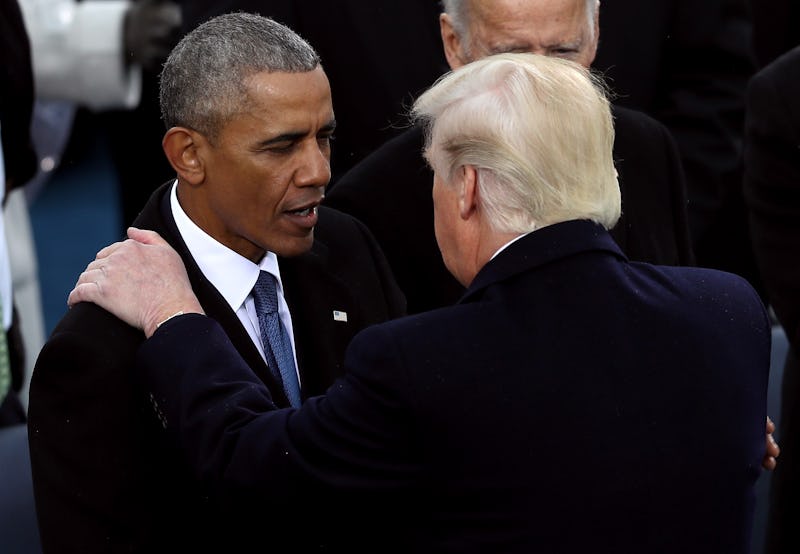 Joe Raedle/Getty Images News/Getty Images
For the most part, former President Barack Obama has refrained from publicly criticizing his successor, even as President Donald Trump has launched personal attacks against him and moved to chip away at his political legacy. Yet Obama may not remain silent for long. According to POLITICO, Obama plans to speak out if Trump ends DACA, a program he launched in 2012 which grants temporary protections to young immigrants brought into the country illegally as children.
According to The New York Times, President Trump is "strongly considering" ending the Deferred Action for Childhood Arrivals program, with a six month delay so as to give Congress an opportunity to create new legislation protecting so-called Dreamers from deportation. Currently, DACA enables young people who entered the United States illegally as children to stay and seek work permits or attend institutes of higher education for renewable two-year periods.
While Obama has largely refrained from offering his opinion on Trump's decisions, a move to formally end DACA may bring him to the mic, so to speak. POLITICO reported that Obama has plans to issue a statement on Facebook and share the link on Twitter, where he has nearly 95 million followers. And while a former president issuing public criticism of a sitting president may raise some eyebrows, it's not altogether surprising that DACA is where Obama draws the line.
When Obama gave his final press conference as president in January, he noted that as much as he was looking forward to stepping back from the political spotlight, he is "still a citizen" and would likely speak out during "certain moments where I think our core values may be at stake."
"For me at least, I would put in that category efforts to roundup kids, who have grown up here and for all practical purposes are American kids, and send them someplace else, when they love this country," Obama said at his Jan. 18 news conference. "They are our kids' friends and their classmates, and are now entering into community colleges or in some cases serving in our military. The notion that we would just arbitrarily, or because of politics, punish those kids, when they didn't do anything wrong themselves, I think would be something that would merit me speaking out."
It is not clear if the DACA program would continue to accept and, or renew applicants as normal should Trump announce an end to the program following a six-month delay or if the program would be put on "hold" during the delay. Trump is expected to announce his decision regarding the future of the DACA program on Tuesday.