Why Fans Are Demanding 'Once Upon A Time' Gets Another Spinoff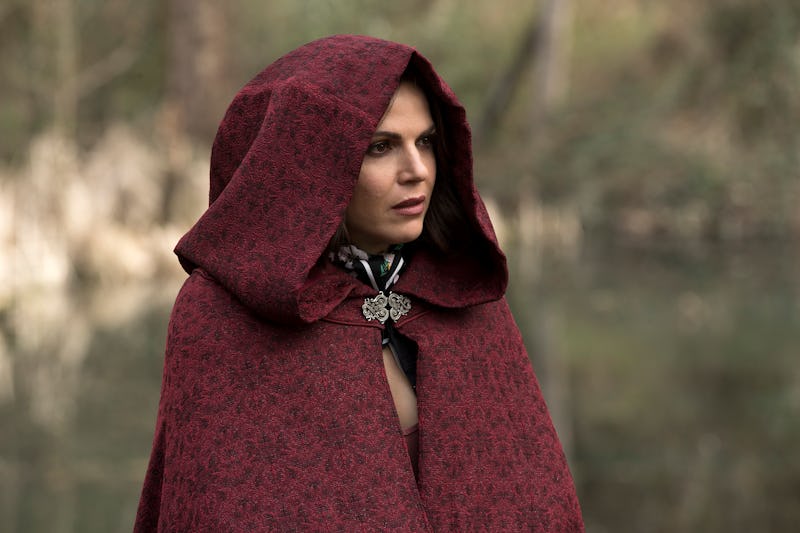 ABC/Jack Rowand
Once Upon A Time has been a longstanding fan favorite on ABC, but on Friday, May 18, its reign will end. There's been speculation among fans about a Once Upon A Time spinoff, but for now, it doesn't look like that's actually happening. After seven seasons, ABC cancelled Once Upon A Time, per TV Line, so it makes sense if the network isn't preparing to launch into a show in the same franchise.
It's definitely not the way Once Upon A Time showrunners would have chosen to end the series, but it's always been apparent that they're proud of what they created. "Seven years ago, we set out to create a show about hope, where even in the darkest of times, a happy ending would always be possible," Adam Horowitz and Eddy Kitsis, the show's creators and executive producers, said in a statement to TVLine in February. "But we never imagined the happy ending that was actually in store for all of us — years and years of adventure, romance, magic and hope."
Apparently they've been able to salvage much of their original plan for the seventh season, but Kitsis told Entertainment Weekly that there were ideas in store for a Season 8. "The [series] finale was going to be what we were going to do [to end Season 7], and then we're just not doing cliffhanger," Kitsis said. Though there was a pitch prepared for Season 8, it didn't gain any traction among network execs. "It was never heard," Kitsis said in the same interview, "We'll save it for the spinoff when they approach us in two years."
Kitsis may probably being a little cheeky with the spinoff comment, but it's not the first time an idea like that has been floated. Once Upon A Time In Wonderland aired on ABC in 2013 but only made it 13 episodes before getting the axe, so if anyone was toying with the idea of another similar spinoff, they'd have to take a whole new direction in order to gain traction for that idea.
But, back in 2014, ABC Entertainment Group president Paul Lee did tell Entertainment Weekly that the unfortunate fate of Wonderland didn't sully the network's faith in Kitsis and Horowitz. "[They] are endlessly inventive," he said. "They have a glimpse in their eyes of stories they're going to spin for many years to come on Once, and maybe beyond it. It certainly doesn't rule out their ability or our ability to build on Once." Of course, that was before the mainstay show was canceled, so things may have changed.
Even though a spinoff hasn't been announced, the show's fans are still all about the story and where it could potentially go from here. There are discussion threads from even the past few weeks speculating about possible new characters and storylines. And Twitter is still buzzing with viewers who desperately want to see more of their favorite characters, so interest isn't lost — not by a long shot. The premise of the show — which incorporates classic fairy tale characters as well as more modern additions to the Disney repertoire — could pretty easily lend itself to any amount of future storylines.
For now, though, Once Upon A Time will leave its viewers with seven seasons of great memories, and an ending that should give them a proper goodbye. "What we decided first and foremost is we have to love [the finale]," Kitsis told TV Guide. "At the same time, we kept the fans' hearts in mind, and so we tried to do a finale that reminded everybody why they loved the show to begin with."
"In our own ways, we are fans," Horowitz added in the same interview. "We love these characters, we love this world so much. So we really had to trust our instincts and trust that where we want it to go would be right if it felt right, and to us it did feel right. And we really hope everyone agrees."
No matter how the show takes its final bow, it's clear that the people behind Once Upon A Time wanted to do all they could to leave a lasting impression.