It Might Be Time For Your "Oprah 2020" Signs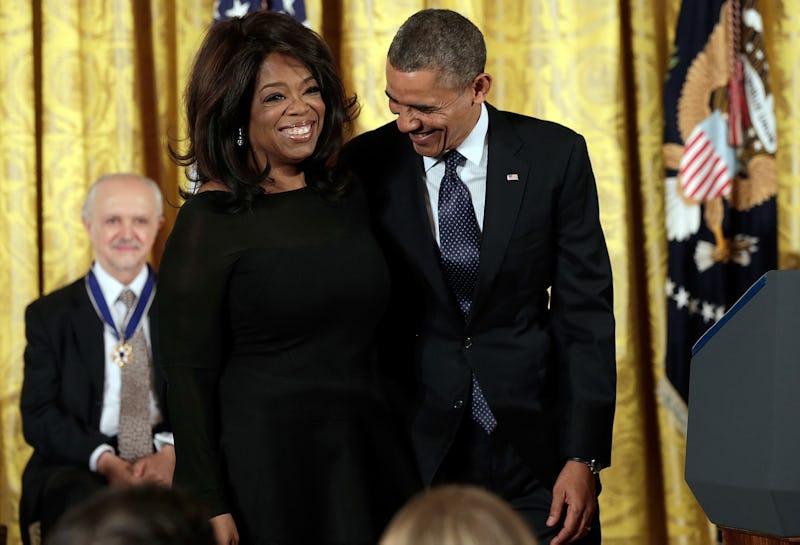 Win McNamee/Getty Images News/Getty Images
America may continue its trend of television personalities turned politicians, but with a potentially far more likable candidate the next time around. The former queen of daytime talk and television mogul Oprah Winfrey hinted she may run for president in 2020, suggesting in Wednesday's episode of Bloomberg's "The David Rubenstein Show: Peer-to-Peer Conversations" that President Trump's successful campaign had given her pause about her own Oval Office prospects. Oprah may be, after all, the perfect antithesis after four or more years of a Trump presidency.
Financier and philanthropist Rubenstein asked Oprah — given her enormous popularity both on and off the air as well as the fact that women have yet to break the glass ceiling — whether she had ever considered that she could run a successful presidential campaign.
Oprah paused, seeming to give her answer some thought. "I..." she started, after the audience broke away into thunderous applause, then laughter.
"I actually never thought — I never considered the question even a possibility," Oprah said. "I just thought, oh, oh."
Rubenstein pointed out that the nation's current president clearly didn't need the political experience of his predecessors to win the election — something Oprah would, technically, share with him as a hypothetical candidate.
Oprah agreed, though she didn't mention Trump by name. She added: "I thought, 'Oh gee, I don't have the experience, I don't know enough. Now I'm thinking, 'Oh, oh.'"
"I'm Thinking O" seems to be a ready-made slogan for her 2020 presidential bid, right? (Feel free to thank me for that one later, Oprah).
If there's one positive thing Trump gave us as president, perhaps he will somehow help give us President Oprah. Given Oprah's massive success in seemingly all forms of media, there have been cries to get her to run for president before. But Oprah had previously shut down the idea, once telling Late Show host Stephen Colbert that she would "never" run for president. "No, it's not my thing," she told Colbert in early January.
But it seems that the idea of an eight-year-long Trump presidency could make Oprah rethink her next career move. Given that Trump ran on the legacy of his real estate empire, Oprah could theoretically do the same with her media empire (and surely have far more to offer in both assets and personality, too).
So while we definitely can't be for sure Oprah will mount a presidential campaign anytime soon, we can at least get our "I'm Thinking O" signs ready.