Here's How You Can Get Your 'Pod Save America' Fix Even After The HBO Specials End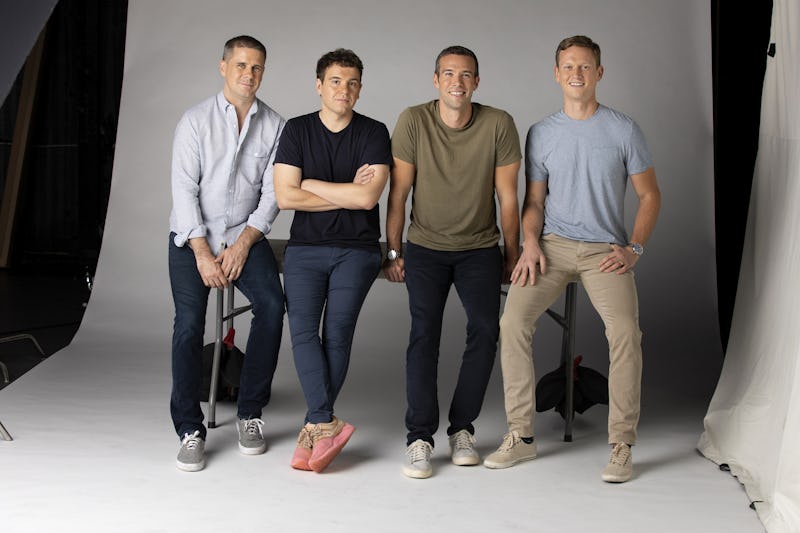 John Johnson/HBO
Pod Save America, the popular political podcast hosted by Jon Favreau, Jon Lovett, Tommy Vietor, and Dan Pfeiffer, made its on-screen debut Nov. 12 on HBO. The following four, one-hour specials have trailed the former Obama staffers across the country as a lead-up to the midterm elections on Nov. 6. And although the final episode premieres Friday, Nov. 2, at 11 p.m., it's too soon to say whether Pod Save America will return for Season 2.
According to the Daily Beast, the quartet were planning to tour key states even before HBO approached them to do a TV show. "It worked out very well that HBO said, 'Cool, we'll film them,'" Favreau said. And their shows have truly spanned the nation: Episode 1 was taped in Miami, Florida, where the guys spoke to activist Demetrius Jifunza. The second installment took them to Austin, Texas, where their guest was Beto O'Rourke — a Texas Democratic senatorial candidate in the upcoming election. They then went to Philadelphia, where guests included former Bernie Sanders press secretary Symone Sanders and House of Representatives candidate Chrissy Houlahan. As for their finale, Favreau, Lovett, Vietor, and Pfeiffer will travel to Irvine, California, where they'll be joined by Alyssa Mastromonaco.
The four men started Pod Save America amid the polarizing aftermath of the 2016 election, per the same Daily Beast article. And they've gained a considerable following since then, with an average 1.5 million listeners per episode, according to the Guardian. However, they were no strangers to podcasting before launching Pod Save America, having hosted The Ringer's political show, Keepin' It 1600, which they tabled in December 2016. Since then, they've rolled out a whole slew of podcasts under the company Crooked Media, which was founded by Lovett, Vietor, and Favreau, per their website.
"What Crooked Media does is fill a huge vacuum," Pfeiffer told the Daily Beast. "There has never been smart, entertaining, activist media on the left. That was a hole that needed to be filled, both because there's a market for it, but more importantly, it's a huge problem for progressives that we are massively outgunned in the media space." In addition to Pod Save America, Crooked Media's podcasts include Keep It, hosted by Ira Madison III along with Kara Brown and Louis Virtel; Erin Ryan's Hysteria; and Lovett's own Lovett or Leave It, among others.
However, the mission of their HBO series is to encourage midterm election turnout. In fact, the Pod boys recently launched a platform called Vote Save America (starting to see a pattern yet?), which includes invaluable resources for voters. "When we started this whole project, we were like, is there a place where you can register to vote, check if you're registered, get involved somehow, and then actually know what you're voting on?" Favreau told the Daily Beast. "And there was no place that does all those things." Fortunately, this venture has proved to be wildly popular, with the same article reporting that more than 132,000 people have pledged to vote through their site — and this was back in mid-October, so the numbers are likely higher by now.
So while there's no news yet whether Pod Save America's HBO specials will continue, the fact that they're referred to as "specials" should be a hint that this is a one-time thing. And even if they do return, it might not be until there's another big political event to rally behind. Perhaps the 2020 election? Whatever the case, Favreau, Lovett, Vietor, and Pfeiffer still release twice-weekly episodes of Pod Save America, so audiences can still enjoy those. And since they've built such a solid fanbase, it's doubtful the Pod boys will unplug their earbuds anytime soon.