There's A Possibility Your Bacon, Egg, & Cheese Is About To Get Cheaper ... For Now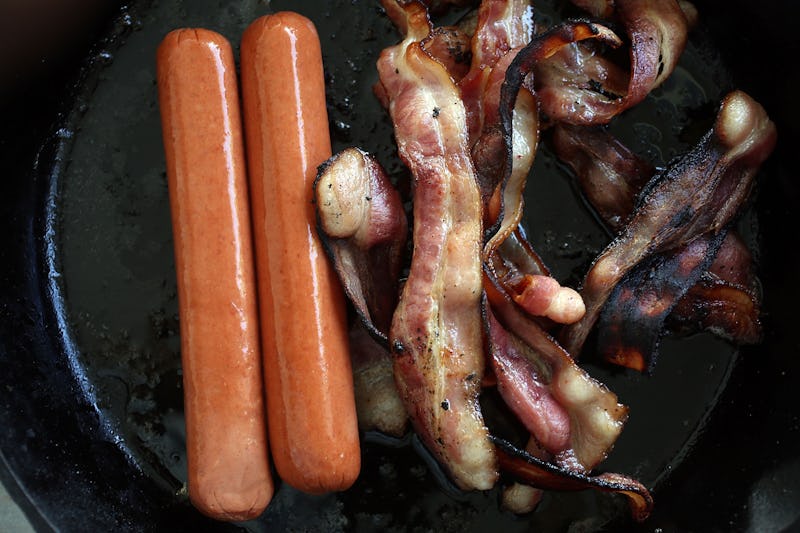 Joe Raedle/Getty Images News/Getty Images
If you've ever stared (as many of us do) at the bacon section in a grocery store, you've probably seen all the different kinds of bacon there are. Uncured. Center cut. Hickory smoked. Applewood smoked. Thick cut (the best). The higher quality meats can hit the double digits range, but the next few months may give you the chance to try them without splurging. Though Mexico has imposed retaliatory tariffs on pork exports coming out of the United States, pork prices might temporarily drop, according to CNBC, meaning your daily bacon, egg, and cheese breakfast sandwiches may get cheaper too.
In response to a trade war started by President Trump, Mexico announced plans on Tuesday to hit the United States with tariffs as high as 20 percent on pork product exports, according to CNBC, specifically on pig leg and shoulder parts. This comes after President Trump slapped tariffs on aluminum and steel imports from Mexico, Canada, and the European Union, the Washington Post reported. For pork producers and farmers, this will hurt — pork products that usually ship over the border for sales will stay in the domestic market. A pileup of these products means too much supply and will likely lead to lower prices on pork items in the near future.
But it wasn't just pork that got the cross-border price bump. Mexico also levied several other tariffs on agricultural products, including cheese, potatoes, apples, and American bourbon, according to Reuters. These goods will get slapped with tariffs between 15 percent to 25 percent.
This clapback from Mexico is just the latest in an escalating trade war. Earlier this year, after the president imposed tariffs on Chinese products, China struck back on April 2 by imposing tariffs on U.S. pork as well. As CNBC reported, before Trump's move, the standard Chinese rate was about 12 percent for most U.S. pork being exported to China. After China hit back, the rate became 37 percent. This has not been good for American pork producers, particularly those who live in Iowa. The Des Moines Register reported that Iowa producers have already lost $560 million after China's tariffs. Many tweeted out their unhappiness with the eye-for-an-eye war.
And that number could get worse with Mexico's decision. Mexico is the biggest market by volume for U.S. pork exports, according to the Des Moines Register, and made up about 25 percent of all pork shipments last year. Sales with Mexico hit $1.5 billion last year, compared to $1.1 billion with China and Hong Kong. Iowa is the United States' largest producer of pork.
Industry experts who spoke with CNBC said the pork business is heavily dependent on trade and that this move has turned those involved into unintended victims.
"Producers are going to bleed a lot of red ink," said Ken Maschhoff, chairman of Maschhoff Family Foods and co-owner of the nation's largest family-owned pork producer, to CNBC. "I'm not here to predict what impact it might have on the markets, but any time you get tariffs on a market that's as important as Mexico to us...it's not going to be good for pork producers. It's a terrible market disruption and bad timing."
It's bad timing because people are heading into summer, the season of barbecues and grilling get-togethers. According to CNBC, the tariffs are already here; effective Tuesday, unprocessed pork faces a 10 percent tariff into Mexico. That percentage will shoot up to 20 on July 5.
There's another reason Mexico and China are so important to America's pork market too. Cuisine styles are different, and the nations have historically bought parts of the pig that Americans don't use or eat, including raw hams and organ meats, per CNBC. The desire for these body parts adds value to the pig and has helped producers create less waste and more profitability. So, this summer, take advantage of the potential price drop on bacon. Just don't forget that the temporary savings are a part of a global trade back-and-forth that could have much wider implications in the future.