George & Charlotte Will Have A BIG Role In Eugenie's Wedding, So Prepare For Cuteness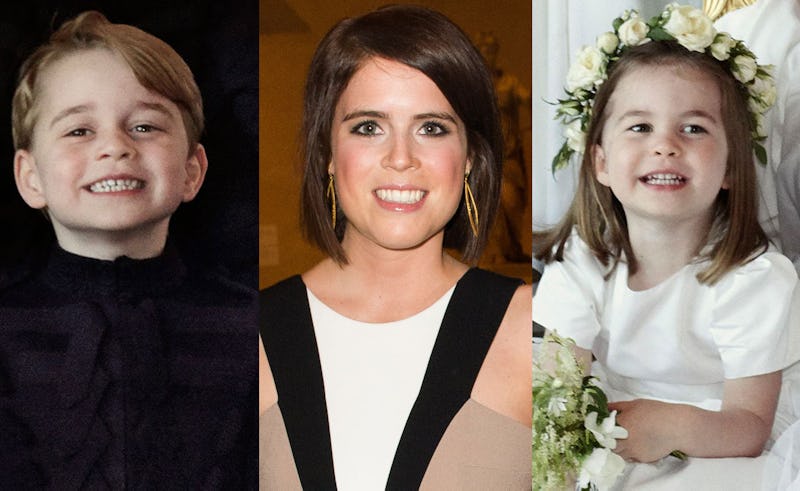 Michael Kovac/Getty Images Entertainment/Getty Images/Shutterstock
Who knew that 2018 would be the year for royal weddings? I know, it's only two, but still. Who doesn't love the opportunity to watch two strangers profess their love for one another on telly not once, but twice? And don't even get me started on the page boys and flower girls, my heart literally cannot contain it, especially when it a comes to two little heirs to the throne. So, will George and Charlotte be at Eugenie's wedding on Friday?
Update: On Oct. 10, Buckingham Palace confirmed that Prince George and Princess Charlotte will serve as page boy and bridesmaid, respectively. Charlotte will be joined by Miss Savannah Philips, Miss Isla Philips, Miss Mia Tindall, Miss Maud Windsor, and Miss Theodora Williams as bridesmaids. Savannah and Isla are daughters of Eugenie's cousin Peter Philips, while Mia Tindall is Zara Tindall's daughter. Maud Williams is Eugenie's goddaughter, and daughter of Lady Frederick Windsor and Lord Frederick Windsor, while Theodora Williams is the daughter of Ayda Field and Robbie Williams. George will be joined as page boy by Mr Louis de Givenchy, who is the son of Mrs Zoe De Givenchy and Mr Olivier De Givenchy.
Earlier: Judging by reports, it's looking like they will be. While it won't be certain until the big day, it has been reported that Prince George and Princess Charlotte will be Eugenie's page boy and bridesmaid, according to the Express.
"The pageboys will undoubtedly include George," a royal expert told the paper. "It will be his fourth outing too, he enjoyed himself so at Sophie Carter's recent wedding." Carter, a close friend of Middleton, married Robert Snuggs last month where George and Charlotte took on the role of page boy and bridesmaid for the second time this year.
They will most likely be accompanied by Robbie Williams and Ayda Field's daughter Theodora Rose, Lord Frederick Windsor and Sophie Winkleman's daughter Maud Elizabeth Daphne Marina Windsor, Oliver de Givenchy's children Ines and Louis, Prince Edward and Sophie, Countess of Wessex's son James, and Holly Branson and Freddie Andrews' son Artie, according to The Express.
Also believed to make his first appearance at the wedding is five-month-old Prince Louis. "It is possible Louis might appear with a nanny," the royal expert said. The world last saw Louis at his christening back on June 9 at the Chapel Royal in St James's Palace. Wow, that went by quick.
By the end of the year, those kids would have gone to more weddings than I have and I'm in my early twenties. I need to get out more. Or somehow become a royal.
At least us Brits can all feel kinda royal again this week, thanks to the increased amount of detail surrounding the autumn royal wedding. Whilst all will obviously be revealed on Friday, there's at least some tid bits to keep your curious royal mind at ease before the big day.
On Oct. 6, Buckingham Palace confirmed further details regarding Eugenie and Jack Brooksbank's wedding day. It was announced that the Dean of Windsor will "officiate as the couple make their marriage vows," and the Dean will also give the address alongside the Rt. Revd. David Conner.
During the ceremony, "musicians from the Royal Philharmonic Orchestra will perform," and singer-songwriter Andrea Bocelli will also perform two pieces. Talk about fancy.
And what about the cake? London-based cake designer Sophie Cabot will be making the couple a red velvet and chocolate cake with "a modern feel" that will "incorporate the rich colours of autumn in its design and will be covered with detailed sugar work including ivy." Someone sneak me into the reception, please.
Oh, I do love a royal wedding. There better be some more in 2019, because I'm getting too used to all this excitement.