Prince Harry May Break This Major Fashion Rule During The Royal Wedding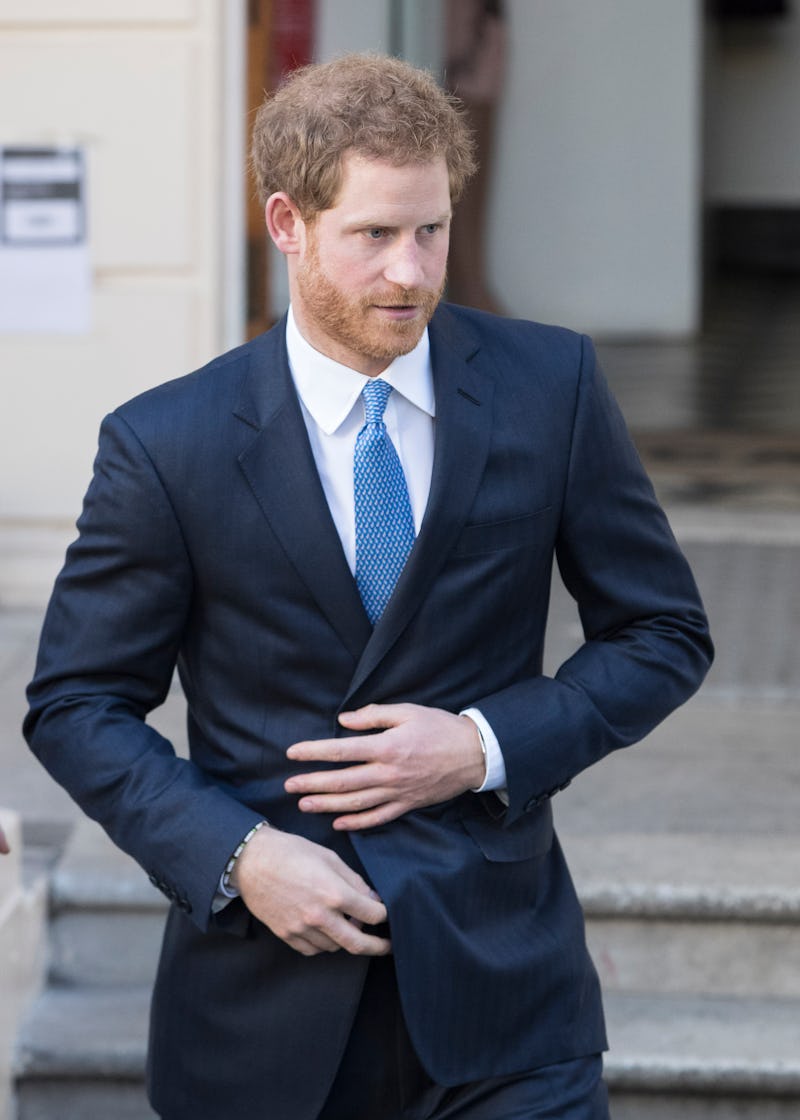 John Phillips/Getty Images Entertainment/Getty Images
When it comes to wedding prep, everyone involved begins to put their best foot forward days before the ceremony, buffing and polishing themselves to the nines. Whether that's going to the salon for a root update, or heading to the barbers to get one's facial hair tidied, that week before the nuptials is go-time. So is Prince Harry going to have to shave his beard for the wedding? The Prince is known for his facial scruff, where he has been growing out his beard since 2013 and rarely shaves it off. But seeing how the royal family has to abide by a strict set of etiquette rules, he might just be forced to bring out the razor.
In the end, it apparently all depends on if he chooses to wear his military garb on the big day. It is a tradition for the royal men in the family to wear their military uniforms during their nuptials, where Prince William wore the red garb of the Irish Guards, of which he is the Colonel; Prince Charles wore his full navy commander uniform when he got married to Princess Diana; and Prince Philip wore his Captain General of the Royal Marines uniform when he married Queen Elizabeth.
Prince Harry has spent 10 years serving in the military as part of the Army's Household Cavalry's Blues and Royals, so it would make sense for him to continue the tradition and wear his uniform after such a long career in the service.
But according to historian Hugo Vickers, he might not be able to wear it unless he shaves his beard. Military tradition says that people wearing the uniform are not allowed facial hair, unless there are extreme circumstances like religious reasons.
"He's not able to wear his Royal Horse Guards uniform with a beard," Vickers told the Press Association. "He does it sometimes but they don't like it. That's why when he took the parade at Sandhurst, he wore a suit."
Vickers was referring to the couple of times that Prince Harry wore his scruff with his official uniform — specifically during the Remembrance Sunday service in 2017, which honored fallen soldiers — and received push back for bucking tradition.
According to Vickers, that's partly why he ditched his uniform and just wore his medals on his overcoat when he appeared at the Sovereign's Parade at the Royal Military Academy in December.
However, there can be a loophole. Since he's technically not part of the force any longer (he retired in 2015,) those rules may not apply to him.
HELLO!'s royal correspondent Emily Nash explained, "He is no longer serving, so is no longer tied by army rules on facial hair. He's had a beard throughout his relationship with Meghan, so it would be very odd if it disappeared on the big day!"
But it is important to note that he was already retired when he received criticism from traditionalists for wearing his military dress coat out last November with his signature scruff, so even if the rules don't apply to him, some still will be offended.
But then again, Harry is known not to chafe underneath disapproval. For example, back in 2013 when he let his beard grow out for the first time, the Queen let him know that she disapproved of it and that she wanted him to get rid of it. "She doesn't mind royal men growing beards when they are away in the armed forces or out in the wilds like Harry was in the Antarctic, but she expects them to be clean-shaven when they get home," Nash shared.
He did as his grandmother said, but when he came back from the army in 2015, he grew it back out and hasn't touched it since — whether the Lady Regnant approved, or not. So we'll just have to wait and see if he'll apply that same brave attitude on his wedding day.