'Psych' Has A Six-Movie Plan & The Potential Next Theme Will Thrill Fans — EXCLUSIVE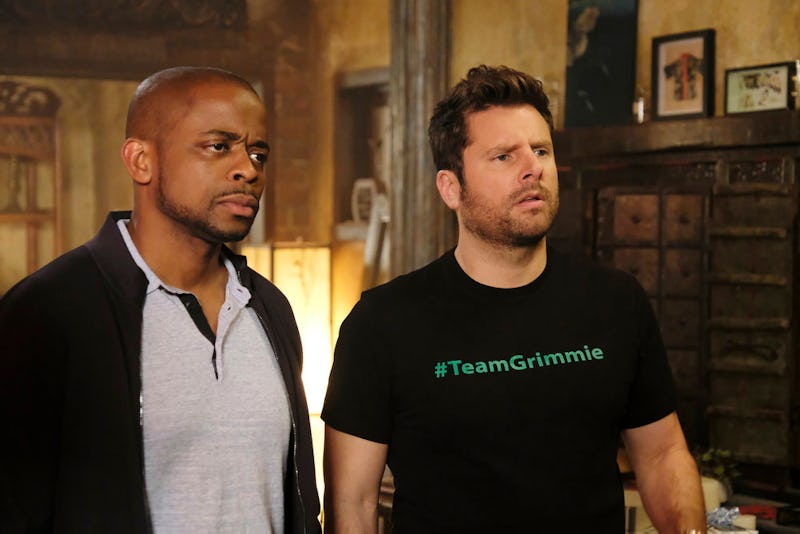 Alan Zenuk/USA Network
Over the years, Psych had a few great Christmas-themed episodes. But now Psych: The Movie is here with a grand 120 minutes of holiday cheer. Airing Dec. 7 on USA at 8 p.m., the film will catapult viewers back into the wacky world of Shawn, Gus, Juliet, and more. It'll be just like we never left... except that three years have passed, the gang has moved to San Francisco, and Carlton Lassiter is sadly not nearly as present in the film. But, even though it's exciting to see our fave fake psychic back on the screen, producer Chris Henze has already told Bustle that the Psych movie will leave fans wanting a sequel. So, after the premiere comes and goes, will there ever be a Psych: The Movie 2? Hold onto your pineapples, fans, because creator Steve Franks has a whopping six-movie plan for us — and star and film co-writer James Roday already has a theme in mind for movie number two.
"In my mind it's always been six movies," Franks told a cheering audience at the New York Comic Con panel for the movie. "So we got one down and, you know, we'll go from there." Fans who were holding out for at least one sequel have to be pretty stoked now to learn that there's a potential Mission Impossible-length franchise in Franks' mind. He did note that the USA network hasn't necessarily signed on to produce six, but if the first one makes a really big splash, perhaps the network will be more inclined to go into production on two through six. In addition, Roday already has an idea of what the sequel's theme would be.
"Halloween is the one that I've already heard is sort of percolating," he tells me in an interview after the NYCC panel. "Halloween is an obvious one for us, just because there's precedent for spooky Psych. It would not be shocking, if we were to get to make more of these, the Halloween one would probably come up pretty quick."
Roday helped write the first movie with Franks, who is just as excited about Roday's Halloween plan for a possible second one — especially because during much of its series run, Psych didn't air in October. "We were always off during Halloween week and all James [Roday] and I ever wanted to do was do a Halloween episode," Franks tells me at NYCC. "Doing a Halloween [movie] would be such an amazing, great idea and something that we would love to do, because the scary episodes are the ones that are so fun. It's James' terrain, and it's me getting the chance to come play in his arena."
With the six-movie plan in place and a theme basically already picked out for the second movie, it does seem at this point to be up to the network alone — because the cast is totally down to do more. As Roday said at NYCC, "We'll go on this journey as long as [the fans] feel like carrying us."
And his fellow stars share his desire to reunite for more. "[I'd do] all of them," Corbin Bernsen, who plays Shawn's dad, says to me about the multi-film plan. "If we're going to do all six, I'll be 72 or 73 [by then]. They've just got to keep that in mind," he jokes. "But, then again, Shawn will be 55."
Maggie Lawson, who plays Detective Juliet O'Hara, also says she's "game for one of these a year for as long as we can do them," and agrees that Halloween would be the natural next choice. "That would be really funny. A Halloween movie would be ridiculous — and with James [Roday] being such a phenomenal horror writer." Kirsten Nelson, who plays Chief Karen Vick, has an especially touching reason for wanting to do a follow-up movie: Timothy Omundson's Carlton Lassiter wasn't really able to be in the Christmas movie, and she tells me that she wants him back for round two.
In May 2017, Omundson began posting on Twitter to let fans know he'd suffered a stroke. It was a scary medical emergency that actually led to Roday and Franks re-writing the entire Psych movie script. Lassiter's role was downgraded to just one scene since Omundson wasn't well enough to film more than that. Still, his being in it at all is "nothing short of a miracle," Roday says.
Nelson wants a sequel so that Omundson can heal and return in the larger role that he's always played on the show. "I think the second movie is going to be about Lassiter," she says. "I think it has to be ... You have to see him. I think the fans, I think the cast needs to see him be a part of that onscreen family again ... We need to do a second one if only to have Lassiter's story be told in a really big way."
And perhaps that story will finally get to be told during Roday's spooky season of choice: Halloween 2018.