'Return Of The Mac' Season 2 Isn't A Done Deal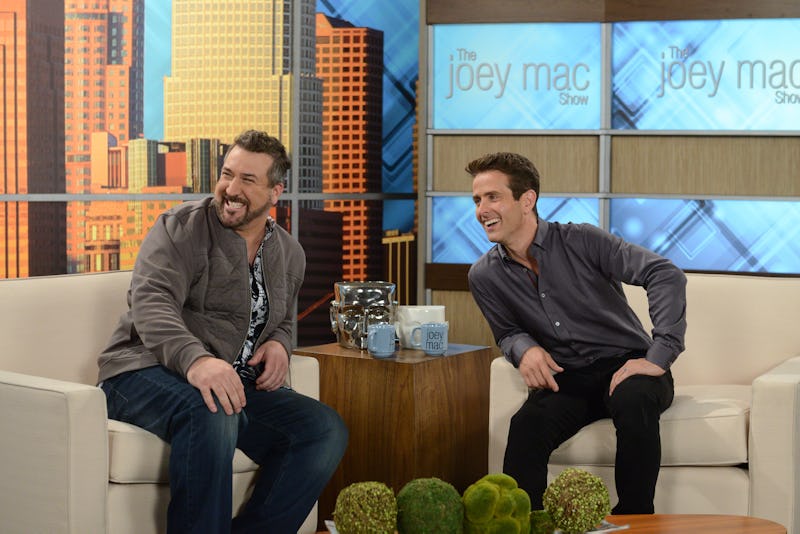 Pop
Having first risen to stardom in the mid-'80s as a member of the boy band New Kids On The Block, Joey McIntyre has also built up a significant acting resume. Right now, he's starring in the scripted comedy, Return Of The Mac, where the pop star plays a fictionalized version of himself. The show follows his adventures as a talk show host, close friend of *NSYNC's Joey Fatone, and devoted dad. (His real kids appear in the show as well.) And even though its first season is almost over, there's still no news from Pop about Return Of The Mac Season 2. But if Return Of The Mac does return, it will likely be in mid-2018. Compared to most actual reality shows, a scripted series like this usually requires a lot more production time.
Return Of The Mac frequently makes reference to McIntyre's boy band career. (New Kids On The Block are still touring, by the way, and just released an EP in May.) The series has featured guest appearances from bandmate Donnie Wahlberg (who has his own reality series, Wahlburgers) and his wife Jenny McCarthy, and orchestrating cameos like that can also take time.
But a blend of scripted comedy and reality TV has become a relatively common TV trend. In fact, if you're missing Return Of The Mac, there are some similar series that you can check out — even if they may be lacking an '80s heartthrob.
Curb Your Enthusiasm
All other subsequent comedies that have blended the stars' real lives with sitcom conventions owe a serious debt to Larry David's HBO series, which will be returning in 2017 for another look at the constantly awkward life of the sort-of-fictional version of David, who can't help but make even the most normal social situations into a huge production.
Episodes
Friends star Matt LeBlanc played a lovable meathead on the show, and he's doing a slight twist on that archetype in Episodes, the Showtime series about the fictionalized LeBlanc's entanglement with a pair of British writers brought to Los Angeles to work on a new comedy with him.
Nobodies
Melissa McCarthy and her husband/fellow producer/actor Ben Falcone aren't the stars of this series, but they and plenty of A-List actors play versions of themselves in this behind-the-scenes look at what it's like to work in Hollywood when your name doesn't open doors.
Lady Dynamite
With a manic tone that matches her high-speed standup comedy, Maria Bamford collaborates on this Netflix series with Arrested Development creator Mitch Hurwitz. It may be dialed up to 11, but if you're familiar with Bamford's achievements and hurdles, it is recognizably, if loosely, based on real life.
Hollywood Darlings
This series, also on Pop, is a scripted/un-scripted hybrid series about the real friendship between the stars of Full House, Step By Step, and Seventh Heaven. And since it's on the same network and costars some other stars whose heyday was at the same time as NKOTB, Hollywood Darlings is worth a look for any Return Of The Mac fans.
Real Husbands Of Hollywood
And Kevin Hart's series spoofs both his own career — which always seems to head in the wrong direction on the show — and shows off the comedy chops of his many, many famous friends. The show may be shot like a reality series, but it's actually a scripted comedy. Though I'm sure plenty of Hart's many jokes and rants are improvised.
Surprisingly, Joey McIntyre isn't the only celebrity who's made a self-aware parody of what it's like being slightly past Hollywood prime, which should make Return Of The Mac an easy choice for Pop renewal.