Will Rihanna Be At The 2017 Met Gala?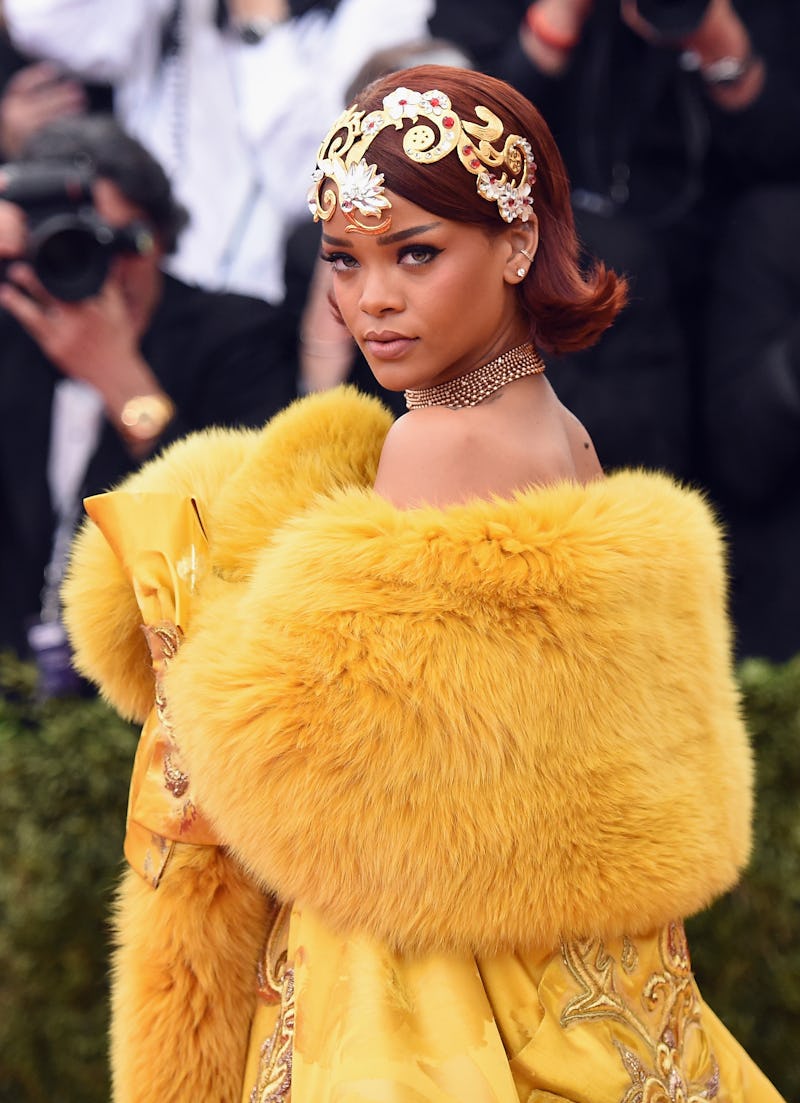 Mike Coppola/Getty Images Entertainment/Getty Images
On May 2, 2015, history was made, history as in Rihanna dazzled in a yellow Gui Pei masterpiece at the Met Gala. The same dress that generated a meme movement and what numerous glossies branded as "winning" the 2015 Met Gala. Since then, no other ensemble has quite topped RiRi's golden moment — that is, unless Rihanna takes the crown again this time around. Though Mirror announced that Rihanna will reportedly be attending the 2017 Met Gala, neither Rihanna's camp nor the Metropolitan Museum of Art Costume Institute have officially confirmed her attendance yet.
For all we know, the songstress may skip out on the red carpet festivities, as she missed the 2016 Met Gala because of her Anti World Tour. However, on the flip side, Rihanna does have a sartorial history with Comme des Garçons, which the Costume Institute is honoring at tonight's Met Gala. She's rocked the Japanese label at the 2016 MTV VMAs, owns a pair of Comme x Converse high-top kicks and was spotted at the runway show at Paris Fashion Week in 2014.
The odds seem to be 50/50 on whether or not Rihanna will be turning heads at the 2017 Met Gala.
Rihanna's 2015 Met Gala gown that sparked a revolution.
Part of me expects her to be on the guestlist tonight, but I'm wondering if any other dress can surpass the the frenzy of the 2015 Met Gala. I mean, just look at it: what other frock can be such a beautiful combination of an omelette and Belle's gown à la Beauty and The Beast?
I'm still reeling from Rihanna's fuzzy pink Comme des Garçons sneakers she wore at the 2016 MTV VMAs. They fit her vibe to the core.
But nothing will truly ever beat the Reigning Gown of the 2015 Met Gala — or will tonight prove us wrong?