This Is What We Know About A Potential Rihanna Tour & *Those* Cardi B Rumours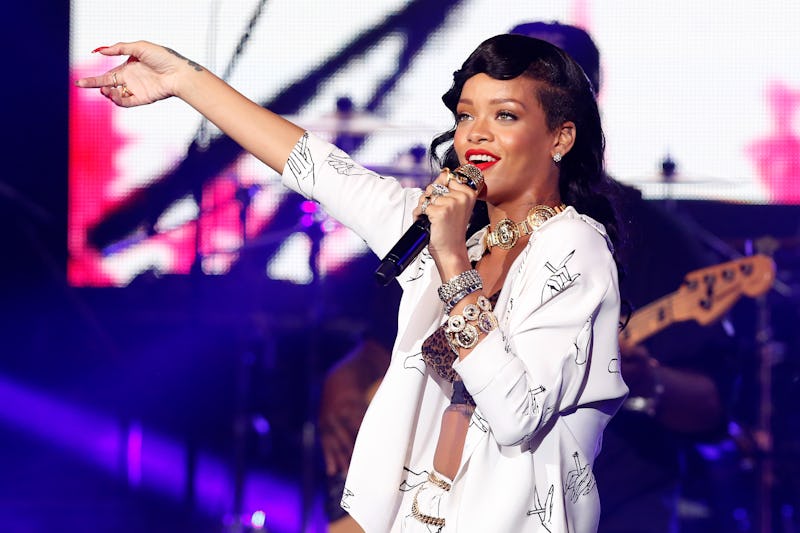 Simone Joyner/Getty Images Entertainment/Getty Images
In the time since Rihanna last toured the UK we've had a royal wedding, Trump became President, and Jay-Z and Beyoncé co-released an album. But, to be fair, with her makeup line and role in Ocean's 8, the biggest badass in music is also one of the busiest. The last time she showed the UK her "umbrella" was back in 2016 when she headlined V Festival following the enormous success of her eight album ANTI. But now all that's left to wonder is will Rihanna tour the UK in 2019?
It feels like we're inhabiting an entirely different world from the one in which we first heard "Work." We've held onto any little hopes of new music that Rihanna's since given us, including when she told Graham Norton that she was currently working on something in the studio back on June 15. When he pressed her, asking if the album would be due before Christmas, she said we'd only "have to wait and see". According to Capital Extra, she's also been spotted in recording studios across New York, Paris, and New York City since the release of ANTI, so we can be sure that there'll be new music to show off on stage soon. With new music comes the possibility of a new tour, so while there's no confirmation on a 2019 tour yet, if there's a new album there's a hefty chance she will take it on the road.
As well as seeing Rihanna herself in the Fenty-glowing flesh, you can also expect to see some huge support acts on her next tour. Last time around, following The Weeknd's cancellation, she managed to get Big Sean to follow her on the ANTI European tour, as Billboard reports. There's a number of artists of that calibre who could plausibly support her next time. And Cardi B, who has accelerated to superstardom quicker than you can say "FourFiveSeconds" might be one to place your bets on. Rumours started flying back in June, as reported by Breathe Heavy, that the Bodak Yellow rapped would be featuring on the upcoming album's lead single, but neither star has confirmed anything so I reached out to both of their representatives for comment. So, y'know, take your excitement with a barrel full of salt.
While her last tour had her crotch grabbing and showing off her soft side, as Metro reports, as well as singing a hit filled setlist with pared back staging, you might be able to expect something more bombastic next time around. According to PollStar's annual Year End Top 200 list of the highest grossing tours, Rihanna's ANTI tour made a cool $40.3 million — surely enough for a few pyrotechnics and props from Primark?
In July, Elle sparked the rumour that Rihanna could be releasing two albums at once. Writer Katie O'Malley deduced this from Rihanna's profile with Vogue back in May, where it was reported that "She plans to make a reggae album," while sources close to the project(s) reported to Rolling Stone in July that "the singer is simultaneously at work on another pop-oriented album". If that's the case then you might get plenty of chances to see her on an extra long tour in order to cater to the extra outpouring of new material. While there's always going to be rife speculation whenever Rihanna's giving us radio silence, it's always worth getting excited about one of music's most spectacular goddesses.