Trump Won't Like What Rudy Giuliani Said About Jeff Sessions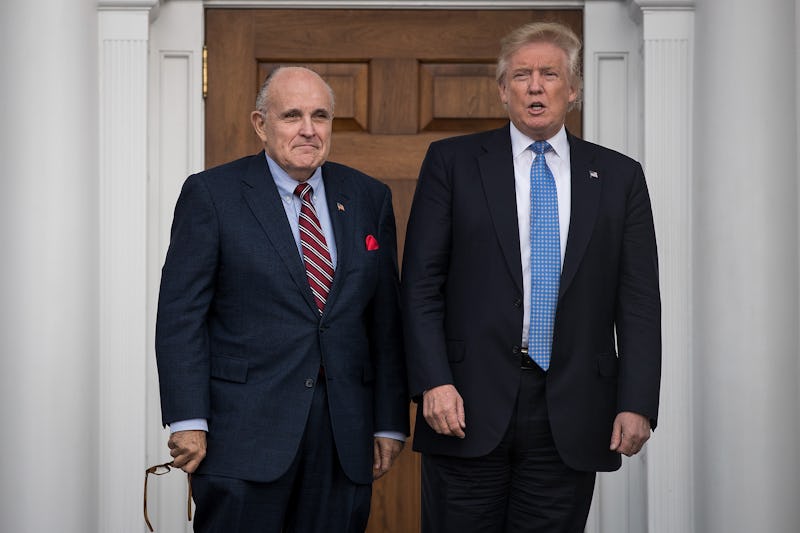 Drew Angerer/Getty Images News/Getty Images
Just six months into his term, President Donald Trump's administration has already seen several members come and go. Former national security advisor Michael Flynn, fired former FBI Director James Comey, and White House Press Secretary Sean Spicer were all booted from the White House. Now, there are reports that Trump is unhappy with Attorney General Jeff Sessions. Rumors are swirling that Trump may nominate Rudy Guiliani as attorney general, in Sessions' place.
Trump used an interview with the New York Times on July 19 to express his frustration with Sessions' decision to recuse himself from the Russia investigation after he was appointed Attorney General. The president went so far as to say he would not have appointed him had he known Sessions would step away from the case.
But Guiliani has denied the report that he's being considered for the AG position. And his further comments probably won't make Trump very happy. Guiliani told CNN that Sessions "made the right decision under the rules of the Justice Department" to recuse himself from the Russia investigation.
On Friday, responding to Trump's comments to the New York Times, Sessions said he is "totally confident that we can continue to run this office in an effective way," and regardless of whether he has the confidence of the president, "We serve him right now. The work we are doing today is the kind of work we intend to continue."
Then, on Monday morning, Trump tweeted about Sessions, calling him "beleaguered" (which usually means something like troubled) and questioning why he is not looking into Hillary Clinton for her "crimes & Russia relations."
Giuliani is the former mayor of New York City and was a top surrogate and adviser for Trump throughout his presidential campaign. He even supported Trump when the Access Hollywood tape of Trump bragging about being able to grab women emerged and other Republicans began denouncing Trump's behavior. At the time, Guiliani said Trump was "In the race to win and he's going to win," according to the Los Angeles Times. He even went so far as to defend Trump's behavior saying, "Men at times talk like that," while appearing on CNN.
After the election, when Trump was pondering who to nominate to certain cabinet positions, Giuliani declared he wouldn't be named Attorney General, and reportedly vied for the Secretary of Sate nomination before pulling out of consideration at the end of November. The position eventually went to Rex Tillerson. Giuliani's name was also reportedly floated for FBI director after Trump fired Comey, though Giuliani denied it.
Although Trump may have "raised the possibility" of bringing Giuliani into his administration as Attorney General, there's no way to know right now if he will actually act on the idea — especially considering what Guiliani had to say about Sessions.