Why The Story Behind Netflix's First Indian Crime Drama Might Sound Familiar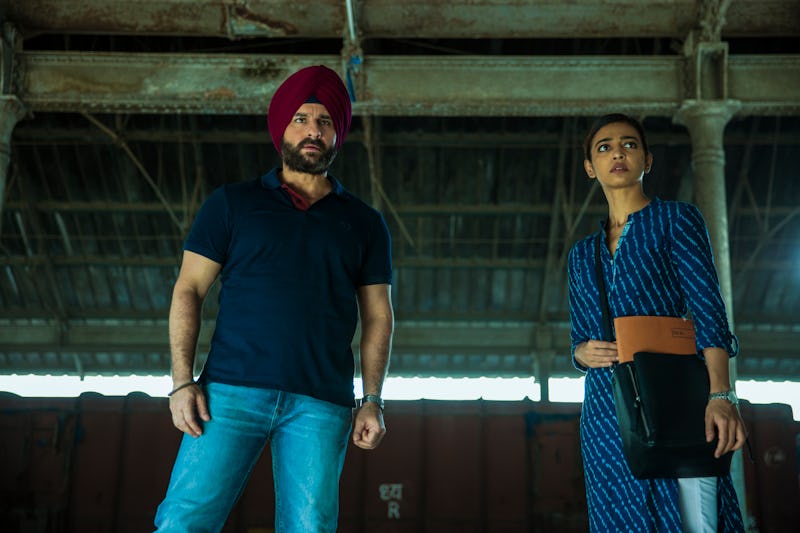 Ishika Mohan Motwane/Netflix
Crime dramas have been a staple on TV for decades, so it is no surprise that Netflix is building up a global arsenal of gritty thrillers. The streaming service's latest addition to their original programming is Sacred Games, an Indian crime drama premiering on July 6. The show is a classic criminal vs. cop story that explores a web of organized crime, corruption, and political scandal across various socioeconomic levels in India. Viewer and critical responses are yet to be seen, but will Sacred Games return for Season 2? Netflix hasn't made any official announcements yet on the matter, but there is no indication that this is a limited series, so there's a chance it could get renewed — especially if the show succeeds in attracting even more viewers to buy Netflix subscriptions and expand its global base.
According to PopSugar, Sacred Games centers on veteran police officer Sartaj Singh (Saif Ali Khan), who is working in Mumbai when he begins to investigate Ganesh Gaitonde (Nawazuddin Siddiqui), an Indian crime lord. In the eight-episode first season, Singh and Gaitonde will consistently clash as deadly violence breaks out in India during a time of economic prosperity.
In the Sacred Games trailer, a mysterious caller gives Singh an ominous warning, saying he only has 25 days to save his city. Singh has reason to believe that everyone will die and is temporarily relived of his duties as an officer because his superiors don't believe him. So, he takes the rogue cop road and deals with a moral dilemma as he races to save Mumbai from certain destruction. The trailer also reveals that Gaitonde knows Singh's father, which hints at a past connection between the two. The clip has murder, cash, fight scenes, and women wielding guns – all signs of an action-packed saga.
Sacred Games is a familiar story to those who have read the series' source material. Netflix states that the upcoming series is based on the critically acclaimed 2006 Sacred Games novel by Indian author Vikram Chandra. The main characters and general plot are the same, but Sacred Games will likely add some dramatic flair and use their creative license to amp up the live-action adaptation. The Hindi-English show was filmed on location in India and will be released across the globe for fans to enjoy.
Sacred Games is the first original series from India and director Vikramaditya Motwane feels the pressure to make this a successful venture. Biz Asia revealed that Motwane spoke to subscription website IANS about meeting expectations. "The pressure is on us to deliver a great show so that people come and watch it," said Motwane. The director also spoke about Saif Ali Khan, a major Bollywood actor, and how star power is needed to make Sacred Games successful. "I think we need it (the presence of a star) because we need to sell the medium. At this point of time, it's not so much about the show. There's more pressure on us to be able to sell a medium of watching something and to be able to sell something we're not used to watching."
Motwane is understandably concerned about viewership, but Khan seems to be enjoying the creative challenges behind his leading role. Khan sat down with Gulf News Tabloid! during a Dubai press event and discussed what it was like to play a troubled character like Sartaj Singh. "I wasn't used to playing such a damaged character and that was the charm in itself to play a character who was addicted to pills, had wrecked his marriage, and his career was going nowhere," said Khan. "The poor fellow is in a bad place and from there how he becomes a hero was interesting. Two words from the books stand out – troubled and honest."
If the show is renewed for another season, the international crime drama can follow Singh as he continues to dismantle illegal hierarchies in India. There are countless storylines and character arcs that a crime show can take and Sacred Games may set the precedent for more Indian series to come to Netflix.