Will Smith's Response To That Uncle Phil Meme Is Perfect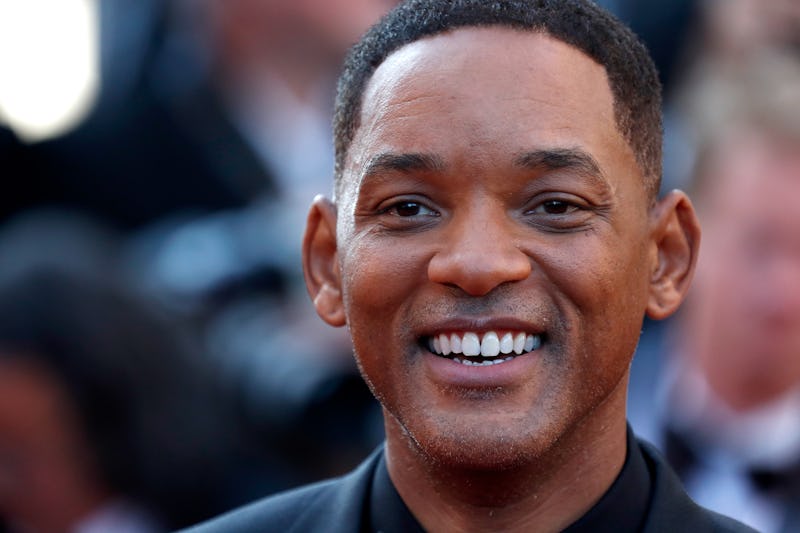 Tristan Fewings/Getty Images Entertainment/Getty Images
If you're still completely enamored by the viral photo where Will Smith looks like Uncle Phil, then you're going to love what the actor had to say about the it. Smith's response to the Uncle Phil meme, and to modern fan culture in general, is going to make you feel cherished by the Fresh Prince of Bel-Air star. According to Huffington Post, Smith cheerily acknowledged the meme while answering questions at San Diego Comic-Con, where he was sat on the panel for his upcoming Netflix movie, Bright.
A HuffPost reporter began a line of questioning by asking about a different viral image of Smith sporting the mustache he grew for Bright, alongside a picture of him wearing a fake mustache when he pretended to be Ashley's dad on Fresh Prince. Of the Bright facial hair, he said, "The mustache! I hated that mustache. That was so bad," while laughing. The same reporter the moved onto asking about the striking, viral image (which was taken from a video of Smith bungee-jumping) that makes him resemble his late, beloved co-star James Avery.
The reporter said, "I don't know if you saw, but a lot of fans isolated one moment where they said you reminded them of..." Enthusiastically, Smith then finished off the sentence and said, "Uncle Phil!" Because he's an absolute sweetheart, ladies and gentlemen. But it gets better, because what he had to say about modern fan-culture, social media, and memes will absolutely melt your heart.
First, Smith recounted how the creative process and fandoms have changed in the 30 years or so since he's been active in his career. Per HuffPost, the actor-slash-musician got nostalgic and said, "My first album there were no CDs, so it wasn't until my second album, and they came like these hot new things called CDs. Seeing that transition, essentially the fans being more and more involved in the creative process." He continued,
"In terms of movie stars, it's a huge difference. It's like you almost can't make new movies stars anymore. It's like there's a certain amount of privacy and there was a certain amount of distance that you had from the audience ... So that amount of access created this bigger-than-life kind of thing. But in the shift into this new world, it's almost like a friendship with the fans ... The shift is to 'we're best friends,' and that's like with the comments and with those pictures and all that."
We're best friends. Seriously, this is just about the sweetest reaction any celebrity has probably ever had to being questioned about how they feel about being turned into a meme. Smith's response is incredibly thoughtful, but it also feels sincere in acknowledging the fact that these sorts of positive viral posts are often created and shared out of love.
When it comes to these two specific memes, it's also apparent that they come from a place of appreciation for Fresh Prince as a classic sitcom, but also in tribute to Avery, who portrayed Uncle Phil. And goodness, Smith's response is likely the sort of thing that would have made Avery, and Phil, incredibly proud. And as fans, we're all part of that interaction now, too.