It Sounds Like That Taylor & Katy VMAs Performance Isn't Happening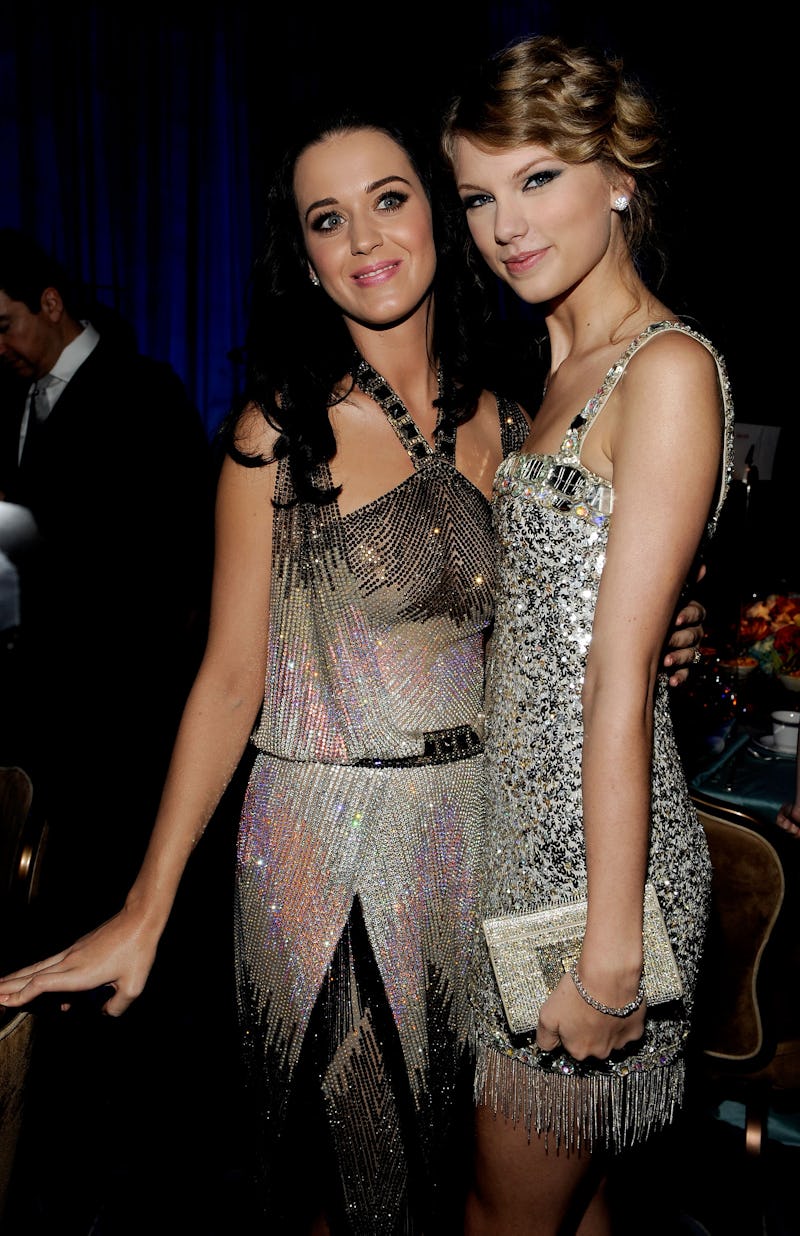 Larry Busacca/Getty Images Entertainment/Getty Images
Unless you've been living under a rock for the past few years, you know that Taylor Swift and Katy Perry have been in a pop music feud (apparently tied to backup dancers) that has spawned songs, Twitter shade, and more. But have the pop stars finally decided to bury the hatchet? There have been rumors that Katy Perry and Taylor Swift will perform together at the VMAs and do just that.
Swift announced on Wednesday, Aug. 23 that she will be releasing her first new single on the night of Aug. 24 — and since the 2017 VMAs are on Sunday, Aug. 27, this seems like a particularly convenient time for her to drop new music.
And who happens to be hosting this year's VMAs? Why, Katy Perry herself. There was already speculation that Perry and Swift could perform at the VMAs, and the timing of Swift's new album only adds fuel to the fire. A Perry and Swift performance could put an end to the feud and work to promote and rehab Swift's Reputation and reputation.
After all, Swift has used this tactic before. After engaging in a Twitter fight with Nicki Minaj, the pop star and rapper joined together in a performance at the 2015 VMAs to show that there were no hard feelings between them. Maybe Swift will try to use this method again to end her fight with Perry and the media frenzy surrounding it.
But Perry has worked to dispel rumors of an onstage reconciliation. On Sirius XM Hits 1's Morning Mash-up, Perry rejected the suggestion that she might be performing with Swift on Sunday, stating, "Listen, I'd love for the beef to end. I'd love to take if off the BBQ. I'm down, but I haven't heard anything of it."
VMAs producer Garrett English has also denied that Swift and Perry will be performing together on Sunday, telling Entertainment Tonight in response to whether there would be a duet between the two, "Not so far, no. That's not happening as far as [I know]. I've certainly seen all the rumors flying around, but that's not happening."
That said, Swift has been particularly secretive and cryptic recently (those snake videos, anyone?), so it would make sense that she, Perry, and the VMAs producer would would want to keep such a performance a complete surprise. For now, though, the official statement is that it's not happening.
Either way, Perry's statements on the radio could signal a new era in the Swift-Perry feud — one of reconciliation. Rival diss tracks are fun to listen to, but the whole thing is getting kind of old. It would be so fun to see two of pop's biggest female stars put an end to all the drama once and for all.