Why The Stars Of 'The 212' Could Be Everywhere Soon — Even If The Show Doesn't Return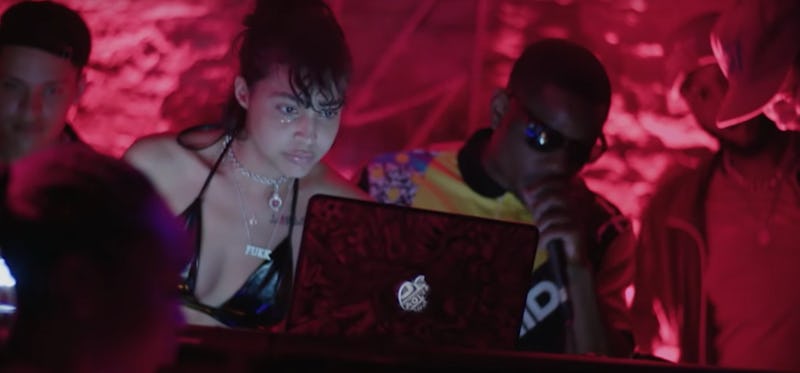 Screenshot/FUSE
Fuse's The 212 chronicles the everyday lives of five rising young entrepreneurs in New York City. The first season follows musicians Odalys and K$ace and models Milk, Posterboy, and Dallas, who do everything from DJing to designing as they attempt to grow their businesses and personal brands. While there's no better way to get exposure in the post-Kardashian era than starring on your own reality show, there has been no announcement that The 212 will return for Season 2, but just because the show may not continue doesn't mean that the creators featured won't continue to find success.
According to Complex, Odalys serves as the creative director of Fresh Milk Lab, a company described on its website as "a movement that focuses on the new, rare, unconventional, and well-received in fashion, art, music, and design." Among its output is a print magazine, as well as original programming and music. However, outside of her day job, Odalys is also a rising DJ, having worked with artists ranging from Steve Aoki to Lil Pump. And though she told Harlem World Magazine that she's "definitely not the hottest DJ in New York," she may only be a few years away from becoming the Big Apple's biggest DJ.
Fellow 212 musician K$ace is an up-and-coming rapper with a variety of tracks including "Streetwalker" and "Bang It Out," but he's also, according to an interview with Subterranean Suburbs, an emerging fashion icon. He's even been approached to be a designer, but K$ace claims he's "not much of a designer" and is "just going with the flow until [he gets] selected for a bigger opportunity." That "bigger opportunity" came in 2016 when he became the face of Youtube Music.
While the musicians of The 212 are finding success outside of the show, the models and designers among the 212 crew are no slouches either. Milk is an artist and model who has amassed 25,000 followers on Instagram, and releases music with fellow 212 model and fiancée Posterboy. Posterboy is also a brand ambassador for Homies Wonderland and was recently featured on an Italian ad campaign for lip balm. Rounding out the crew is Lil Dallas, a 19-year-old model from Asheville, North Carolina who has already posed for Interview Magazine and the brand Homies Wonderland.
While the five people at the center of The 212 only provide a small snapshot of the talent being cultivated in New York City, the show offers a glimpse into how the next generation of artists will look and sound. If The 212 doesn't come back for another season, that doesn't change the fact that Odalys, K$ace, Milk, Posterboy, and Dallas are making waves in the Big Apple, and could go on to have a worldwide influence even if there isn't a television show documenting their lives. Besides, even if the show ends, viewers interested in following The 212's stars can always just check Instagram, where Odayls et all are very, very active.
The 212 Season 1 finale airs Tuesday, Nov. 27 at 11:30 p.m. ET on Fuse.