What To Know About The "Bomb Cyclone" If You're Traveling This Week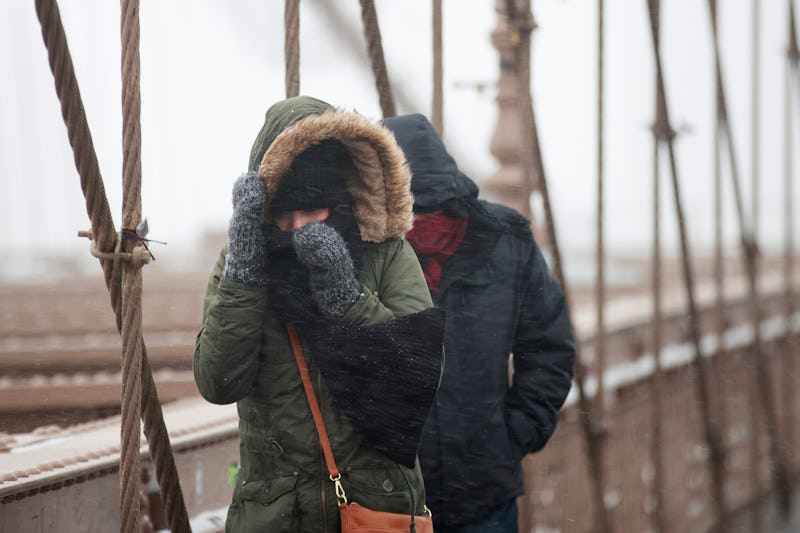 Drew Angerer/Getty Images News/Getty Images
A huge storm is heading for the East Coast, and its conditions are predicted to resemble those of a winter hurricane. Known as a "bomb cyclone," the monster blizzard is forecast to hit New England sometime Thursday. Just how intense conditions are depends on the storm's trajectory, but if it homes in on New Jersey and New York, the bomb cyclone could absolutely affect flights.
The Federal Aviation Administration determines when weather conditions pose a risk to flights. One major factor they take into consideration is the unique meteorological event of a bomb cyclone. The type of wind generated by these storms can make takeoff and landing too risky, leading to inevitable flight delays.
There's a reason bomb cyclones are also referred to as winter hurricanes: Winds can reach speeds of 80 mph and up, and in those conditions, flights have definitely been canceled in the past. In December 2010, a bomb cyclone storm shut down all three of New York's major airports (John F. Kennedy, LaGuardia, and Newark). More than 1,400 flights were canceled as a result, and for good reason — the visibility reported at one point by JFK was zero.
Whether or not the current bomb cyclone heading northeast will have the same impact remains to be seen. Meteorologists and the FAA won't know until the storm's trajectory is more certain.
A bomb cyclone is distinguished from a standard winter storm by fast-falling pressure, which leads to unusually strong and potentially destructive winds and snowfall.
Greg Postel, a meteorologist at The Weather Channel, tweeted about the current conditions that could make this week's bomb cyclone the biggest storm off New England's coast in recent memory.
There are more than a few simulations that drop pressures under 950hPa. I can't think of any extratropical cyclone in recent times at that magnitude off the East Coast .... ?
According to current projections, the good news is that the worst conditions should stay well out on the ocean, and not directly hit the coastal regions of New England.
The power of the current storm is evidenced by Wednesday forecasts of snow — in Florida. Parts of the northeast region of the Sunshine State are predicted to see snow and freezing rain. That's along with a prediction of two inches of snow in Savannah, a city that hasn't hosted any snowfall since 2010.
An enormous circular air pattern called the polar vortex usually keeps the most frigid air up around the Arctic. But that polar vortex has weakened of late, and that explains how the frigid air escaped — and why it's now showing up in places as far south as Florida.
Seth Borenstein of the AP points out that temperatures in Anchorage, Alaska, were actually warmer than in Jacksonville, Florida. on Tuesday — a shocking and downright surreal state of weather conditions at the moment.
Airline passengers planning on flying to or from airports in the Northeast should keep a close watch on weather forecasts as meteorologists track the bomb cyclone's trajectory. More information on when and where its wind, snow, and ice could hit will become clearer as Wednesday progresses.