How The Bomb Cyclone Is Going To Mess Up Your Commute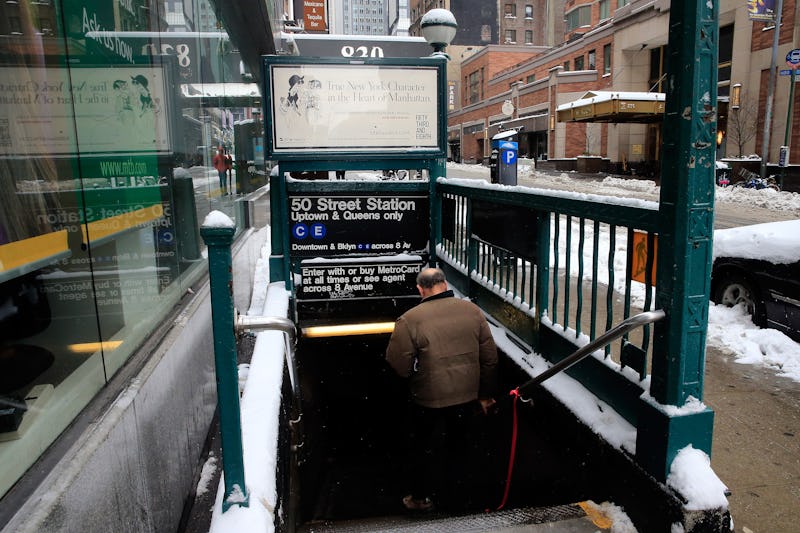 Alex Trautwig/Getty Images News/Getty Images
Already experiencing a brutally frigid winter, New Yorkers are bracing for more extreme cold weather come Thursday. A so-called winter hurricane is expected to barrel through the East Coast, and meteorologists have warned that this "bombogenesis," or "bomb cyclone," will most definitely hit New York.
And you can thank Winter Storm Grayson for that. According to the Natinal Oceanic and Atmospheric Administration (NOAA), a bombogenesis occurs when a midlatitude cyclone intensifies at a high speed, which then causes the atmospheric pressure to drop rapidly. This happens when a mass of cold air clashes with warm air. Winter Storm Grayson is developing off the coast of Florida and Georgia, and its frigid air is colliding with the warmer air over ocean waters; as it heads up north, it's going to become a powerful Atlantic storm.
As of Wednesday, the bomb cyclone's path remains unclear, though according to New York's Pix 11, it looks like it's traveling closer to the shore. But New York is taking no chances. There are winter storm watches in parts of the New York metro area for Wednesday night, including Long Island and New Jersey. The New York Post reported that New York City will likely see several inches of snowfall starting early Thursday morning.
According to the bomb cyclone's predictions, though, New York could be spared the worst of its wrath in the Northeast. New England, however, might not. The Weather Service predicts that by Thursday, the bomb cyclone could coat eastern Massachusetts and Maine with snow and dangerous winds powerful enough to create blizzard conditions, take down branches, and cause power outages.
Meanwhile, many are predicting that New York and Philadelphia might narrowly escape those blizzard-like conditions. But even if it gets only several inches of snow, rather than feet, the temperature could drop even more, making the cold dangerously unbearable. New York City has not remained below freezing since Christmas, CNN reported, and temperature through the weekend could reach an all-time low. On Saturday, New York City might not see a high above single digits and the low could dip below zero, according to Mashable.
Even by New York standards, it has been a painful winter (even Niagara Falls has frozen over and looks like a giant winter park right now.) But this weather has brought unseasonable cold in other places, too. Jacksonville, Florida, was colder than Anchorage, Alaska on Tuesday; some places in the U.S. have reportedly been colder than Antartica, and even — wait for it — parts of Mars.
This week alone, nine people across the U.S. have died from cold weather. Millions along the East Coast are already scrambling to prepare for this bomb cyclone, and if the snow or the cold don't faze you, the strong winds might — especially if you live in the north. According to The Weather Channel, the Southeast will likely be hit by freezing rain, sleet, and snow, and the Northeast could be slammed with snow and strong winds. In New York City, more than 76,000 people who are homeless will be in danger of the bitter cold.
This is far from the first extreme weather event to take place over the past few months. Last year, Hurricanes Maria, Irma, and Harvey battered parts of the Caribbean (including Puerto Rico), Florida and Texas. While New York is no stranger to hurricanes or snowstorms, Grayson will likely blanket the area with excruciating cold temperatures. Just make sure you're prepared.