How The Department Of Education Could Be Closed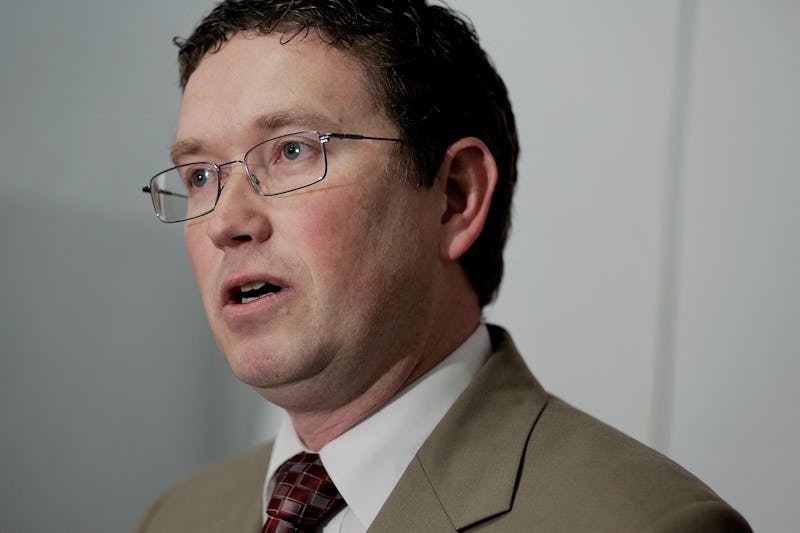 T.J. Kirkpatrick/Getty Images News/Getty Images
On the same day that Betsy DeVos, Donald Trump's nominee to head the Department of Education, squeaked through her confirmation vote, a Republican Congressman from Kentucky submitted a bill to Congress to abolish the Department of Education. Rep. Thomas Massie's bill is a mere sentence.It reads, simply, that "The Department of Education shall terminate on December 31, 2018."
Maybe DeVos shouldn't be breathing a sigh of relief just yet.
In a statement posted to Facebook, Massie elaborated on his bill. He wrote "Unelected bureaucrats in Washington, D.C. should not be in charge of our children's intellectual and moral development. Parents have the right to choose the most appropriate educational opportunity for their children, including home school, public school, or private school."
It's unclear which department Massie is thinking of; the law that established the Department in 1979 declared among its purposes making sure all Americans had access to education and supplementing and complementing state and local educational efforts.
Based on this proposal, it may not be shocking to learn that Massie is a bit of a political wildcard. He was the lone GOP vote against Paul Ryan's speakership earlier this year, and in 2015, he put forward the American Sovereignty Restoration Act, proposing that the United States leave the United Nations.
But he's not alone in this effort: already seven other Republican Congressmen have signed onto his bill, according to a report in The Hill.
There have been Republicans legislators calling for abolishing the Department since its inception, from President Ronald Reagan in 1980 to Sen. Ted Cruz in 2015.
So, what would a post-Department of Education America look like? ThinkProgress' Casey Quinlan outlined some of the biggest implications of abolishing the department during Rand Paul's 2015 push to get rid of it. Chief among them: there would be no federal department to administer Pell Grant funding, the federal government would have no oversight to ensure that civil rights laws are followed, and we might see an increase in gender discrimination.
"Under Title IX, no one can be excluded, or denied benefits from a federally funded education program on the basis of sex," Quinlan wrote. "The federal code also allowed the department to open investigations into colleges for their mishandling of sexual assault cases."
So could we see the destruction of the Department of Education during Trump's tenure? I generally operate these days under the notion that anything's possible, but much like Trump's threats to repeal the Affordable Care Act, removing government bureaucracy is not as easy as it looks.