If 'The Four' Returns, The Judging Panel May Look A Lot Different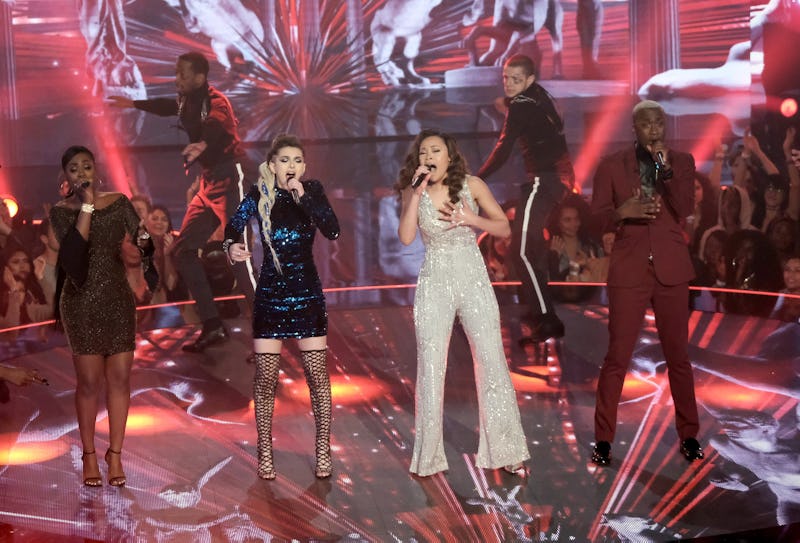 © 2018 FOX Broadcasting
If musical talent search shows are your jam, then FOX's The Four: Battle For Stardom — which debuted Jan. 4 — needs to be on your radar. Since the show started, we've seen four vocalists battle it out each week against new challengers, with the hopes of keeping their spots. But with the Season 1 finale airing Feb. 8, will The Four come back for Season 2?
While no formal announcement about the future of the series has been made by the network, fans should remain hopeful that Season 2 is on the way — especially since FOX's once-flagship singing competition series American Idol will be returning this spring on competitor network ABC. Additionally, NBC has The Voice. So, The Four could be Fox's key to keeping up with the musical Joneses.
Though if the show does return for Season 2, a new judge would most likely be introduced. The Four originally began with four all-star judges: industry pro Sean "Diddy" Combs, Sean "Diddy" Combs, producer DJ Khaled, singer-songwriter Meghan Trainor and record label executive Charlie Walk. But Deadline reported that a sexual harassment accusation was made against Walk by a former colleague. "We have only recently learned of these past allegations regarding Mr. Walk," a Fox response statement read. "We are currently reviewing this matter and are committed to fostering a safe environment on all of our shows."
Walk denied the accusations in a statement on Jan. 29, as reported by Deadline:
"It is very upsetting to learn of this untrue allegation made by someone who worked with me 15 years ago, without incident. There has never been a single HR claim against me at any time during my 25+ year career, spanning three major companies. I have consistently been a supporter of the women's movement and this is the first time I have ever heard of this or any other allegation — and it is false."
While Walk appeared in the episode that came after the accusations first came to light, that episode was pre-taped. Via his attorney, Walk made a statement on Jan. 31, confirming that he would not be appearing on The Four's Feb. 8 finale. His full statement read:
"Out of respect for the contestants, my fellow judges and everyone involved with the show, I have made the decision not to attend the finale of The Four. I do not want my presence to be a distraction. Needless to say this is very upsetting. Although I continue to support the 'Me Too' movement, there has been an extreme rush to judgment against me in this particular case which is unfair and inconsistent with anything that even actually happened. I welcome any investigation so that in short order these unfounded and hurtful accusations can be put to rest."
Bustle has reached out to Fox about Walk's future with The Four.
But despite Walk's absence, the show must go on, at least for this final episode. You can read a full description of how The Four operates here, but in general, four singers are picked each week and are challenged by new singers who are brought in, who are trying to take their spots. The judges must unanimously decide whether a challenger can move on to actually, well, challenge the singers, while the in-house audience chooses whether the singers or the challengers ultimately win.
After a fierce six weeks of competition, singers Evvie McKinney, Vincint Cannady, Candice Boyd and Zhavia are the final four standing. Hosted by Grammy-winner Fergie, Feb. 8's two-hour finale will have the final four competing one last time to be named iHeartRadio's "On the Verge" artist and awarded a recording contract from Republic Records.
Zhavia is the likely winner, as she one of the longest-running members of "The Four" before she was unseated on Jan. 25. Later the 16-year-old fan favorite was brought back by the judges on Feb. 1's episode. But if there's anything fans know from watching these singing competition series over the years, is that in the end it's really anyone's game.
The Four debuted with strong ratings and has fans on the edge of their seats, so it should be able to survive the departure of one of its judges. The Four's audience and possible competitors alike have reason to be hopeful about a Season 2.
Editor's note: After publication, we discovered this article did not meet our editorial standards: There were portions that did not correctly attribute another source. It has been updated to meet our standards.