Trump Might Shut The Government Down Again If He Doesn't Get Border Wall Funding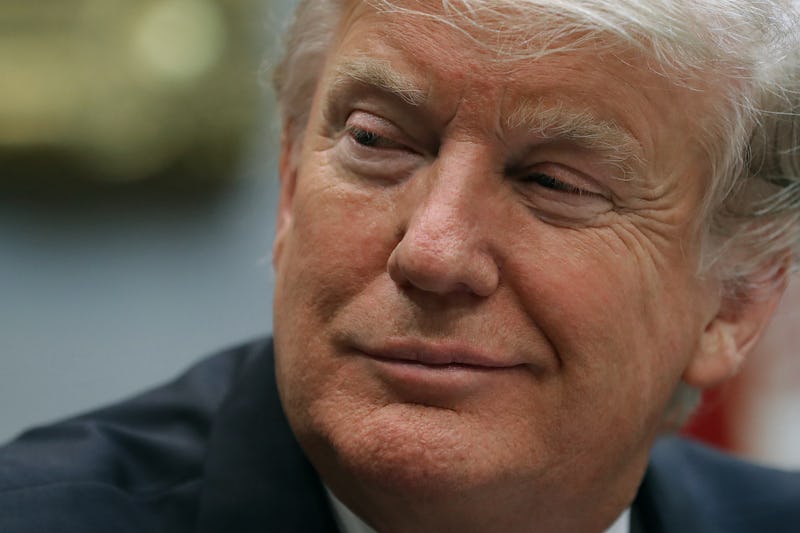 Chip Somodevilla/Getty Images News/Getty Images
Last week, President Donald Trump approved a stopgap spending bill that brought an end to what had become the longest government shutdown in U.S. history by giving Congress three weeks to negotiate a long-term bill. But will there be a second government shutdown? According to acting White House chief of staff Mick Mulvaney, Trump's prepared to do whatever it takes to get his border wall funding.
"Yeah, I think he actually is," Mulvaney said Sunday when asked during an interview on CBS' Face the Nation if Trump was prepared to shut the government down again should Congress not produce a spending bill he was willing to sign in the next three weeks. "Keep in mind, he's willing to do whatever it takes to secure the border. He does take this very seriously."
But while Trump might be willing to see the government slip into a second shutdown, Mulvaney stressed that's not the president's preferred course of action. "He doesn't want to shut the government down, let's make that very clear," Mulvaney said. "He doesn't want to declare a national emergency. What he wants to do is fix this the way things are supposed to get fixed, which is through legislation."
Trump had echoed a similar warning regarding the possibility of a second government shutdown when announcing his willingness to support a stopgap spending bill late last week. "We really have no choice but to build a powerful wall or steel barrier," Trump said Friday while speaking from the White House's Rose Garden. "If we don't get a fair deal from Congress, the government will either shut down on Feb. 15 again or I will use the powers afforded to me under the laws and the Constitution of the United States to address this emergency."
On Sunday, Mulvaney told Face the Nation host Margaret Brennan that one of the reasons Trump had agreed to sign a stopgap funding bill and re-open the government was that "many, many Democrats" had told the Trump administration that they agreed with the president on the need for border security but couldn't work out a proper solution with the government closed. "What you saw this week was the president take them at their word," Mulvaney said.
In a separate interview on Fox News Sunday, Mulvaney said that the president would not waver from his commitment to funding a "wall where we need it the most and where we need it the quickest."
Still, it remains to be seen if congressional Democrats will get behind the president's demand for border-wall funding. Senate Minority Leader Chuck Schumer said Friday that Democrats remained "firmly against the wall" despite agreeing about the need for drug inspection technology and strengthened security at ports of entry. Speaker of the House Nancy Pelosi further drove the point home when asked by reporters Friday if she was open to giving the president his requested $5.7 billion in border wall funding. "Have I not been clear on the wall?" she said. "I've been very clear."