The Killers Just Celebrated The 15th Anniversary Of THIS Iconic Song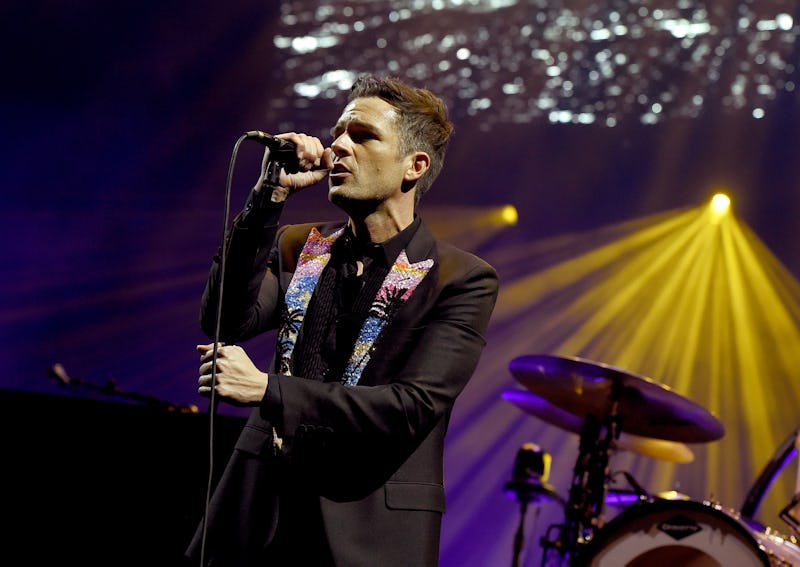 Kevin Winter/Getty Images Entertainment/Getty Images
September 29 was a momentous anniversary for anyone who ever attended a school disco, or went to a club during freshers' week, or went to a club at any subsequent point during their university career. Yes, The Killers' "Mr Brightside" turned an entire 15 years old, because youth is fleeting but rowdy lads bouncing rhythmless-ly up and down on a dancefloor are immortal. And with the band on your mind, you might begin to wonder: will The Killers tour the UK in 2019? Let's take a look at the evidence to date.
Firstly, some confirmation for the "Mr Brightside" fans: Brandon Flowers loves that song as much as you. In an interview with Rolling Stone to mark the song's fifteenth anniversary, Flowers said, "I still remember the hairs on my arm standing up when I heard our demo for the first time." And according to Rolling Stone, Brits cherish "Mr Brightside" even more than The Killers' home fans: the single went double platinum in the U.S., but triple platinum in the UK.
In fact, Brits have always been among The Killers' most devoted fans: their latest album, 2017's Wonderful Wonderful, went to number one in the UK, their fifth album to do so. "No other international act ever has managed an untarnished career streak of five number one studio albums from their debut," Official Charts says. So if the band do tour in 2019, it seems pretty certain they'll be making several stops in the UK.
Here's one snag — The Killers have only just finished theWonderful Wonderful World Tour. The UK and Ireland leg launched in November 2017, according to NME, when the band played at Birmingham's Genting Arena. Fansite The Killers News reports that they proceeded to tour North America, Europe, Latin America, Australia, and New Zealand. For the final leg, The Killers toured Asia, beginning in Tokyo, Japan on September 12 and ending in Hong Kong on September 19. That's a pretty lengthy tour, and it seems unlikely that the band will tour again before releasing a sixth album.
About that sixth album: it's on the way, according to Brandon Flowers, but it sounds like the band are in the very early stages. Discussing his next musical project, Flowers told the Irish Independent in May, "The plan is for it to be a sixth Killers record." There's some logistical issues in the way, though: band members Dave Keuning and Mark Stoermer both recently resigned from live duties, the newspaper reports, though Flowers confirmed they're still full members of The Killers. "We have to figure out how to make it work," he said.
So a sixth album is coming, and when it arrives, it seems pretty safe to assume that The Killers will launch a pretty extensive UK tour. But with so little about that impending album established — and with such a lengthy tour just behind them — fans might have to wait a little while for the band to cross the Atlantic again. A 2019 UK tour? Not impossible, but perhaps not all that likely either.