Will The Las Vegas Shooting Change Country Music's Relationship With Guns?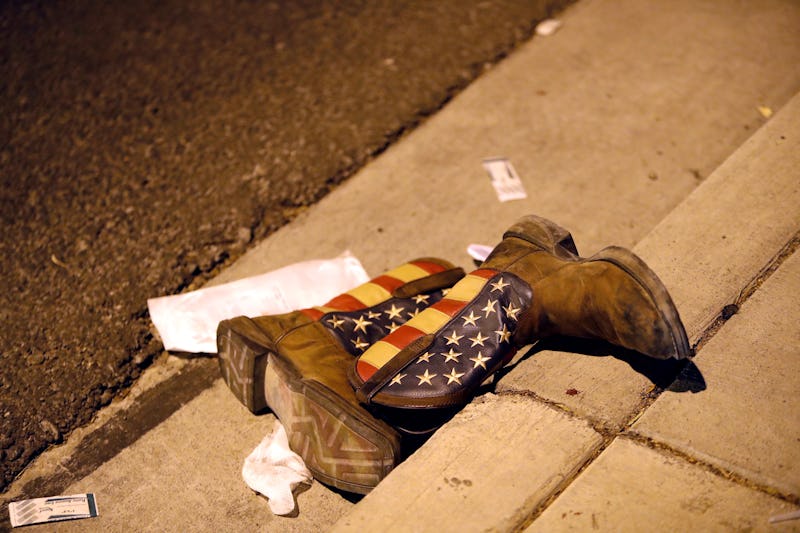 STEVE MARCUS/Reuters
On Sunday night, a gunman opened fire at a concert in Las Vegas, killing at least 58 people and injuring more than 500 others as they listened to Jason Aldean, the closing act of a three-day country music festival. This mass shooting — which has replaced 2016's Pulse nightclub shooting as the deadliest mass shooting in modern U.S. history — is the first such tragedy to occur at a country music event, but it's impossible to ignore the strong historical ties between country music and guns — and wonder what impact this will have on the future of country music and culture.
Guns and violence are a fairly well-trodden topic in country music. If we're just talking classic country, there are a number of songs that paint guns as a regular part of life: Johnny Cash wrote about shooting a man in Reno just to watch him die in "Folsom Prison Blues," Conway Twitty sang about silently threatening to shoot a pawn shop dealer with a newly purchased gun in "Saturday Night Special," and Tennessee Ernie Ford's classic "Shotgun Boogie" is all about the love between a man and his gun. Modern country stars have taken note and fallen in line with this trend as well — think Blake Shelton's "Daddy's Gun," Luke Bryan's "Drinkin Beer and Wastin' Bullets" and Brad Paisley's "I'm Still A Guy." And while usually in songs sung by male artists, worth noting that there are also women in country music who take matters into their own violent hands, too.
This connection may be due to country music's traditional association with rural America, which has traditionally been home to a thriving gun culture — a culture nursed by, among other factors, the incredibly powerful lobbying group National Rifle Association, which has a reported 5 million members. While the organization is often represented in public by aggressive spokespeople like Dana Loesch, who has appeared in ads that describe negative media coverage of the NRA as "violence of lies," within the country music community, the NRA has taken a softer approach, painting guns as just another important part of the American lifestyle.
The NRA reinforces this idea through a special arm of the organization called NRA Country, which describes itself on its website as "a celebration of American values. Respect. Honor. Freedom. It's a lifestyle and a bond between the best and brightest in country music and hard-working Americans."
The NRA Country website doesn't focus on the right to carry guns, but rather notes that the organization is "powered by pride, love of country, respect for the military, and our responsibility to protect our great American lifestyle. NRA Country celebrates these values with concerts and events benefiting military and veteran services organizations, first responders, conservation organizations, firearm safety programs, and local charities making a difference in their communities." In addition to being involved in live music events like the Great American Outdoor Show, slated for February 2018, NRA Country also sells branded apparel.
Though you may not have heard of NRA Country before, you've almost definitely heard of some of the artists listed on their "Featured Artist Campaign" page— Florida Georgia Line, Trace Adkins, the aforementioned Rodney Atkins, Gretchen Wilson, Hank Wilson Jr., Lee Brice, Thomas Rhett, and Montgomery Gentry, among others. In fact, Justin Moore, one of NRA Country's featured artists, literally performed a song called "This Is NRA Country" on an album of the same name released in 2012.
But having a mass shooting occur at a country concert — in a state with some of the most relaxed gun laws in the US — leaves much of country music at a crossroads. Country artists who casually singing about guns and violence can continue to do so, or they can use their knowledge as gun owners to talk about how gun ownership in America could be improved. After all, the collective decision by country artists to speak out about gun violence as well as topics like civilian access to high-caliber rifles and background checks would be incredibly powerful. People are often unable to understand a problem until one of their own is affected by it. Maybe this concert will be that moment, as it was for Josh Abbott Band's guitarist Caleb Keeter, who issued a public statement about the shooting in which he noted that surviving it had forced him to reconsider his lifelong pro-gun stance.
But even though more statements from country artists regarding gun control would be wonderful, it's worth remembering that the country music industry has a history of punishing those who openly express opinions that conflict with broad conservative values — remember that Kacey Musgraves' song "Follow Your Arrow" from her 2013 debut album, which includes the lyric "Kiss lots of boys / Or kiss lots of girls / If that's something you're into," was considered so political that the song was not played on country radio. And that's nothing compared to the way that immensely talented country act the Dixie Chicks were all but cast out of country music culture in 2003, when singer Natalie Maines said she was "ashamed the president of the United States is from Texas." Their songs were pulled from radio playlists, former fans publicly destroyed their albums, and before long, country music legend Merle Haggard was one of their only industry supporters.
It's unrealistic to demand that violence to be taken out of country music — or any music genre for that matter — or that all country musicians speak out in support of gun control. But country fans are deeply loyal, and country artists have their fans' ears on this subject. They're the ones who have sung to them about the joys of gun ownership — and they might be our best hope in getting gun owners to examine their own relationship to America's gun violence.