The Author Of The 'The Last Kingdom' Books Promises More Stories Are On The Way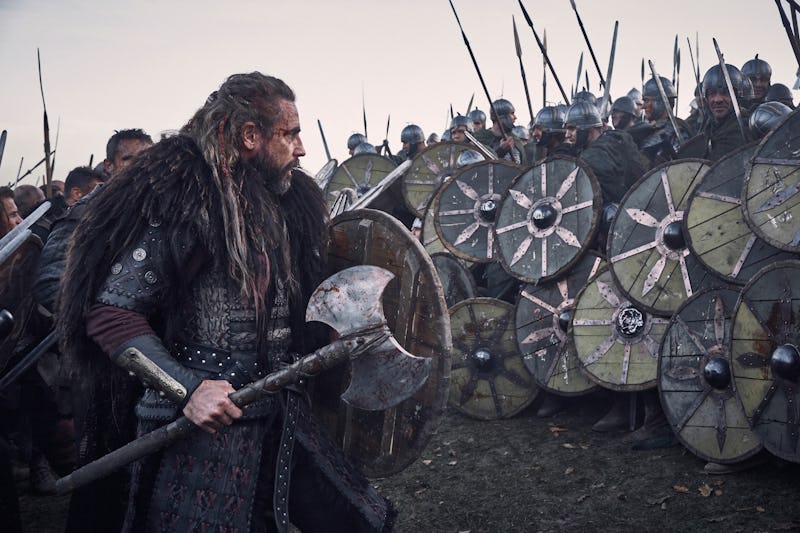 Netflix
Fans of The Last Kingdom got a little worried when a quietness settled following the end of Season 2. They feared they had seen the last of King Alfred and Uhtred. To their enjoyment and surprise, though, Netflix, which co-produced Season 2 with BBC, fully took over production and gave fans the Season 3 they were waiting for. But of course, that only leaves them wanting more and wondering if The Last Kingdom will return for Season 4.
The show is based off of a book series written by Bernard Cornwell called The Saxon Stories that, according to the author's site, "tell the tale of Alfred the Great and his descendants through the eyes of Uhtred, an English boy born into the aristocracy of ninth-century Northumbria, captured by the Danes and taught the Viking ways."
Currently, there are 11 books in the series — the latest, called War of the Wolf, was released in October of this year. And according to Cornwell's site, it's not the last of them. On November 14, shortly before Season 3 of the Netflix series released, Cornwell answered a fan's question on his professional website's Q&A forum regarding future books. "I suspect there will be three more books — one underway, two to come, the last being about Brunanburh," he wrote.
This means that there's still currently unwritten material on which the show can base its concepts and scripts. And especially now that it's officially a Netflix show, why wouldn't there be a Season 4? The show can officially capitalize off of the phrase "Netflix and Chill."
It's possible that Season 3 will get even more attention than past seasons have because of its move to Netflix. People who weren't exposed to the program before may see it pop up in their galleries this week and consider giving it a watch. So if the fan base shows any growth, which is likely, a Season 4 is even more probable. Another plus: the original two seasons that ran on BBC live on Netflix now, so a marathon of all episodes is accessible and, of course, justified.
In April, the official Twitter account of The Last Kingdom tweeted out a video of actor Alexander Dreymon, who plays Uhtred, confirming the filming and release of Season 3. So although there is no official word from Netflix or a related official source, there is legitimate wiggle room when it comes to an official announcement. So there's no need for fans to fret just yet.
The last announcement was made in the midst of filming Season 3, so the team could choose to wait until they're on set again to share the big news. And that could take time, considering according to Dreymon and the show's Twitter account, all of the snowy, windy, and rainy weather conditions that are captured throughout the show are 100 percent real. According to Radio Times, the main set of the show is located on "about eight acres just outside Budapest in Hungary." So who knows, they could be waiting for snowfall before revealing the big news.